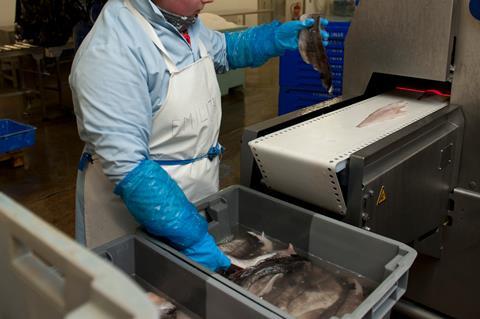 Scottish seafood processors have renewed calls for improved financial support from both the UK and Scottish governments amid "great difficulties" for the sector since Brexit.
Following months of problems exporting to key EU markets due to post-Brexit trading rules, the Scottish Seafood Association told The Grocer many of its members had faced significant financial losses despite the support schemes offered by both Defra and the devolved administration.
It also accused both Westminster and Holyrood of failing to fulfil promises to lower export barriers.
According to SSA CEO Jimmy Buchan, payouts from the UK government's £23m Seafood Disruption Support Scheme only covered 50% of firms' losses and excluded larger businesses alongside those that had stopped exporting smaller consignments.
"The truth is that while the financial support that has been forthcoming has been gratefully received, its partial nature means that businesses are being left in great difficulties in their hour of greatest need," he said.
Buchan also called for greater clarity over the UK government's £100m fishing industry funding package, promised by Boris Johnson in January.
"This funding package now looks like a convenient headline designed to appease the sector. When will they start taking bids? Who will be eligible? When will payouts be made? We need to know but we are greeted with silence on this at every turn."
In response, a Defra spokesman said the UK government recognised the challenges UK seafood companies had faced in light of both Covid-19 and Brexit.
"The £23m fund provided by the UK government has so far provided targeted support to 2,000 eligible catching and aquaculture businesses, with further payments to be made this month," he said. "In the longer term, the prime minister has also announced a further £100m to help rejuvenate the industry and coastal communities across the UK."
It is understood there will be further detail on the £100m fund after the local and devolved elections take place in May.
Buchan also took aim at the Scottish government, which he claimed had failed to use its devolved powers and funds to aid the industry.
"They have a £14m fund from the Treasury, which they have known about for some time, yet there are no guidelines and application processes in place. We know only that all projects must be for SMEs and completed by 31 March 2022 – far too tight a timetable for major works," he said.
The Scottish government was unable to respond due to purdah.
In an update earlier this month, the country's food industry trade body Scotland Food & Drink said there were ongoing challenges with groupage – a key method of exporting for many seafood suppliers – with companies "struggling to find a reliable route to market" through it.
The organisation said it understood Defra was piloting alternative approaches for moving produce to France, Spain and the Netherlands.
Last month, industry figures warned MPs further financial support would be needed and called for the government to urgently open dialogue with the EU to resolve the border crisis.