Ian Quinn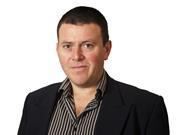 Ian covers Tesco and Asda among the major retailers, as well as suppliers including Unilever, P&G and Coca Cola. He's also our go-to guy for all issues related to health.
Contact Info
Tel:

01293 610265

Email:
Recent stories
The Retail Prices Index has rapidly increased from 2% last September

Adding a 10p levy to sugar-sweetened beverages was associated with an 11% decline in sales per customer

Industry leaders fear the economy could suffer due to failed "ideology and dogma"…

Tesco Crediton: Grocer 33 store of the week

Subscription
Recent blog posts
There could be no doubt about Philip Clarke's passion for Tesco and his commitment to turning its fortunes around.

It was good to see MPs in their droves yesterday backing the BRC's call for a fundamental overhaul of business rates

Traffic-light labelling appears to have fizzled out. Will we ever achieve a universal system?
Ian Quinn contributes to: