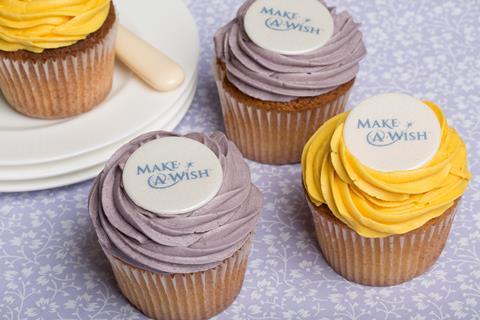 Bakers can support the Make-A-Wish Foundation by using new sugar disc cake toppers commissioned by The Craft Baker's Association.
The shimmery white toppers, which bear the Make-A-Wish Foundation UK logo and can be used to dress cakes, cookies or buns, will be made available by BakeArt to bakers registered for Craft Bakers' Week. Bakers who use the discs are to donate 10p from each sale of each item to the charity, which supports children fighting life-threatening conditions.
"We are delighted to be helping such a fantastic charity," said Keith Houliston, sales director at Bakels and chair of Craft Bakers' Week 2014. "The sugar discs are a great way for bakers to raise additional funds. The charity aims to raise £7 million this year and we hope to be able to contribute to help turn as many wishes into a reality."
A free POS kit thatincludes posters, bunting, balloons and stickers will also be distributed ahead of Craft Bakers Week, which runs from September 29 to October 5.