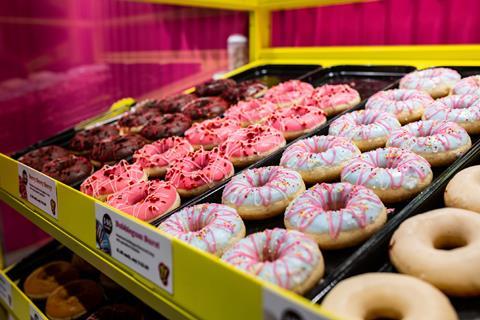 Non-HFSS doughnut brand Urban Legend has scored its first supermarket listing, rolling into selected Tesco stores.
Eight ring doughnuts and five filled doughnuts will roll into Tesco branches across London, after a successful trial with the retailer in Putney and north Greenwich (rsp: £1.95-£2.45/50g-67g).
Boxes of 12 doughnuts will also be available (rsp: £14.95/700g).
Providing less than 150 calories each, Urban Legend's healthier doughnuts would "help to promote responsible indulgence" it claimed.
The listing follows Tesco's decision to continue with plans to remove volume-led promotions on HFSS products from October 2022, after the government announcement restrictions would be delayed for a year.
Urban Legend founder & CEO Anthony Fletcher said the partnership with Tesco was "a successful step towards the shared goal of pioneering innovative solutions to tackling obesity and improving the nation's health".
It was "not the sole responsibility of the consumer to avoid unhealthy foods. We must provide healthier options that taste great and are accessible", he added. It was "fantastic to be working with Tesco to start turning this vision into a reality".
It comes after Urban Legend recently completed its second round of fundraising in a year, securing £7m in venture capital, following the £3m raised last summer to support its launch.
The latest funding will go towards a new, custom-built factory in west London to service the arrangement with Tesco and scale further over the coming months. Urban Legend also plans to grow its factory and logistics teams.