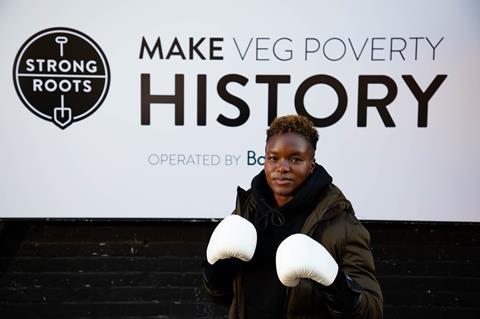 Strong Roots has claimed a first for an Irish plant-based company after announcing it has achieved B Corp certification.
The frozen supplier said it had been awarded the benchmark for its work on transforming its packaging, supporting charitable initiatives and pledging to reduce its carbon footprint in collaboration with CarbonCloud.
In December, it announced it had moved three of its burger products into PEFC-certified cardboard packaging – a move it hoped would save close to 40,000kg of plastic in 2021.
The company also pointed to its work with charitable organisations to create more than 30,000 meals for those in need in 2020, as well as the equivalent of 14,415 meals to FareShare. In January, it launched its Make Veg Poverty History campaign with boxer Nicola Adams, after conducting research that showed 45% of people aged 18 to 34 lived in what it dubbed 'veg poverty'.
"As a plant-based frozen food brand, we pride ourselves on our strong track record of balancing people, purpose and the planet with profit," said CEO and founder Sam Dennigan. "Not only is this fundamental to the long-term success of our business but it is also reflects the core of our ethos.
"We know that now is not the time to take our foot off the accelerator. We are constantly exploring new and creative ways to reduce our carbon footprint, tackle food waste and improve packaging. For us, the journey we're on to make the world a better place only grows from here."
Strong Roots has joined the likes of Danone, BrewDog and Ben & Jerry's in achieving B Corp certification. Almost 70 food and drink brands have been certified in the UK.
The news comes as brands with B Corp status have enjoyed increasing exposure in retailers. In 2019, Waitrose unveiled a dedicated online aisle of B Corp products, a move that was followed by Ocado last month.