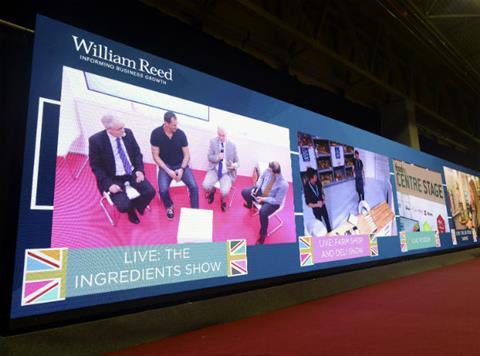 From sparkly prosecco to sticky toffee cheese, William Reed's five UK food and drink shows at the NEC this week delivered on innovation. Suppliers and brands gathered for three days to display to nearly 30,000 visitors the latest and best products they had to offer. Some focused on health, while others brought new meaning to convenience – and all aimed to capture the rapidly changing needs of the modern consumer.
"We were very pleased by the support that the shows received this year and there was definitely a very positive feeling amongst a significantly increased visitor base," said William Reed's managing director of events & exhibitions Andrew Reed. "The huge screen we had up, the largest-ever seen at a trade show, was filled with over 8,000 minutes of content, which equates to something like you would be used to seeing on a single TV channel over a whole week."
For those who couldn't make it, here are some of the key trends and standout innovations from the biennial event.
Nuts about tigernuts: It's time for a new superfood. Kale has had its day, goji berries are becoming a distant memory and quinoa is so commonplace that most of us have even cracked how to pronounce it. Enter the tigernut. The edible tuber (it's not a nut) is the next big thing, according to Ani de la Prida, co-founder of The Tiger Nut Company. It's a great source of potassium and magnesium and has high levels of prebiotic fibre. The 'nut' also gets the free-from vote because it can be used both as a gluten-free flour and as a substitute for cows milk. One brand to be quick off the bat was health brand Viegan, which launched its tigernut milk alternative at Food & Drink Expo 2018, boasting about the vitamins D, E and B12.
Convenient cheese: If you've ever been put off a burger due to the overhanging corners of square cheese slices, there is now a solution. The Wensleydale Creamery showcased its new, round burger slices. Meanwhile, dining for one is soon to be much easier. Butlers Farmhouse Cheeses debuted its microwave-friendly shot-sized pots of fondue made from the brand's Blacksticks Blue Cheese. Thinking ahead to its Christmas range, Butlers had extended its Cheester Egg concept with wreath-shaped offerings.
Thick cuts: Consumers may be cutting down on meat consumption, but when they indulge, hearty cuts are the order of the day – from thick steaks, hefty burgers and chunky slices of smoked salmon. With listings in the likes of Fortnum & Mason and Selfridges, the thick-sliced, three-day cured smoked salmon of The Pished Fish had a decidedly premium feel.
Booze infused: Not only was The Pished Fish chunky, but each of its products were also cured with booze and botanicals. Flavours included G&T, old fashioned, margarita and raspberry vodka. There was a lot of booze infusion on display at the NEC, in fact. Even a campfire favourite was included: the Naked Marshmallow Co offered gin, espresso martini and prosecco-infused 'mallows for adults who fancy a treat with a hint of nostalgia. Meanwhile, the Cheshire Cheese Company's 'drinks cabinet' offered caramelised onion & rioja cheddar, and Cheshire cheeses in the likes of gin & lemon, Irish whiskey & stem ginger, and strawberries, champagne & chilli.
Mad for meatless: Not surprisingly, the 2018 appetite for meat-free was fully catered for. The Vegetarian Society's stand was a hive of activity as punters perused the veggie and vegan options – from Tofurky's faux meats to the free-from confectionery of Jealous Sweets. Elsewhere, Vege-Way was pushing its plethora of protein mixes made from pumpkin, flax, sunflower and peanut. Meanwhile, over at The Grocer Talking Live stage, there was much chatter about meat alternatives – from wheatgrass (mixed with aromatic ingredients to "disguise the taste of lawn") to seaweed ("the ocean garden is a key trend"). Tipped as ones to watch were jackfruit (known, apparently, in its native southwest India as 'tree mutton') and seitan – a tofu-like substance with a pun-worthy name (thank you, hip London fast food chain Temple of Seitan).
Protein abides: While meat was off the menu for many, another longstanding source of protein was ubiquitous: whey. It was the fuel of Radnor Hills' new protein water duo – the "most complex thing we've ever produced" according to the brand's sales director Chris Sanders. Over at the Dr Zak stand, the high-protein brand was displaying its latest wares, sweet clusters in chocolate and fruit & yoghurt variants, while discussing its plan to take on the challenge of going dairy-free across its entire portfolio. (Some of its lines, including the clusters, already use pea protein.)
Untaxable soda: One of the big selling points among the profusion of soft drinks brands was their imperviousness to the new sugar tax. Yes, startup Dabble had 6.3g of sugar per 100ml in its sparkling apple drink in a glass bottle – but it was all fruit sugar. It was a similar story for Fior Fruit, another bourgeoning brand, and its gently sparkling and fully fruit water. Elsewhere, craft soda supplier Gunna had a cool look but still played by the low-sugar rules, Bottlegreen proudly displayed its newly reformulated portfolio, and Kombucha's fermented raw tea pitched itself as a healthier alternative to alcohol. Not all brands, however, kowtowed to the taxman. (Dalston's newest variants, for instance, contained sugar unashamedly.)
Hip hooch: Meanwhile in booze, gin dominated, predictably, with standout distillers including Brennen & Brown, Masons and Sibling, a small-batch supplier run by a quartet of siblings all under 26. There were also hip-looking drinks with health credentials – be they the low-cal RTD cocktails from Slim Gilly's or the alcohol-free craft beers of Big Drop Brewing, winner of the Dragon's Pantry pitch competition at the expo's Farm Shop & Deli Show. Perhaps not cool but certainly eye-catching were the brands offering personalisation of one's tipple with fruity flavours and brightly coloured sparkles. Spoon some Pop a Ball into your bubbly, or drip-drip Sparkle Drops into a G&T.
Pampered pets: Your four-legged best pal deserves only the best. And that is why the Dog Treat Company was showing off its snacks to freshen Rover's breath, keep Spot calm and give Poppy some extra pep. And people's love of pet pampering was why Pawsecco was serving alcohol-free 'wine' for cats and dogs. There was a choice of white and rosé – not to be served as a drink, but as a gravy.
That's it for this year. See you all in 2020!