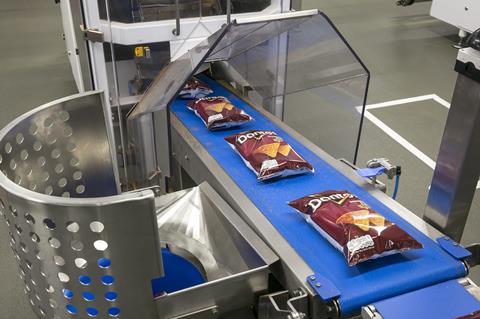 PepsiCo plans to launch a new Walkers crisps range trialling packs made from recycled materials later this year.
Upcoming packaging would be derived from previously used plastic, including crisp packets, biscuit wrappers and shopping bags, the snacking giant said this week.
PepsiCo remained tight-lipped on further details of the launch, but explained that the new bags were designed to be easier to recycle, leveraging innovative design technology to create a simpler bag structure.
They contained greater proportions of recyclable plastics like polypropylene, which met the design for recycling guidelines developed by the Circular Economy for Flexible Packaging (CEFLEX), it added.
PepsiCo wants to move all of its crisps – including Walkers and Doritos – into packaging that is easier to recycle in the next 12 months.
The company is also working with OPRL to also modify the labelling on its packaging accordingly to encourage more consumers to recycle.
It's part of a larger push for sustainability by PespiCo Europe, which is hoping to use 100% recycled or renewable content in all of its crisp and snack packets by 2030, eliminating the use of virgin, fossil-based plastic.
The fmcg giant estimated it could achieve up to 40% greenhouse gas emissions reduction per tonne of packaging material by doing so.
PepsiCo UK&I sustainability lead Archana Jagannathan said the trial was an "exciting and important" step towards "a truly circular economy for flexible plastics".
"We know change is needed to reduce the amount of virgin fossil-based plastic used in our packaging, which is why we're working with partners across the value chain to develop effective, scalable solutions to address this."
The business needed "to make it easier for people to recycle their flexible plastics so that we can put this plastic back into the system and to good use", Jagannathan added.
It comes after Walkers this month launched a multimillion-pound campaign to "strengthen the nation's love for the brand", following weeks of disrupted service following an IT system upgrade at PepsiCo.