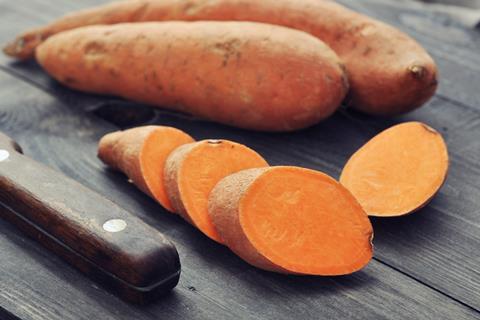 The price of sweet potatoes from the US has more than doubled over the past year, after the world's largest producer of the trendy tuber was hit by tropical weather and reduced planting.

In the 52 weeks to 14 August 2019, the cost per kilo of US sweet potatoes soared by 138% from £1.08 to £2.58, Mintec data shows.

The surge was driven by damage to crops by Hurricane Florence in North Carolina, the largest sweet potato growing area in the US. Production slumped to 1.2 billion kilos, down 23% year on year and the lowest since 2013. Growers in California also planted fewer sweet potatoes in 2018 due to subdued prices in recent years.

The 2019 crops in the US, Europe's largest supplier of sweet potatoes, are not due to be harvested until early autumn. Historically, stocks from the previous season have been enough to fill supply gaps until the new season's yields. But not so this month - leading to warnings this week of a paucity across UK supermarkets.

Aldi said it was among those affected but was "working with our suppliers to minimise disruption for our customers".

The sweet potato shortage, which comes amid rising prices for some British grown veg, was "another example of how retailers are having to manage the effects of climate change" claimed BRC director of food & sustainability Andrew Opie. However, retailers had "become increasingly adept at coping with disruption in the supply chain, and we are confident this issue will be resolved shortly" he added.

The UK's leading suppliers of frozen sweet potato products, McCain and Aunt Bessie, declined to say if they were affected. But fast-growing rival Strong Roots had sufficient stock due to its "planning team's foresight" and "strong grower relationships" said CEO Samuel Dennigan.