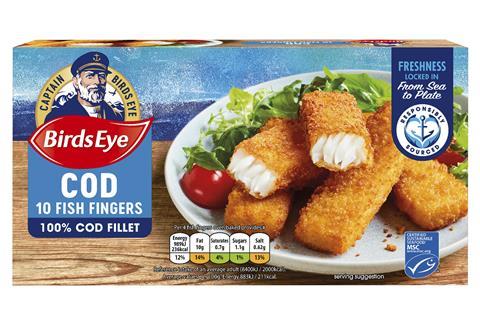 The Covid-19 pandemic spike in frozen food sales looks set to continue after research by Birds Eye found almost half of British families are now more likely to buy into the category than they were pre-pandemic.
The study of 2,023 parents in July by pollsters Censuswide found 40% were considering the category more actively than they were before coronavirus hit the UK in 2020.
Reasons given for this renewed appreciation for frozen included convenience – with 50% of respondents citing it as a key consideration – avoiding unnecessary supermarket trips (46%) and cutting down on food waste (44%).
Cost was also a factor as 76% of those surveyed said they had saved up to £90 a month buying frozen food. The findings also showed fish was one of the top three most considered frozen items, with 72% of respondents identifying it as a favourite.
"We've long championed the benefits of frozen fish, and it's great to see so many recognising it as a staple item in the freezer for the whole family," said marketing manager at the frozen giant Mike Sowerby.
"This has been especially prevalent during lockdown with parents juggling work and home schooling, and frozen foods playing such a helpful role in busy family lifestyles. Fish fingers have been a household favourite for many years and we're confident they still will be in years to come, as consumers continue to learn about the many benefits of frozen food."
However, the survey also showed there were still misconceptions about frozen fish's quality. Forty-three per cent of those polled believed fresh fish was of a higher quality than frozen, with an equal amount unsure.
Birds Eye has sought to alter this perception of frozen food as being inferior through a £2.3m campaign (launched in July) that has showcased its product range while also urging Brits to up their intake of frozen seafood.
It comes after frozen sales recorded a 15% jump in value to almost £7.3bn last year [Kantar 52 w/e 27 December 2020] as the Covid-19 pandemic prompted the return of the 'big shop'.
While frozen food has experienced a sharper year-on-year decline in sales than other grocery categories in recent weeks, with Birds Eye's owner Nomad Foods recording a slight sales drop in Q2 2021 as lockdown restrictions eased, frozen seafood has continued to perform strongly.
Frozen fish was 10.2% ahead of its pre-pandemic sales on £238.9m [12 w/e 11 July 2021] – though this marked a 12% drop year on year.