What's hot?
Shoppers are completely clear on what they love about prepped salad - 70% of prepped salad shoppers buy it because it's convenient and healthy [GrowUp Farms consumer survey, Attest 2022].
Everybody wants great value and quality food - our mission at GrowUp Farms is better food for all - that means working with retailers to help keep fresh produce in the weekly shop when people are feeling the squeeze.
What's not?
As with all vegetable sales, people's shopping habits have changed in response to the cost of living crisis. For shoppers who have reduced their spend in the prepped salad category, 61% give one of two reasons[2] . Either they're worried about wasting food, or worried about wasting money.
63% of shoppers would buy more prepped salad or buy it more often if they knew they'd waste less.
The prepped salad category can have high shrink levels. And it's estimated that UK shoppers throw away 35% of the prepped salads they buy [WRAP Reducing Food Waste In Bagged Salad Supply Chains (2018)]. Shoppers want to make more sustainable choices and buy more UK-grown produce.
Salad that stays fresher for longer can help shoppers save money and that longer lasting freshness helps reduce waste both in the supply chain and in the fridge.
Read more:
What's new?
At GrowUp, we've spent 10 years growing in vertical farms. We've perfected a snackable salad - so good you can eat it out of the bag like crisps.
If you knew your salad was going to stay fresh in your fridge all week, think of the options! You'd have the versatility to use it in sandwiches, as part of a quick mid-week meal and at the centre of a family dinner.
That's why we're launching our salads into retail in 2023. Their quality, freshness and longer shelf life will help retailers and shoppers cut down on food waste. We're giving shoppers a fantastic product and the confidence to keep prepped salad in their weekly shop.
Innovations in veg, salad and their marketing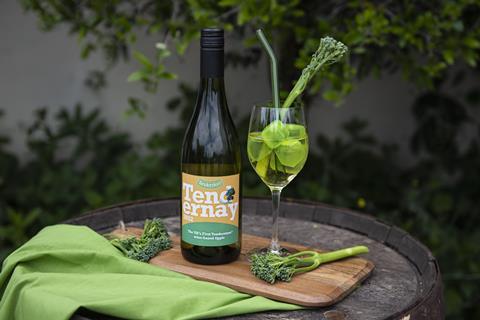 In June, Tenderstem launched its very own broccoli-infused wine, dubbed Tendernay.
As part of the launch, the Tenderstem brand promoted the pairing of the wine with various broccoli dishes to create the "perfect balance". The summer saw a buzz of unconventional marketing activity from Tenderstem, which also released a podcast featuring the voice of former JLS singer JB Gill reciting recipes as sonnets.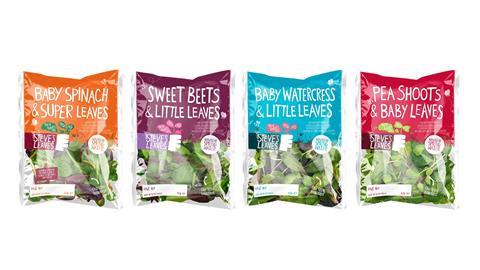 In April of this year, Steve's Leaves redesigned its salad bag to make it fully recyclable, while also reducing packaging by 17%.
The prepared salad brand said this would result in a significant reduction in plastic packaging, by removing 1.5 tonnes per year and appealing to the consumer desire to eat more sustainably.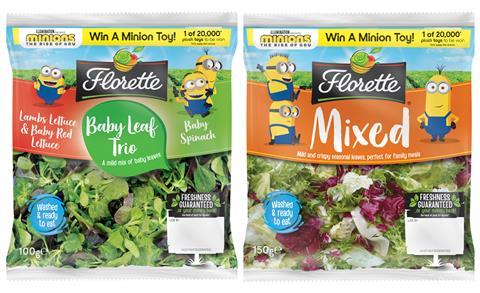 Salad brand Florette launched an on-pack promotion in partnership with Universal Brand Development & Illumination, to herald the animated movie 'Minions: The Rise of Gru'.
Kicking off in May, the promo saw Minions characters appear on packs offering he chance to collect one of 20,000 Minions plush toys. It was supported by social and PR activity giving the chance to win a family trip to Universal Studios, Orlando.