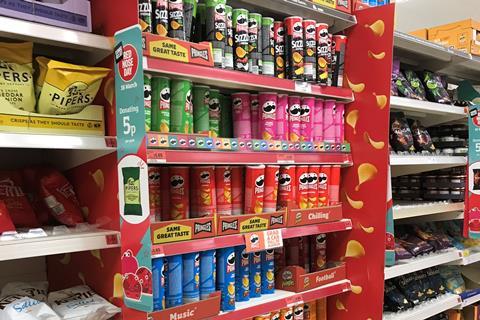 The highest rates of inflation in 30 years, supply chain issues caused by conflict, labour shortages due to a still-present global virus and significant legislative changes on the horizon which will impact macro and micro space, promotional strategy and innovation pipelines. In any 'normal' year, just one of these would be enough to trigger major upheaval within a business. The reality for fmcg is that we're facing all of these challenges at once.
In previous columns, I've talked about the latest impact of inflation on shopper behaviour, which remains a real concern as we continue to understand the implications this is all having on people. Whilst working through the strategic and tactical decisions, and implications, is occupying a significant amount of time for so many of us across brands, retailers and wholesalers, we cannot afford to ignore what's coming down the track and guaranteeing yet more change. In less than five months, the new HFSS regulations come into force. Talking with so many people across the industry, it's clear this could be the biggest legislative intervention driving consumer change in over a generation, and manufacturers, retailers and wholesalers are running out of time to prepare.
We now know the impact of HFSS is likely to be felt far beyond what was initially anticipated by many. IRI analysis suggests £1.7bn of impact across the grocery and convenience channels. Reformulation is one way manufacturers are responding: we are already seeing businesses like KP Snacks and Kellogg's implement mass reformulations of products across categories. If it's not reformulations, it's new product lines which allow brands to have an HFSS-compliant range, like Nature's Heart from Nestlé or Dr Oetker's new non-HFSS line of pizzas. But reformulation is not an easy option, especially at a time of rising costs and uncertainty as to whether traditionally premium prices can be asked for NPD.
Read more:
Operationally, the key challenges to consider include how best to use out-of-aisle promotional space, where to place HFSS products once the changes come into effect, and what the optimal promotional plans to run are, given the challenge of keeping high-volume products available and in stock when on promotion via an on-shelf location. Across retail, we are seeing numerous trials taking place to address some of these challenges. The majority of major multiples, for example, are trialling 'in-aisle promotional space' (typically one bay with signage highlighting it) which is created and occupied in the most part by HFSS brands previously on end-of-aisle displays. Trials are also focusing on how best to reuse restricted promotional locations, particularly end of aisles.
Based on what we've learnt so far as we've analysed sales within these trial stores, the categories and brands that IRI's analytical predictive models forecasted to be most negatively impacted are indeed negatively impacted during the trials. However, as with everything, the devil is in the detail. In the chocolate category for example, whilst we've seen overall category sales decline by 7%, some brands actually did well. In cereals it was a similar story. The category as a whole has seen a decline of 1%, but some brands have performed well as shoppers have made different choices.
Another observation from the current HFSS trials is that shoppers respond differently depending on the retailer and the channel. The changes to behaviour triggered by the trial store studies are not identically replicated across all fascias and formats. This additional layer of complexity means any changes resulting from the new restrictions need to be more tailored than perhaps many would have thought.
So, what does this mean right now? Firstly, brands need to have a view of HFSS trial store performance across all retailers in order to forecast accurately – how are the changes of in-store layout, promotional plans and communications impacting the choices shoppers are making? Secondly, it's important to consider how different the Halloween and Christmas in-store experience will be this year in terms of space and promotional plans, accentuated by a delayed World Cup in November/December which will also impact shopper behaviour.
If we take Easter as an example, this year in the four weeks up to Easter, 19.4% of confectionery value was sold from off-shelf displays. The restrictions on promotional space mean that Easter 2023 will look very different, and other seasonal events will see the same overhaul. We expect to see brands gain new customers as shoppers switch between products and try new things – the question is, how many customers are being lost at the same time? Understanding this level of detail provides a unique opportunity for brand owners to engage with first-time buyers, as well as look to maintain and retain the key loyalists. Achieving this requires laser-focused planning and activation.
Ultimately, it is critical brands, retailers and wholesalers understand what the HFSS changes mean, not only on a category basis, but how different categories might start interacting with each other in ways not seen previously, and how this is nuanced across different channels. The impact of HFSS will have far-reaching ripples which some might not have considered. We expect the changes to have a knock-on effect on a range of categories that are out of scope, such as beers, wines and spirits, which will be making a play for the newly available off-shelf space in store. But consider the impact of that on hospitality and the convenience channel, and the enormity of the change becomes clear.
The winners in grocery retail will be those that can use the learnings from trial stores to take action at a speed beyond which we're used to – even in fmcg.