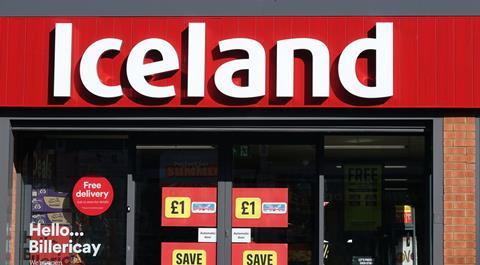 Iceland Foods has begun what buyers say is its "biggest-ever launch" as part of a wider refresh of its frozen lines.
On 28 August, the supermarket began rolling what will be up to 500 new exclusive and own-label products into Iceland and Food Warehouse stores, as well as its concessions in The Range.
The rollout will see the supermarket "double" the number of products on both its in-store prepared bakery range and £1 or Less value range. It will also expand its Luxury ready meals range, alongside the launch of an own-label takeaway line called Grill House.
The number of products included in its exclusive brand tie-ups with Cathedral City and MyProtein will also double, alongside an expansion of its exclusive lines with brands including Greggs, Slimming World, Heinz and TGI Friday's.
The new partnerships include a range of Asian-inspired pizzas, noodles and chicken products with the AB World Foods-owned Blue Dragon.
"We're always big on value and variety at Iceland," said Andrew Staniland, group buying director at Iceland Foods & The Food Warehouse.
"Our latest range of hundreds of new products, many of which shoppers won't find anywhere else, is testament to our commitment to put money back in shoppers' pockets when they need it most.
"The variety and value of our latest product launch is one more way we're showing our ongoing commitment to helping families across the UK eat well for less every day."
Many of the new launches will be included in Iceland's three for two mix & match and multibuy offers, the supermarket said.
Iceland buyers had been hinting at the launch for weeks, with one describing the launch in a now-deleted LinkedIn post as the supermarket's "biggest-ever".
Someone's got to do it 🤤 pic.twitter.com/TZgdf4UIUB

— Richard Walker (@icelandrichard) August 21, 2023
It forms part of a wider refresh of Iceland's range in response to the cost of living crisis, alongside a £26m investment in cutting prices.
Iceland has typically relied heavily on its own-label brands for a large proportion of its sales, particularly its value £1 or Less range. However it has seen margins on those lines fall from more than 20% to near zero as a result of an ongoing price lock until at least the end of the year, executive chairman Richard Walker told The Grocer in July. The £1 or Less range counted for around 20% of Iceland's entire stock, Walker said at the time.
At the same time, the supermarket has seen increased demand for its premium own-label and exclusive lines as customers have looked to "trade down" during the cost of living crisis, Walker said. He added that the company would look to expand the number of exclusive partnerships and launch more higher-tier own-label products as a result.
"Exclusive brands have been a real growth driver of our business," Walker said at the time. "Our customers love brands. Exclusive brands are something that are exclusive that you can't get anywhere else… It gives us a competitive moat."
The supermarket also appears to be gearing up to launch a new own-label range of household cleaning products, having registered a trademark for the brand House and an associated logo with the Intellectual Property Office in July, as The Grocer revealed.