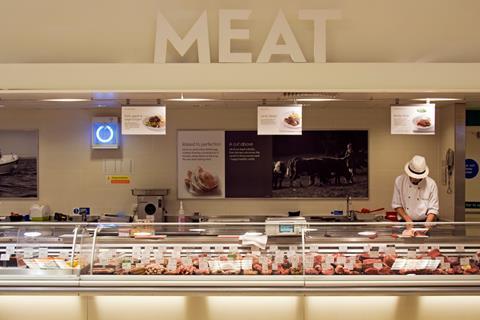 Waitrose is to introduce a sustainable pig price for its suppliers as part of a support package for the crisis-hit sector.
Amid recent warnings that pork prices were crashing as a result of the crisis, the retailer said it would introduce a "base price that ensures our farmers won't be disadvantaged by the market price drop", from this week.
The move comes as pig producers have warned an ongoing backlog of more than 100,000 pigs on farms – caused by the combination of a shortage of butchers and oversupply as a result of a ban on European pork by China – shows no sign of abating.
And it follows warnings by the National Pig Association two weeks ago that Defra's support scheme for the sector, which incentivises processors with a £3 per pig premium to put on additional shifts to increase throughput and ease the backlog, could further drive down pig prices.
AHDB's standard pig price (SPP) stood at 144.30p on 20 November, its lowest price since April 2019, and 13% lower than its most recent peak of 165.73p on 31 July.
Waitrose's pledge comes less than a month after Morrisons announced the launch of a pork promotion in a bid to aid crisis-hit pig farmers a month ago.
But in an opinion piece published by The Grocer this week, Waitrose's senior agriculture manager Jake Pickering said a "longer-term strategy" was required.
Its support package would contain "new measures" to increase the price farmers received for their livestock, he added, rather than depending on more short-term promotions and price cuts.
While welcoming the support of retailers, however, there was "only so much they can do" to offset the challenges the sector was facing, said NPA CEO Zoe Davies. "The biggest issue is labour,."
And despite the success recently seen by poultry processors in attracting seasonal butchers from the EU, the government's six-month visa scheme for pork sector butchers was unlikely to help in the short term, Davies warned, adding "we're not expecting a meaningful impact until next year".
A spokeswoman for the British Meat Processors' Association agreed with Davies, saying the scheme had "not been of great help" so far, while pointing to the ongoing issues caused by the China import ban, which had led to the flooding of the European pork market due to African Swine Fever in Germany.
According to AHDB, "the EU market is also oversupplied with pork produced domestically and recent British prices there will struggle to compete".
And that meant, despite the support offered by the supermarkets, that importers such as those in a foodservice sector hit hard by pandemic restrictions, were "not going to swap to UK pork due to price differences", said Davies.
The BMPA also cast doubt on the viability of Defra's storage aid scheme, announced in the same support package last month, and designed to allow processors to kill and freeze carcases un-butchered, for use at a later date.
With processors now gearing up for the Christmas rush, the trade body's spokeswoman said "nobody is going to kill pigs and them straight into the freezer".