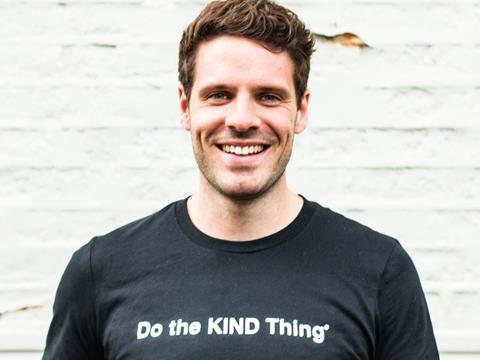 John McManus UK marketing manager, Kind Snacks, on brand building, Desert Island Discs and Louis Theroux

What was your first job? I worked in a Chinese takeaway for three years while at school. It's still one of the hardest jobs I've ever had: my boss taught me about taking pride in your work.

What's been your worst job interview? For a job as a nightclub promoter. I was asked to 'sell me this pen'…

What was the first music single you bought? Stereophonics - Pick a Part That's New. Still love it!

How do you describe your job to your mates? I came to Kind to build the next big healthy snacking brand in the UK; we're just getting started.

What is the most rewarding part of your job? The team. I get so much satisfaction about people succeeding, developing and enjoying their time.

What is the least rewarding part? Although incredibly important, I can't say I enjoy legal and regulatory reviews.

What is your motto in life? I'm acutely aware of how lucky we all are to live where do we do and do what we love, so 'life is good'.

What would your one dream perk be? A full-time golf coach.

Do you have any phobias? I'm becoming increasingly nervous when I fly, rather concerning considering Kind's HQ is in the States.

If you could change one thing in grocery, what would it be? Being able to educate consumers is the #1 issue in UK grocery, so being able to do this at shelf would go a long way. Maybe small screens with key facts?

What luxury would you have on a desert island? The entire back catalogue of Desert Island Discs (and a pizza oven).

What animal most reflects your personality? A gorilla. I'm very laid back and easy-going but I'd do anything for my friends and family.

What's your favourite film? Moneyball. I love the idea of an organisation buying into a philosophy and committing 100%. This film is the perfect depiction.

What has been the most embarrassing moment in your life? Working in a bar, I once opened a £250 bottle of champagne by mistake. The customer had ordered a bottle of prosecco.

Which celebrity would you most like to work with and why? I'd love to make a documentary with Louis Theroux. The way he deconstructs subjects is fascinating.