Name: Rachel Kelley
Job title: CEO
Company: Higgidy
What was your first job? Waitressing at the local pub. Certainly helped me fall in love with the food industry.
What's been your worst job interview? Early career when at Mars – I panicked, couldn't think straight and became a nervous wreck. Since then have used sound advice from my dad: "three deep breaths…!"
What was the first music single you bought? Adam and the Ants, Antmusic. I had a big crush on Stuart Goddard (Adam Ant).
How do you describe your job to your friends? Chief pie officer, where I'm in the lucky position to lead the brilliant team at Higgidy who create, bake and sell our amazing "baked generously" line-up.
What is the most rewarding part of your job? Working out how we get the brand onto more shelves and into more tummies.
What is the least rewarding part? Too many emails, it's never-ending!
What is your motto in life? Whatever the problem there is always a solution. This has stood me in good stead throughout my career.
If you were allowed one dream perk, what would it be? Dinner at a different, wonderful restaurant once a week with my favourite people in my life.
Do you have any phobias? Big hairy spiders. I can't bear them.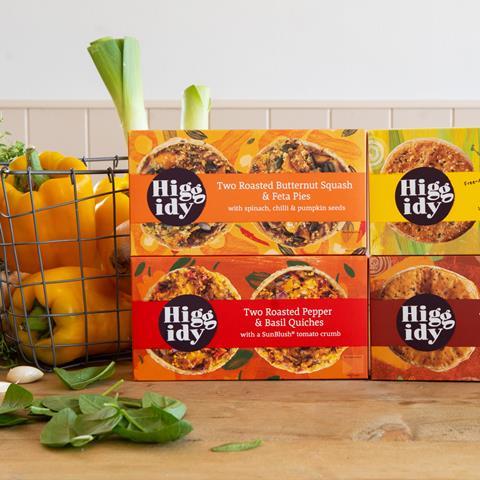 If you could change one thing in grocery, what would it be? More collaboration on the big industry issues, including things like soil health, to support a sustainable food supply chain.
What luxury would you have on a desert island? A cold water plunge pool. Nothing beats cold water for making you feel refreshed, revived, and alive!
What animal most reflects your personality? Cocker spaniels. They're fun, energetic and sociable, but switched on and loyal.
What's your favourite film and why? I'd say CODA currently. Uplifting, full of hope and funny in all the right places.
What has been the most embarrassing moment in your life? Probably a wardrobe malfunction when walking on stage to present to a big group of people.
Which celebrity would you most like to work with and why? Marcus Wareing, as I've just been watching his current series and am inspired by his smallholding journey. I'd love to work with him and have the opportunity to eat one of his delicious creations.
What would your death row meal be? Something from Tommy Banks, the chef at Michelin-starred The Black Swan at Oldstead. His signature menu is sensational.
It's a seven-course tasting menu including halibut cooked in lemon verbena-infused chicken stock, his famous beef wellington with wild garlic, and the most mouth-watering desserts. I highly recommend trying this if you ever get the opportunity!