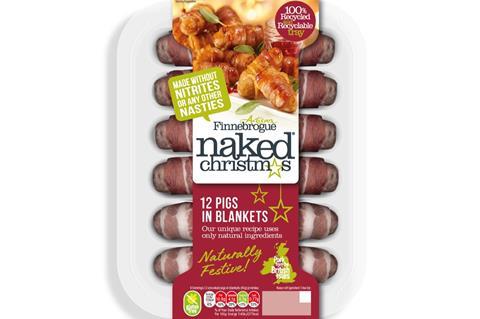 Finnebrogue Artisan is claiming a category first after extending its nitrite-free Naked range with the launch of a pigs in blankets line.
Launching into Waitrose this week (rsp: £4.49/270g), the festive NPD is said to be the first of its kind to have been mass-produced without nitrites – chemicals used to preserve bacon which were linked to cancer in a landmark World Health Organisation report in 2015.
The chipolata sausages in the Christmas Pigs in Blankets are also produced without any other artificial additives, said the Northern Ireland-based supplier.
The launch comes just under three years since the first products in the Naked range were launched by Finnebrogue. Since hitting the market in 2018, the Naked range has become the UK's biggest-selling bacon brand, helping Finnebrogue to a projected turnover of £120m for 2020, up from £75m two years ago.
The supplier – which announced plans to open a £25m new plant-based factory at its County Down headquarters last month – also unveiled a meat-free alternative to its Naked bacon lines in September. That followed a first move into plant-based by the brand in May.
"Millions of us love pigs in blankets as part of our Christmas lunch, but until now the bacon used to wrap the sausages has been packed full of nitrites," said Finnebrogue chairman, Denis Lynn.
"Our team has been working flat out to adapt our nitrite-free technology so it can be used to produce delicious pigs in blankets without any of the nasty chemicals – and amazingly they've cracked it. We hope they will bring a little extra cheer to lunches up and down the nation this Christmas."
So far in 2020, Waitrose has reduced the amount of nitrites used across its own-label fresh bacon and gammon ranges, while the Co-op has pledged to cut the use of it in its own-label bacon by 60%.