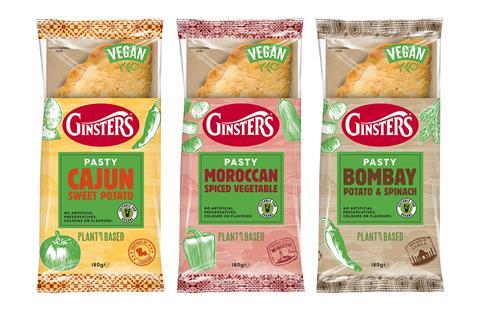 Ginsters has boosted its range with two new plant-based pasties.
The brand has launched a duo of new pasties – Bombay Potato & Spinach and Cajun Spiced Sweet Potato & Chickpea – and refreshed the packaging of its existing Morrocan Spiced Vegetable pasty to form a new vegan range.
The Bombay Spinach & Potato pasty offered "an aromatic blend of bold and vibrant bombay potato and spinach in a spicy chilli sauce with tomato, onion, and garlic, wrapped in a light melt-in-your-mouth puff pastry".
The Spiced Sweet Potato & Chickpea pasty, meanwhile, offered "a spicy taste sensation of sweet potato, chickpeas, red peppers, and onion in a Cajun-style tomato sauce".
The brand had "set ourselves a challenge, to change the way people think about meat-free recipes, and our new range is a natural addition to our ongoing pipeline", said Ginsters MD Sam Mitchell.
The long-standing savoury pastries brand had "experienced encouraging growth within the meat alternatives and plant-based market including its long-term partnership with UK meat-free pioneers, Quorn" and as a result was "extending the opportunity with a varied portfolio to suit flexitarian lifestyles and preferences".
The brand said sales of its vegan products were up £3.4m on last year - a rise of 123% [IRI 52 w/e 13 June 2021].