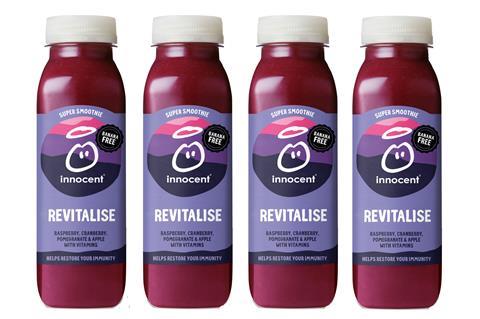 Innocent has unveiled a new smoothie without banana, which is claimed to boost immunity.
The drink, called Revitalise, will be the only smoothie in the brand's range not to contain the fruit (a previous range with no bananas was attempted in 2021 but discontinued).
Instead, it contained "a variety of fruits boosted with seeds, botanicals and vitamins", including vitamins B1, B2, B3, B6 and C. These additions meant it could contribute to "normal energy-yielding metabolism" and "help with the reduction of tiredness and fatigue", it said.
It will hit Sainsbury's, W H Smith, Co-op, Waitrose and Tesco in 300ml and 750ml bottles over the coming months, first hitting WH Smith and Sainsbury's next week (rsp: £2.39-£3.99).
Innocent used bananas "in most of our smoothies as they're great for their natural sweetness and creaminess", said its smoothie brand manager Jad Marie.
However "we've been making smoothies for long enough to know that not everyone likes bananas, so we've created this new recipe that doesn't contain banana to make sure those people don't go without", he added.