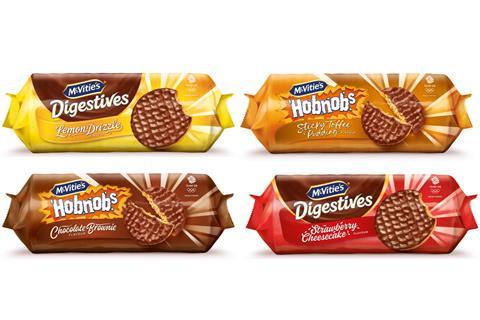 Pladis has added a host of "quintessentially British, dessert-inspired" flavours to its McVitie's Chocolate Digestives and Hobnobs brands.
They are: Strawberry Cheesecake and Lemon Drizzle Digestives, and Chocolate Brownie and Sticky Toffee Pudding Hobnobs.
The brand is hoping they will lure shoppers aged between 25 and 40 to the biscuit aisle "while driving purchasing frequency among existing McVitie's shoppers".
Digestives and Hobnobs had proved "more popular than ever" throughout 2020 and the coronavirus crisis, said McVitie's brand director Emma Stowers, citing data that showed a rise in sales for the duo of 35 from March to September [Nielsen w/e 14 March 2020 to 12 September 2020].
NPD had proved "an established route to incremental sales" for the brand over recent years, such as Pineapple Jaffa Cakes, which rolled out in January 2020, or the 'Best of British' Digestives range, which launched in February and had since racked up some £5m in sales, added Pladis.
Innovation was "particularly important for younger shoppers, who are increasingly seeking unusual and exciting flavour experiences", said Stowers.
2020 also saw McVitie's slash the sugar content across a swathe of its biscuit brands, reformulating the recipes for Original Digestives, Rich Tea, Chocolate Digestives, Hobnobs, Chocolate Hobnobs (milk and dark), Caramel Digestives and Ginger Nuts – all of which account for more than half the McVitie's brand's UK sales.
The brand put the reformulated biscuits through rigorous testing to make sure the sugar reduction could not be tasted, going so far as making sure they tasted the same when dunked in tea by employing a 'mechanical dunking arm' in its factory. The move would remove 785 tonnes of sugar from Brits' diets every year, Pladis said at the time.