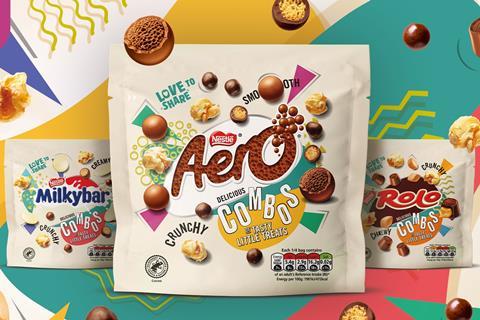 Nestlé is mixing up its "best-loved" confectionery brands with popcorn in a new sharing concept.
Called Combos, the new packs combine Aero, Rolo and Milkybar with popcorn and other sweet snacks.
Aero Combos comprise Aero bubbles and decadent chocolate malt balls. Rolo Combos, meanwhile, contain Little Rolos and "melt-in-the-mouth" fudge bites. Finally, Milkybar Combos include creamy Milkybar pieces and crunchy milk chocolate digestive balls.
The NPD would offer shoppers a "unique and delicious combination of tastes and textures", said Nestlé (rsp: £2.50/110-125g).
They will roll into Asda from mid-July, with listings at other supermarkets, wholesale and convenience stores and value retailers to follow from August.
"Our new sharing range is all about offering consumers a deliciously different sweet snacking experience", said Nestlé brand manager Cat Mews.
"Whether it's a night at the cinema with the family, or a picnic with friends, Aero, Rolo and Milkybar Combos are a delicious treat for any occasion. We can't wait for people to try them."
It's the latest in a swathe of NPD from Nestlé's confectionery brands.
In January, it added a new range of pudding-inspired vegan sweets to its Rowntree's lineup.
Called Dessert Pastilles, the packs contain four flavours: Mango Sorbet, Blueberry Pie, Cherry Bakewell and Apple Crumble.
Last year, it unveiled a trio of Smarties Buttons, which contain Mini Smarties encased in chocolate.
At the time of the launch, Smarties brand manager Alberto Pisanello said: "Consumers tell us they like their favourite brands to keep things fresh with exciting innovations and new varieties to try."