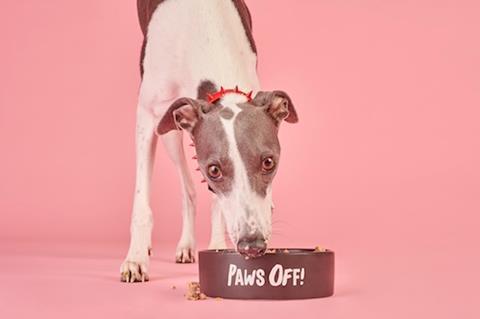 A petfood challenger claiming to be the UK's first fresh, insect-based dogfood has made its market debut.
Tuggs uses ingredients such as black soldier fly larvae in its petfood pouches and offers a subscription service of preportioned meals, specifically tailored depending on a dog's weight, age and diet. These details can be submitted by dog owners through the brand's website.
Tuggs claims to be an environmentally-friendly option for owners looking to reduce their pet's carbon "pawprint". All of its pouches contain a blend of fresh insect and "human-grade" meat and vegetables, making them unique from existing dry formats on the market.
They are available in beef, turkey and cod flavours.
Trial boxes contain six pouches with a selection of flavours for pets to try (rsp: £19.99-£39.99/6x300g-6x800g). Shoppers can also subscribe to a monthly supply that costs around £1.70 per serving.
"I began researching the petfood industry and was shocked to find that it's responsible for up to 30% of the environmental impact related to food production, including high levels of greenhouse gas emissions," said Tuggs founder Harry Bremner.
"Many commercial dry petfoods are devoid of fresh ingredients and highly processed so they last up to two years on the shelf.
"I wanted to create healthier, more sustainable dogfood with nutritious ingredients that dogs would love," Bremner added.
Bremner developed Tuggs in partnership with consultant pet nutritionist Katie McCaul to ensure the meals were "nutritionally balanced and digestible".
According to McCaul, insects were "a great source of amino acids, fats, essential minerals and protein".
"Insects are nutritionally dense, but dogs are omnivores, so they should be eating a variety of proteins, which is why we include other meats and fish in the recipes."
Tuggs' market debut follows the launch of two dry insect-based petfood brands last year. Mars Petcare unveiled Lovebug – a catfood brand made exclusively from black soldier flies – in March 2022; startup Aardvark made its grocery debut the following month, with a range of petfood made from insects.