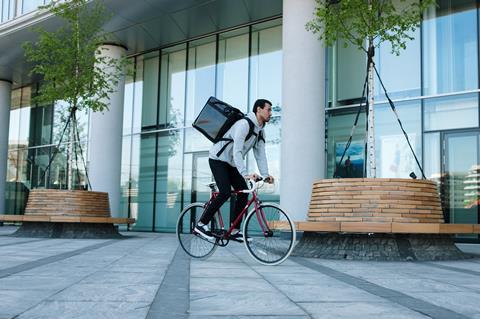 Unilever is building a "newly formed Grocery Now" team in the UK, to capitalise on growing demand for rapidly delivered groceries.
The Grocery Now initiative "comes to life" through two main delivery channels, Unilever said: convenience stores and supermarkets on aggregator apps like Deliveroo and Uber Eats, and delivery apps like Getir, serving customers from their dedicated warehouses.
In a recruitment ad to join the Grocery Now team, the company revealed it is seeking to achieve "at least" £2m in orders in the 2021 financial year.
Unilever has sold through delivery apps in the UK for some time, chiefly ice cream through its Ben and Jerry's and Magnum stores on Deliveroo and Uber Eats. It also works with restaurants and chains on the aggregator platforms. The latest push, Unilever says in the ad, is now into "other categories".
"We deliver Now to lift the boundaries of time and location so every consumer can enjoy their 'impulse' needs," the company stated.
The role entails "building the strategy from scratch with our convenience and grocery teams and customers" and "developing solutions with brands to reach more people every day".
The fmcg giant is sharpening its focus on ecommerce – in its full year results this month Unilever said sales over online channels had grown by 61% globally, and now make up 9% of its total sales.
Unilever is pursuing a strategy to "accelerate pure-play and omnichannel ecommerce" and hopes to "lead in the channels of the future".
In Spain last year, Unilever signed an agreement with Deliveroo to deliver essential items from 25 categories from brands including Knorr, Dove, Ax, Tresemmé and Signal on the Deliveroo.es platform.
Elsewhere, Unilever has established its own delivery marketplaces. In Israel Unilever worked with stor.ai to create Shopo, a platform for local convenience stores to list items available for rapid delivery. Similar models have been stood up in Turkey and Brazil.
"We recognised at Unilever a growing need and opportunity, connecting two of the fastest growing channels in fmcg became crucial," Yael Brandt, digital transformation manager at Unilever Israel told The Grocer.
"Over the last months we have seen huge growth in the number of retailers joining Shopo, increasing our customer base by 50%, while our retailers have seen exponential growth in sales driven by both new consumers and bigger basket size," she said.
Asked whether a similar model could be established in the UK, Brandt said Unilever was "always interested in new revenue streams and models and is exploring how to develop in different markets".