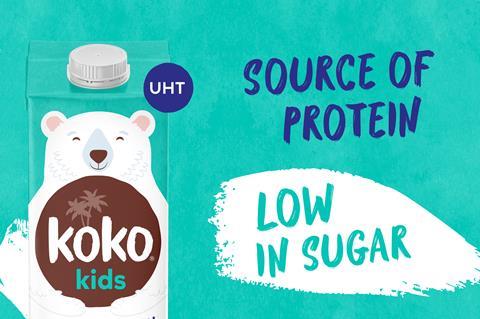 Koko Dairy Free has rebranded its kids milk alternative aimed at children over the age of one.
The brand's new Kids Free From M!lk has been developed in consultation with dietitians, with Koko claiming it was the only milk alternative aimed at children in the UK that was free from all 14 major allergens, including dairy, soya and oats.
The brand first launched Koko Growing Up Milk in April 2023, but the new name and packaging was said to better define the age range of the product, its allergen safety, and the nutritional benefits.
"With more children than ever experiencing not only cows milk protein allergy, but also other common allergies within the major 14, it is an increasing worry for their parents," said Victoria Eadon, marketing manager at Koko. "We recognise the importance of being allergen-safe and the reassurance that comes with that for parents, which is why we've done and will continue to do additional due diligence."
The product is also low in sugar, is a source of protein and has essential vitamins and minerals, including vitamins A, B2, B12, C, D2 and E.
Koko Kids Free From M!lk (rsp: £2) launches in 264 Boots stores in the UK in October.
"We're delighted that consumers can now purchase Koko Kids in Boots, a company that shares our values for safety, health and of course, great taste," said Eadon.
Koko launched in 2010 as the first UK company to make a coconut-based alternative to dairy milk.