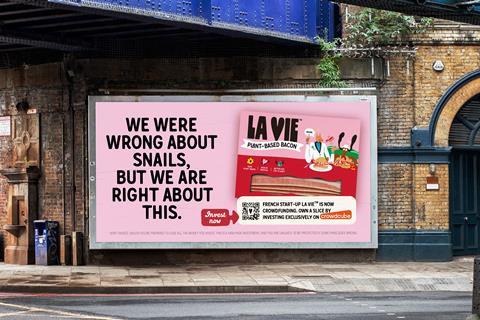 La Vie hit its €1m crowdfunding target in just over an hour after opening it up to investors.
The crowdfund opened on 7 September with the aim of growing its community of supporters.
The France-based pork alternative brand has now announced it will be overfunding so it can get more people involved in its future.
"We are so thrilled to have hit our target of raising €1m in just over one hour since we went live with our crowdfunding campaign," said Nicolas Schweitzer, CEO and co-founder of La Vie. "It reinforces the promising future for the plant-based category and it is brilliant to see many joining our community to have their very own slice of La Vie!"
La Vie has also extended the crowdfund time allowance, enabling members of the public to invest as little as £20 until 3 October, instead of the initially planned 28 September.
Customers would also be joining existing investors in La Vie like actor Natalie Portman, plus the CEOs of Vinted, Backmarket and Blablacar, and the chairman of Oatly, the brand boasted.
The crowdfund launch was supported by social, print and OOH advertising.
"It doesn't stop there though, making the decision to now overfund means as many customers and investors can still join us on this journey," added Schweitzer. "Each and every euro raised will play a pivotal part in helping us achieve our goal to become the largest pork meat brand in the world without hurting a fly."
Its crowdfunding campaign follows an undisclosed investment round earlier this year, which is why the campaign was "not really about the money", Schweitzer told The Grocer at the launch event earlier this month.
"We have already secured [another significant] investment round and I think for us it is mostly about strengthening our community, creating real ambassadors that believe in our vision, that want to own a slice of La Vie, and I think it's pretty cool."
It follows the announcement of its plant-based ham alternative expected to launch in the UK in January in major retailers.