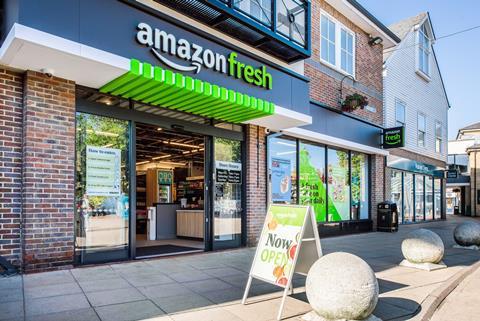 Amazon Fresh stores are offering all Amazon Prime members a 25% discount on their in-store shop.
The offer runs until 13 July, the last day of Amazon.co.uk's annual two-day summer sale event Prime Day.
All 19 Amazon Fresh stores – the most recent of which opened in Sevenoaks last month – are running the promotion.
The discount covers everything sold in store – including "an array of fresh flowers and their daily newspaper" – excluding only beers, wines and spirits and infant formula.
To shop in Amazon Fresh stores, customers must have already downloaded the Amazon app. However, the retailer has long emphasised that Prime membership is not required to complete the 'Just Walk Out' shop.
"While you don't need to be a Prime member to enter the Amazon Fresh stores, this offer is reserved for Prime members only," a spokeswoman for Amazon Fresh told The Grocer.
The 25% discount applies to every time a Prime member shops in the stores for the duration of the promotion.
"The challenge for all autonomous, checkout-less stores is to get people to try them, and try them a couple of times," said Kien Tan, senior retail adviser at PwC UK. "Before they've tried it, people don't realise it's simple and convenient and easy. You have to get people through the door to do that."
Tan added that the "pretty generous" promotion would tempt some shoppers to switch from their usual retailer.
"People don't intuitively know what to do so are put off," he said. "This promotion will help convince some people to try it for the first time, with the added benefit for Amazon of being another perk of Prime membership.
"Whether it convinces people to use a store, or sign up to Prime, it's getting people into the ecosystem," he added.
A similar promotion was run following new store openings, later replaced by a £10 a shop offer.
The promotion adds to the growing number of 'Prime perks' offered to subscribers. Late last year Amazon and Deliveroo (in which Amazon has a 16% stake) partnered to offer Prime members unlimited free takeaway and grocery delivery on orders over £25 for a year.
Same-day grocery delivery from Amazon.co.uk is also included with Prime membership for orders over £40 in a two-hour delivery slot.
According to Mintel, Amazon Prime is the "absolute leader" among the UK paid subscription schemes, with three in 10 Brits members at last count in 2020. Amazon Prime accounts for nearly eight in 10 consumers who have any kind of paid subscription, Mintel says.
Prime members in the UK pay £7.99 a month or £79 a year for membership. In the US, Amazon increased the cost of a subscription earlier this year by 17%, though no plans to do the same in the UK have been confirmed.