As the UK's beverage market continues to expand, manufacturers are under increasing pressure to hit sustainability targets and satisfy changing consumer demands – and there is one packaging medium that is thriving as a result.
The UK's beverage market is in rude health and is projected to grow by compound annual rate of 10.5% over the next five years.
Soft drinks sales are fizzing, with one study reporting that sales across grocery, foodservice and licensed channels hit £19.2bn last year, a rise of 25.6% year-on-year or +£3.9bn at the tills.
Meanwhile, the market for both alcoholic and non-alcoholic beverages has been boosted by a number of factors, including the rise of premium ready-to-drinks (RTDs) and mixers as the at-home cocktail trend has taken hold, a proliferation of new product development with everything from iced coffees to CBD drinks boosting category spread, and the influence of Gen Z, whose focus on healthier lifestyles has boosted 'health and energy' soft drinks or low & no at the expense of alcohol.
"Drinks of all types – both alcoholic and non-alcoholic – are now appearing increasingly in aluminium cans, from the burgeoning RTD sector to functional health drinks and even to wine"

- Tim Conybeare, chairman, Can Makers
While this paints a very positive picture for the category, environmental concerns from both consumers and retailers are pushing manufacturers to explore how they can combine the need to satisfy modern sustainability demands in a market that has a fragmented approach to recycling, along with an increasing consumer drive for convenience in all its forms – from on-the-go to entertaining at home.
In turn, this has created an increased opportunity for a type of drinks packaging that is readily recyclable and offers several other attributes that make it the ideal solution for a wide range of beverages – namely, cans.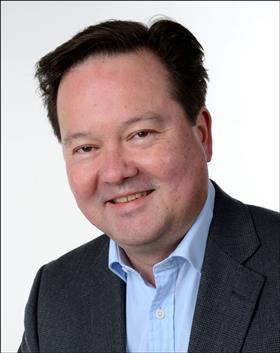 "Drinks of all types – both alcoholic and non-alcoholic – are now appearing increasingly in aluminium cans, from the burgeoning RTD sector to functional health drinks and even to wine," says Tim Conybeare, chairman of trade body Can Makers and commercial director UK & Ireland at Crown Bevcan EMEA. "Traditionally, cans have been associated with carbonated drinks, ranging from sodas to beers and ciders. In fact, research by Can Makers reveals that the soda is the beverage in cans that has the greatest usage, with 62% of UK adults saying they have bought or use canned soda in the past year, followed by beer (at 45% of UK adults). However, their use is now expanding beyond this remit into a far wider spectrum – and with good reason."
Sustainable assets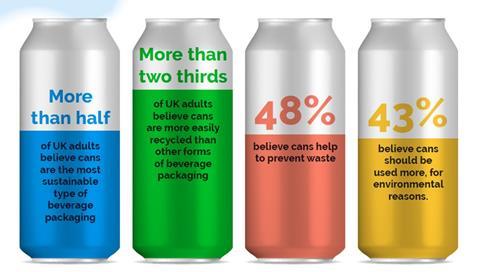 Lighter than their glass counterparts, cans offer a number of attributes that meet both the sustainability and convenience demands of modern consumers, from on-the-go occasions when out and about to tighter portion control and reduced waste in the home environment.
A study from 2021 reveals that recycling rates on aluminium drink cans is particularly high, at 82%, making them the UK's most recycled beverage container. Moreover, upcoming initiatives, such as the deposit return scheme (DRS) for drinks bottles and cans – due to be implemented in Scotland next year and in the rest of the UK the year after - are likely to boost recycling rates even further.
Being lighter than glass bottles, the energy needed to recycle cans is lower and, in terms of transportation, their carbon footprint vs glass bottles is smaller. As an article by Metal Packaging Europe points out, the lighter and compact nature of cans means big savings in shipping costs, as well as benefits in reducing the environmental impact of transporting beverages. In addition, can makers have reduced the amount of aluminium and steel used to produce cans by around 50% in the past 40 years, also reducing outgoings and CO2 emissions.
Decorative appeal
Yet cans also have a number of other advantages. In terms of on-shelf standout and branding, their printable aluminium surface means they are versatile, lending themselves well to decoration and bold colours. So, while there may be some hesitation in moving away from bottles in certain sectors of the market, cans are able to inspire impulse purchase and exploration among shoppers.
Flexible options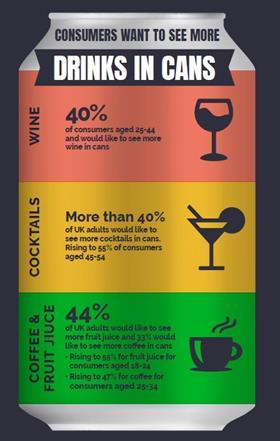 Meanwhile, changing consumption trends in a challenging inflationary environment, mean consumers are looking to entertain at home more, rather than eating out, and are keen to create drinks such as cocktails in the home environment, but not be wasteful when it comes mixology. Consumers often struggle to pour correct measures in the same way a skilled bartender would, so cocktails in cans provide them with a ready solution, while premium mixers in different can sizes allow for portion control and help to reduce waste. A recent article in The Grocer pointed to cocktails currently being the bright spot in the RTD market, with sales up 22% to £116m in the year to 3 June and also noted the rise in RTD launches of single-serve cans in the UK.
Growing sectors of the soft drinks and alcoholic beverages categories are also providing increased opportunity for the use of cans. These include waters and infused waters, health and energy drinks, cocktails and the somewhat controversial wine in cans sector.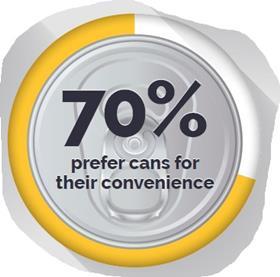 "On-the-go occasions – such as picnics, festivals, barbecues and other outdoor events – are broadening the possibility for drinks, both alcoholic and soft beverages, in cans, which are easily portable, lightweight and in sizes that suit portion control," says Conybeare. "Moreover, they chill quickly and while products in larger containers could lose their freshness and zing, cans help to keep the overall quality of the drink high. In fact, Can Makers' research reveals that 70% of UK adults believe cans to be more convenient for outdoor occasions, 69% believe they are more convenient 'on the go' and 67% believe they make portion control easier."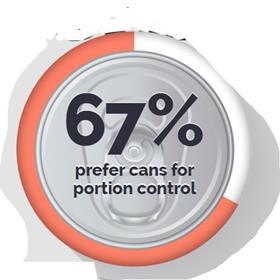 What's more, Can Makers' recent research reveals that consumers have a positive attitude towards drinks in cans, with more than half of UK adults believing cans are better for the environment. So, with consumers desiring convenient formats, but also wanting to feel good about their purchase decisions, the use of cans as an acceptable and accepted packaging format for an increasing range of beverages is becoming clear.
"Consumers don't want to choose between convenience and sustainability," says Conybeare, who notes that cans feed into a circular economy, thanks to metal's high recyclability. "Beverage cans are already the world's most recycled packaging format and use significantly less CO2 during the recycling process, providing potential energy and cost efficiencies for the manufacturer and the producer, and a format that resonates with the environmentally conscious consumer."
To find out more about how cans can benefit brand sustainability targets and satisfy consumer demand, go to www.canmakers.co.uk.

The Can Makers Committee gives the UK's beverage can industry a unified voice by bringing together can manufacturers, suppliers of raw materials, and related industries. Our mission is to proactively position and support the positive attributes and image of beverage cans through joint marketing, environmental and technical initiatives. We also aim to represent the industry's views and voice opinions so stakeholders understand how metal packaging contributes to the circular economy.
View full Profile