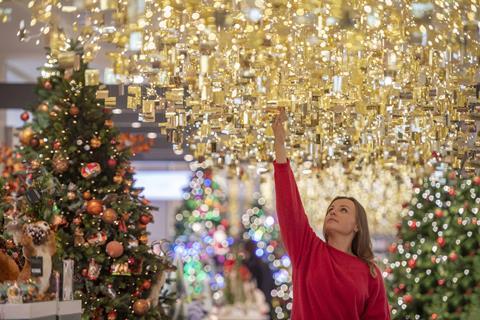 Retailers face the prospect of intense staffing pressures at the busiest time of the year, as the need for festive seasonal workers outstrips supply, new research suggests.
Brexit-fuelled labour shortages mean retailers need more additional support than usual this Christmas, while the same pressures mean the seasonal labour pool is smaller, according to Axonify, which conducted the research.
More than half of retail managers surveyed (53%) said they were hiring more festive seasonal workers this year, either because they needed more support than usual or because existing staff lacked the skills to meet seasonal demand.
But nearly as many (49%) said it had been harder to find them and 57% said the quality of applicants, including their skill set and previous experience, had become worse.
"This is a critical time of the year for middle management as they're typically focused on hiring seasonal workers in anticipation of a busy holiday shopping and travel season," said Axonify CEO Carol Leaman.
"With an expected increase in seasonal hiring this year and a tight labour market due to Brexit, we know these industries will be challenged to find the right workers to support their business."
The news comes with major supermarket festive seasonal recruitment drives soon to launch or already under way.
Sainsbury's is expected to release details of its seasonal recruitment drive early next week - more than a month earlier than its festive hiring push launched last year.
Tesco has already begun its search for festive store workers, with a page on its website asking candidates to sign up now for job alerts starting from 9 October.
John Lewis kicked off a hunt for 10,000 seasonal recruits last month, including in Waitrose. The intake is slightly more – by about 100 – than the company advertised in last year's recruitment drive.
The survey of 300 UK retail managers found they were adapting recruitment processes to attract more applicants. Some 59% had revised job descriptions, while 65% were offering flexible works schedules and 49% were offering more competitive perks and benefits.
The research by Axonify, provider of an AI-powered training platform, also highlighted the pressure on middle managers, with 77% of them responsible for anticipating and solving staffing needs, identifying skills gaps and getting new hires up and running. More than three in five (64%) were responsible for onboarding new hires. More than half (54%) said the responsibility contributed to burnout.
Leaman said: "Our data shows that seasonal hiring is not only a stressful time for managers, but it has also become a very complex undertaking that requires them to think beyond just getting workers hired.
"In addition to their operational duties for the business, managers are responsible for ensuring each new member of their workforce is onboarded, trained, and empowered to deliver seamless customer experiences for the business."