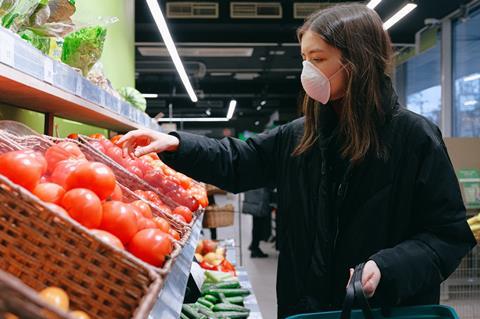 Iceland has rejected the notion of store staff enforcing the wearing of masks by customers, pointing to a rise in abuse and violence against shopworkers.
It's a different tack to that taken by a number of other supermarkets in the row over who is responsible for enforcing government Covid rules in shops.
Following pressure from government to get tougher on customers not complying, Tesco, Asda, Sainsbury's and Morrisons have all announced this week that shoppers not wearing face coverings will be refused entry by security guards or door marshals.
Aldi this afternoon joined them, saying anyone without medical exemption who refused to wear a mask would not be permitted entry.
An Iceland spokesman said larger stores already had security guards and all branches would have staff deployed at the doors when necessary. However, he added: "In view of the rising tide of abuse and violence directed at our store colleagues, we do not expect them to confront the small minority of customers who aggressively refuse to comply with the law."
BRC head of food policy Andrew Opie has said it is down to police to enforce Covid regulations. "It's great to see companies reinforcing the message that shoppers should be wearing a mask because there's a level of exasperation both from retailers and customers that there is a persistent minority that are not wearing masks," he told the BBC Today programme this morning.
"But there is a question about enforcement and how you stop that happening."
Iceland's spokesman also said: "We continue to remind all customers that they are legally obliged to wear face coverings when shopping with us, unless they are medically exempt under the current government guidelines.
"Security guards have always been deployed at the doors of our larger stores to monitor the number of customers entering the store and to remind them of our shopping rules, and we will place staff at the doors of all stores to manage entry when customer numbers are approaching the maximum on the premises allowed under the Covid rules.
"The vast majority of our customers continue to shop responsibly and in compliance with the law."
Lidl also this afternoon appeared to take a softer approach than some other supermarkets, saying security guards were positioned at doors to "regulate customer numbers and to remind those not wearing a face covering of the government guidelines and their own responsibility to keep themselves and others safe".
A Lidl spokeswoman added: "Our responsibility remains to provide a safe shopping environment for customers and our colleagues. We continue to evaluate our procedures to deliver this and, as such, we will be developing measures across the vast majority of our stores."
Aldi said that for a limited period, customers who forgot to bring a mask would be given one free of charge. Anyone without exemption who refused to wear one would not be allowed in. Customers would also be reminded to shop alone if they could.
Aldi UK CEO Giles Hurley said: "The safety of our colleagues and customers is our number one priority. Wearing a mask is mandatory for everyone that shops at Aldi, except for the small number of people who have a medical exemption."