When it comes to packaging, shoppers believe paper is the most sustainable option. But the massive amounts of wood required in its production, plus issues around its recyclability, mean the choice is far more complicated for suppliers and retailers
Every story needs a hero and a villain. In the narrative around packaging, plastic is cast as the bad guy. And paper, almost by default, has become the goodie – a green, renewable material that can not only replace ready meal boxes and pizza trays but wrap chocolates, protect bread and even contain beer, wine and squash.
Companies including Nestlé, Kraft Heinz, Pernod Ricard, PepsiCo and Carlsberg are investing millions to produce paper packaging that can do the jobs plastic does and, so they claim, leave a lighter footprint on the planet.
"Just wait until deforestation legislation kicks in"

Paul Foulkes-Arellano, founder of Circuthon Consulting
The reality is more complicated. Concerns around deforestation and the recyclability of the barriers and coatings used in paper-based packaging mean paper isn't always the good guy.
"Plastic pollution is a problem and plastic usage has to reduce," says Paula Chin, senior policy advisor at WWF, "but not at the expense of shifting the burdens onto other supply chains".
Yet that is exactly what is happening. Away from tangled turtles and plastic-filled seas, the insatiable demand for paper packaging is forcing more trees to be felled, with three billion needed just to meet current global packaging demand each year, according to the Environmental Paper Network, an NGO pushing for sustainability in the paper supply chain.
Paper packaging in numbers:
3 billion
trees used annually to meet global demand for paper packaging
"You can't just put everything in paper and say the world is a better place," says Shane Monkman, former Asda procurement head, now MD at One:Ex Consulting.
Reasons for the shift towards paper include the pandemic and consequent rise in retail deliveries, bans on single-use plastic items such as straws and, of course, the wider demonisation of plastic packaging following high-profile documentaries and other exposés.
Some campaigners partly blame themselves for the situation. "I don't know if my NGO colleagues would admit to this, but we can't say that, by targeting businesses on plastics only, we haven't had a role in them behaving the way they behave," admits one.
The limited data available on retailers' packaging suggests a shift towards paper. The Grocer approached the 10 largest supermarket chains for their paper packaging footprints. Some offered plastic statistics but only Tesco and Iceland produced data for paper, with Tesco showing paper packaging tonnages up 7.5% in 2022 and plastic down 4.2%.
Flexible plastics
Among the changes being made by suppliers and retailers is a move away from flexible plastic – which is notoriously hard to recycle – in favour of paper.
"All UK packaging decisions are driven by recyclability," explains Paul Foulkes-Arellano, founder of circular economy experts Circuthon Consulting. Despite efforts from retailers and recyclers, the percentage of flexible plastics reprocessed "barely registers", which has meant some businesses switching to high-barrier flexible papers, he explains.
Mars is among the latest to try these out, with Mars bars available in paper-based packaging at 500 Tesco stores. What isn't clear is whether the wrapping uses a liner or barrier, which is often essential to protect the product and the paper.
"Paper doesn't do half the things you need it to, so you need coatings and layers," explains Lizzie Smith, packaging specialist at sustainability consultancy Anthesis.
Nestlé UK&I is also using paper for Kit Kat and Quality Street packaging. "We are working with paper to enhance its barrier performance and trial it," explains Nestlé packaging head Sokhna Gueye. "As technology develops there will be more applications where we can use paper when it makes environmental sense."
5 million tonnes
of UK paper packaging demand (2018)
Drink suppliers have also developed an appetite for paper, with Absolut Vodka launching a bottle that is 57% paper and 43% plastic barrier lining. It is far lighter than glass, which brings emissions down, but whether it can be recycled is moot.
"We can deal with paper all day long," says Roger Wright, waste and packaging manager at Biffa, but composites are a different story. Paper mills can also deal with plastic liners to a point: under 10% is OK but the 43% in Absolut's bottle is pushing it, though Absolut says the plastic is recyclable.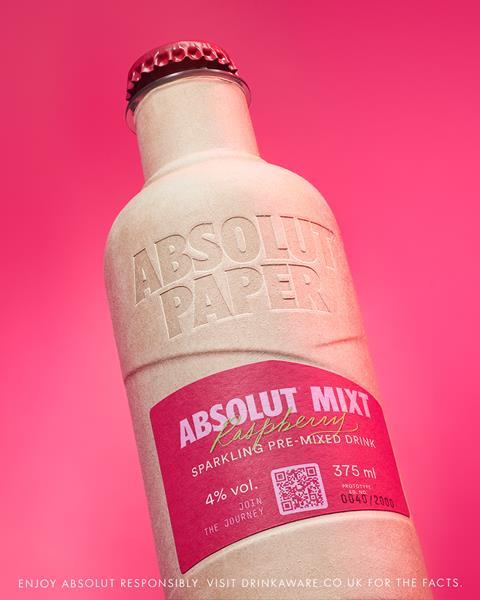 Lamination concerns
The Confederation of Paper Industries says UK mills currently deal with around 120,000 tonnes of challenging materials, accounting for 2% of the total. But the trend towards lamination of paper so it can be used for more food and drink is a concern.
New barriers are being developed to overcome recyclability issues, however. Aquapak, for example, has been testing a polymer that, in trials with DS Smith Packaging, proved compatible with the mill's system.
Others are switching from oil to plant-based plastic liners for their paper bottles. Carlsberg is part of a wider collaboration with Paboco (the Paper Bottle Company) that includes Absolut and Coca-Cola. Last year the brewer tested its wood-fibre bottles at festivals in the UK and Europe, with a full-scale rollout pencilled in for 2025. The hope is for the bottle to include a barrier of 5g PEF (a bio-based alternative to PET), which would put its carbon footprint on a par with a refillable glass bottle.
A competing paper packaging group, Pulpex, enjoys the backing of businesses such as Diageo, PepsiCo and Heinz.
Educated guesses
Some suggest food and drink brands are complicating things unnecessarily in their rush to remove plastic. In the aftermath of the BBC's Blue Planet, some switches were based more on sentiment rather than science, according to Green Alliance. Libby Peake, head of resource policy at the thinktank, believes some are still struggling to see the wood for the trees: if we're not careful we'll soon need global treaties for paper and myriad other materials, she warns.
The big brands say they are weighing up factors including functionality, lifecycle assessment results, recyclability, supplier capability, cost and consumer perceptions before switching materials.
"Some of the moves are probably good, and businesses will have invested massively in doing what they think is right," says Susan Thomas, former senior director of sustainability at Asda and now an independent consultant.
Regulations relating to harmonised waste collections and extended pro ducer responsibility for packaging, which are much delayed, will eventually provide the guardrails businesses need to justify their decisions. Without government guidelines they are forced to take (educated) guesses.
"You can't just put everything in paper and say the world is a better place"

Shane Monkman, MD at One:Ex Consulting
Asda, for example, says it is important to ensure packaging choices are not bringing unintended consequences, such as deforestation or higher greenhouse gas emissions.
"We are currently trialling the use of a carbon footprinting tool that we hope will help us to navigate these difficult choices and steer us towards more well-informed decision-making on our future packaging projects," a spokesperson explains.
When a business considers the environmental metrics of materials, sometimes paper wins and sometimes plastic.
Meat alternative manufacturer Heura conducted an assessment showing that a plastic rPET tray had 39% fewer emissions than an 87% recycled cardboard tray with a plastic lid, so it switched.
69%
of paper and cardboard packaging recycled/recovered in 2019 (versus 46% plastic)
The balance could shift, though, as industries decarbonise and new recycling technologies emerge.
Lifecycle assessments have their limitations, and there is concern that some representatives of the paper sector are using dubious studies to present single-use paper as a better choice than even reusable packaging. It's part of a major lobbying offensive to derail new packaging laws in the EU that favour reuse over single-use.
Paper has its own environmental baggage, of course. From its massive water footprint to the use of chemicals such as PFAS (Perfluoroalkyl and Polyfluoroalkyl Substances) as barriers for greasy food. Denmark and several US states have banned PFAS, known as forever chemicals because they don't break down in the environment, from all paper and board packaging.
Read more:
Then there is deforestation and the planting of monoculture forests that contain a single variety of tree. These are planted to provide a resource, such as pulp, timber or palm oil, but lack biodiversity and are exposed to a changing climate.
The Environmental Paper Network, Fern, Zero Waste Europe and Rethink Plastic have come together recently to rally against the monocultures the pulp and paper industry has spread throughout the world. The landscapes in Portugal, Sweden and Finland have transformed what a forest looks like, explains Hannah Mowat from Fern: "All the paper industry cares about is cheap fibre."
Paper shortages?
Russia's invasion of Ukraine has further squeezed supplies, leaving some businesses going further afield for what they need.
"Just wait until deforestation legislation kicks in," warns Foulkes-Arellano.
The paper industry offers a rosier picture. Trade body Two Sides has been working to dispel the "myth" that European forests are shrinking: "They are growing by over 1,500 football pitches every day", says its website.
Ian Bates, the organisation's European marketing director, says he is "biased towards paper but not anti-plastic" and is refreshingly transparent about the challenges the sector is facing, and the limitations of the material for protecting food and drink.
"If we can make something from a regenerative source then we should do that," he says. But "paper is a very different material to plastic; it doesn't behave in the same way".
There are also question marks over the use of recycled content in paper packaging for food and drink.
2.5 tonnes
of wood needed for every tonne of paper
Food safety regulations don't cope well with recycled paper, and the tendency is to use virgin material. Fibres also shorten during reprocessing. The nuance in weighing all these factors can be lost on consumers, though, who want simple solutions that align with their perceptions.
"We know customers love paper packaging over plastic materials," says Rob Thompson, packaging manager at The Co-op.
They certainly do. More than 60% of UK consumers view paper as the most sustainable option for packaging, according to Deloitte. And this bond will be difficult to break, as research involving 4,000 people from the UK, US and the Netherlands recently published in the Journal of Consumer Research shows.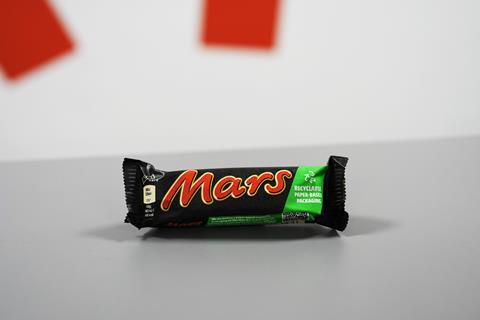 People pay a premium for paper
The study found that a chocolate or snack bar wrapped in plastic with an outer layer of paper packaging is perceived to be more environmentally friendly than if it is just plastic (even when wrapped in the same amount of plastic). They would also pay 15 cents (12p) more for the unnecessary layer of packaging.
What's more, researchers found the more paper packaging there is on a product, the greener it is perceived to be. Part of what makes this over-packaging trend "particularly insidious" is that it is most salient for consumers who are most environmentally conscious, the scientists noted in a piece for Harvard Business Review.
Supermarkets say they are on the lookout for over-packaged goods, though.
"We challenge all unnecessary packaging, regardless of the material," says Marks & Spencer, while Tesco notes that the removal of boxes from its own-label toothpaste saved 55.9 tonnes of paper a year.
32.7 million tonnes
of European paper and cardboard waste in 2020
Still, there are those that claim companies are using paper's perceived environmental friendliness to pull the wool over customers' eyes.
Changing Markets Foundation says dairy brands are turning to "plant-based packaging" such as paper to disguise the huge environmental impact of the products inside. This was also a criticism levied at Morrisons when it switched its own-label milk from HDPE, which is collected by all local authorities at the kerbside, to Tetra Pak cartons that are only collected by 66% of councils.
Collection is a prerequisite for recycling growth, says Awantika Chadha, Tetra Pak sustainability manager UK&I, adding that beverage cartons must be included in deposit return schemes.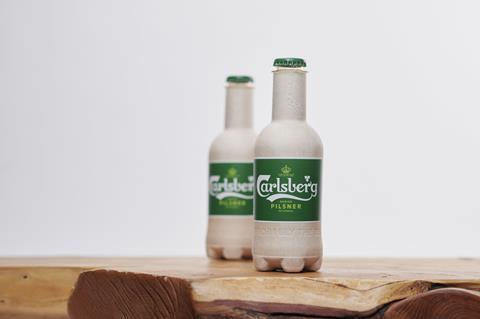 The company is spending €100m a year to simplify its packaging, for example by removing the aluminium layer, but Chadha wouldn't say what the recycling rate of cartons is currently.
It's a sensitive subject. Industry figures suggest a 50%-plus rate, whereas research by Zero Waste Europe and consultancy Eunomia put it at under 30% when factoring in that none of the plastic and aluminium from the inside layer is recycled. Tetra Pak says it is working to use more recycled plastic polymers.
15%
Decline in amount of CO2 being absorbed by EU forests versus 2005
Sources: EU rules on packaging (2023), Material Economics, Unwrapping a disaster (2023), UK global packaging materials footprint (WWF), Two Sides tracker (2023), Defra
Purveyors of plastic will rejoice at the spotlight being turned on paper. Last month countries met for the second round of talks to thrash out a global plastics treaty. Talk of a production cap is making producers increasingly desperate for technologies such as chemical recycling. Others will look to paper instead.
"We are really worried," explains Sergio Baffoni, a campaigner with the Environmental Paper Network. "The paper industry is a bit like magic – it just keeps growing."
Trees do too – just not fast enough to maintain the insatiable global demand for paper packaging.