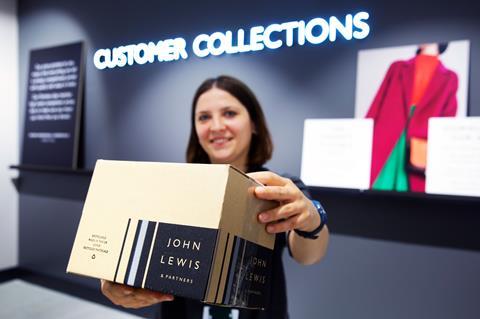 John Lewis is extending click & collect to 400 extra Co-op stores, on top of the 105 already offering the service.
It means John Lewis customers will be able to collect or return online purchases at over 500 Co-op branches by the end of September.
It will bring the number of John Lewis click & collect points to nearly 900 – double the current number – including 326 Waitrose branches, 12 Booths and all 50 John Lewis stores.
John Lewis click & collect was first introduced in Co-ops in a five-store pilot last year, before rolling out to more branches last September. John Lewis executive director of operations Andrew Murphy said the latest rollout was a response to the shift to online shopping seen in the pandemic.
"Throughout the Covid-19 pandemic, we've seen a significant shift to online shopping and expect this trend to continue," he said. "As a result, we are dedicated to providing more choice when it comes to how our customers receive their purchases, helping our customers shop how and when they want us. This includes providing more locations for collection and returns for online shopping.
"The Partnership is always looking for ways to reach new customers and support local communities, by providing access to the amazing range of products we sell, through convenient locations. Our customers love the ease and convenience click & collect provides which gives us the confidence to continue to invest in this area. Building on our already successful partnership with the Co-op, this extension will allow us to offer our click & collect service to double the number of locations across the country; enabling us to reach more of our existing loyal customers while engaging with new ones too."
Co-op director of innovation and format Mark Matthews said: "With our stores located at the heart of local communities, choice, ease and convenience is at the very core of our approach. We continue to look for new ways to innovate and expand access to products and services conveniently – by working together we can offer further flexibility and choice to meet consumer needs locally."