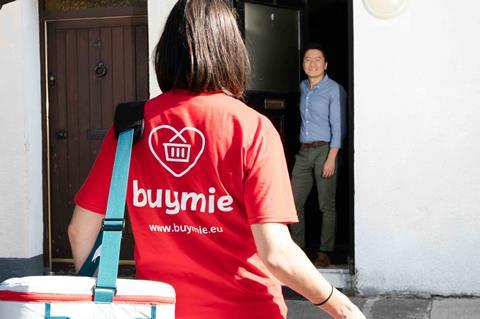 Buymie, the grocery courier business that delivers for Lidl and Tesco in Ireland, is arriving in the UK for the first time, in partnership with the Co-op.

Over 200,000 households across Bristol can use Buymie's app to order from around 4,000 Co-op products. Delivery can either be in as little as an hour or in a scheduled slot up to a week later.

Orders are appointed to a Buymie "personal shopper", who communicates with customers over any substitutions.

There is a £6.99 delivery charge, a £1 "processing and platform" charge to cover the personal shopper, and a mark-up on shelf prices of around 5%. There is no limitation on basket size.

The partnership will create 200 personal shopper jobs over the next six months, according to Buymie.

In Ireland, Buymie delivers Lidl and Tesco shopping in the greater Dublin area. Last month the business extended the Lidl partnership, first struck in 2018, to a multi-year deal. It also raised €2.2m from investors to scale up and add new locations during the coronavirus crisis.

In the UK, it's the latest in a number of ways to shop online from the Co-op, running alongside Deliveroo and the convenience retailer's own platform at shop.coop.co.uk.

It is part of a major online push by the Co-op, which expects its own online offer to be available from 650 stores across the UK by the end of 2020. This month the Co-op also revealed the Deliveroo service would be offered from 770 stores by the middle of this year.

"Ease, speed and convenience are at the core of our approach," said Co-op head of online development Jason Perry. "With customer experience and quality front of mind, our decision to partner with Buymie allows us to continue to expand access to our products online, and offer greater flexibility and choice to meet consumer needs in our communities."

Devan Hughes, CEO of Buymie, added: "We have accelerated our UK expansion plans to support our retail partners in offering same-day delivery capacity, with Bristol being our first city to launch."
Earlier this week Aldi announced it had partnered with Deliveroo to launch rapid grocery delivery for the first time in the UK, from a Nottingham store.