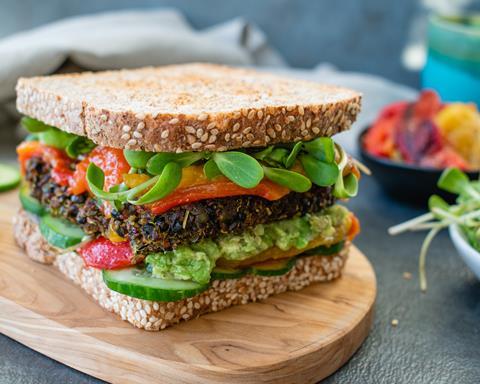 It's tough at the top. In a stellar year for meat-free sales, the biggest brand – Quorn – has seen volumes fall by almost 10%.
Admittedly, the plant-based behemoth didn't actually lose money – it added just under £1.7m to its value. But set against the massive gains raked in by its competitors, Quorn's performance is underwhelming.
Because category figures are seriously impressive: meat free-sales are up £117.9m. That's an increase of almost one third (28.8%), representing a change of pace from last year's already impressive growth rate of 18%.
As our table shows, the majority of the top 15 have made at least double-digit gains. Birds Eye's Green Cuisine brand is up a cool 320.6% to £11.3m. Linda McCartney's, the second biggest meat-free brand, has grown by almost a third (27.4%) to £66.3m.
Meanwhile, Beyond Meat has broken into the top 15 for the first time, having more than tripled its sales to £5.5m. And that's before it gained a listing in Sainsbury's in October.
It's not just the big names enjoying all the glory. Smaller companies are similarly posting rapid growth. Number 16 brand Meatless Farm, for instance, has more than doubled its value to £4.1m. Number 18 brand The Vegetarian Butcher, owned by Unilever, has more than tripled its sales to £3.1m.
So what went wrong for Quorn? Its problems began at the start of the year, when it struggled to meet demand for the biggest-ever Veganuary. While many meat-free brands were noted as being out of stock in this period, Quorn was by far the biggest victim with a total of 58 SKUs listed as out of stock across the big four, Waitrose and Iceland [Edge by Ascential w/c 27 January].
Over the first lockdown, Quorn said the reduction in promotions and limitations on the number of items shoppers could buy also had an effect on volumes, which were down 7.8% in the 16 weeks to 11 July [Nielsen].
On the supply front, the brand is keen to avoid a repeat of Veganuary. Marketing director Gill Riley says Quorn has now "successfully increased production" as part of a £150m investment, including an expansion of its Billingham facility.
Still, its failure to capitalise on this year counts as a real miss for the biggest name in meat-free, which should in theory have won big from growing consumer demand.
The huge value gains made across the category were, admittedly, partly down to people paying more per product. Prices have risen significantly, by an average of 11.3%, largely because of the aforementioned lack of promotions. So behind the headline value gain lies more modest volume growth of 15.3%.
But that still points to an increase in shopper appetite – and one that didn't end with Veganuary. As coronavirus hit, shoppers grew increasingly worried about their health and turned to meat-free for what they perceived to be healthier options.
The closure of the on-trade for chunks of the year, and the resulting shift towards in-home consumption, has also aided plant-based "in a big way" in the retail environment, says Michael Hunter, chief growth officer at Meatless Farm.
"People have had to cook at home much more frequently – this has meant existing plant-based users have bought more and new users are experimenting with different food products at home."
This surge in shopper appetite and eagerness to experiment has been met by a deluge of NPD across both large and small brands.
In January, number two brand Linda McCartney's launched four new products, including a KFC-style vegan chicken bucket. In May, vegan startup LoveSeitan claimed a UK first with a vegan pepperoni alternative. And in June, Moving Mountains reacted to the shift towards in-home consumption by making its 'bleeding' burger available in retail (see our Top Launch).
Innovation was also rife at the traditional meat brands, which have clambered to bring out plant-based versions of their well-known meaty staples. Richmond, for instance, made its category debut with a plant-based version of its breakfast sausages last September, and has since expanded into burgers. Value sales of the sausage giant's plant-based range have already hit £9m – equating to the second highest gain (behind Linda McCartney's) on this list.
Then there's Finnebrogue Artisan, which extended its nitrite-free Naked brand into plant-based with a quadruplet of burgers, mince, sausages and meatballs made from white and oyster mushrooms in May. The business made its ambitions clear in October, when it put £25m towards building what it described as Europe's "most advanced" plant-based food factory.
That Finnebrogue used white and oyster mushrooms for its NPD is telling. Because the category is venturing well beyond soy in its latest recipes.
Beyond soy
Pea protein is steadily growing in popularity, used by the likes of Birds Eye and Meatless Farm, the latter of which switched up the recipes of its burgers and sausages from soy to pea protein earlier in the year.
At the time, founder Morten Toft Bech said the new recipe would make the products "better in texture and colour" and cited "arguments that soybean farming is more intensive and drains the topsoil of nutrients".
Another ingredient gaining ground is oats. Pulled Oats, a new meat alternative made from oats, yellow peas, faba beans and rapeseed oil, made its debut in Planet Organic in the summer, having already built up a strong retail presence in its native Denmark.
The product has since been used by Ginsters in its vegan empanadas (see left), in a departure from its regular partnership with Quorn. For Ginsters, it's about being ahead of the game – the brand has tipped Pulled Oats as a potential major food trend.
Yet that doesn't mean the more traditional meat alternatives are suffering. Tofu fared well, as evidenced by The Tofoo Co netting the fourth-greatest gain in the category – more than doubling its value to just under £17m. Co-owner David Knibbs believes tofu has an edge over some trendier ingredients. "It's not a fake meat and it's not trying to impersonate other food products," he says. "It's a genuine ingredient in its own right."
While many competitor products carry long, complicated lists of ingredients, tofu has only three, he adds. Which plays well to the increasing consumer desire for transparency. "It's ingredients like tofu which don't masquerade as other foods that will continue to thrive as consumers move away from direct meat substitutes," he says.
Tofoo Co is now expanding. It has splashed out more than £4.5m on its factory, installing a new soy milk cooker it claims will ramp up its production capacity by 70%, and is hiring a veritable army of staff.
It's good timing on its part. After all, it's almost time for another Veganuary. And if the past couple are anything to go by, it's going to be a big one.
Top Products 2020
In association with Nielsen
Top 15 Meat Free
£m
£ change
%
Total volume change:
15.7%
Total Category:
527.1
117.9
28.8
Total Own Label:
93.2
22.1
31.1
This year's rank
Last year's rank
Brand
Manufacturer
£m
change (£m)
change (%)
1
1
Quorn
Monde Nissin
183.6
1.7
0.9
2
2
Linda McCartney's
Hain Celestial
66.3
14.3
27.4
3
3
Cauldron
Monde Nissin
31.7
4.3
15.6
4
5
The Tofoo Co
The Tofoo Co
17.0
8.5
101.2
5
4
Vivera
Vivera
16.4
4.4
37.0
6
12
Birds Eye Green Cuisine
Nomad Foods
11.3
8.6
320.6
7
NEW
Richmond
Kerry Foods
9.0
9.0
-
8
7
Fry's
Fry Group Foods
8.8
3.1
54.1
9
8
Strong Roots
Strong Roots
7.3
3.2
76.5
10
NEW
Naked Glory
Kerry Foods
6.3
6.3
-
11
6
Bol
Bol Foods
5.7
–0.5
–9.3
12
18
Beyond Meat
Beyond Meat
5.5
3.9
243.8
13
15
Heck
Heck Foods
4.7
2.7
129.9
14
13
Goodlife
Goodlife Foods
4.7
2.2
89.5
15
9
Gosh
Gilberts
4.4
1.2
37.3
The Grocer's Top Products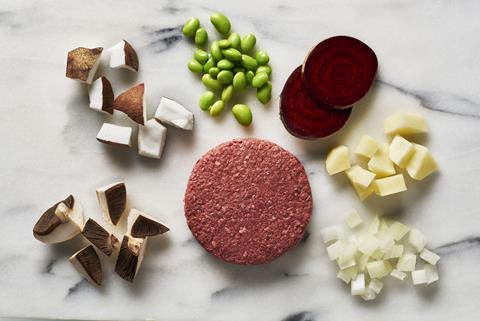 'Bleeding' Burger, Moving Mountains
After a much-hyped rollout into foodservice, the Moving Mountains 'Bleeding' Burger made its retail debut in June with a launch into Ocado. Given the turmoil faced by the on-trade this year, it's an understandable pivot. It's still early days for the brand, as it lacks the distribution scale enjoyed by the likes of Meatless Farm. But having amassed serious hype in foodservice, as one of the original 'bleeding' plant burgers to hit UK menus, it could come to be a real competitor.