It first appeared on shelves as a brown, medicinal-looking oil to drop under the tongue with a pipette. It then made the small leap into vaping liquids, where it was combined with a range of exotic flavours to mask its earthy taste. And while the oils are still increasingly popular, today CBD and other cannabis extracts are popping up in almost every category in UK fmcg, taking on countless new forms from haircare to houmous.
Here we explore each of these categories and look at the brands bringing this burgeoning trend to the mainstream.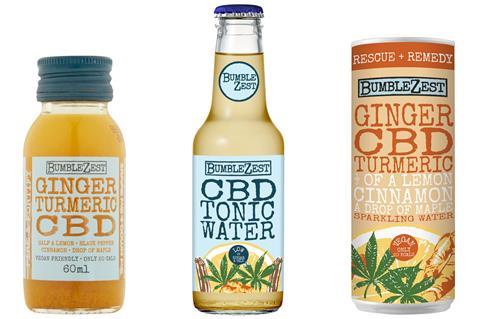 Soft drinks
One category at the forefront of the CBD boom has been soft drinks, with multiple brands bringing products to market within the past year. Green Monkey claimed to be the first with the launch of its CBD-infused carbonated soft drink last October, and it was soon followed by the likes of Trip, Drink 420 and Bravura Foods' The Leaf Life. Some larger suppliers are getting in on the act – the most recent being Vita Coco, which unveiled its Infused trio of sparkling coconut waters last week – but owing to the novelty of the trend, the majority of CBD drinks to date have come from small, innovative brands and startups.
One of these is BumbleZest. As well as the UK's first CBD tonic water (Green Stem followed suit with its own in September), the Battersea-based startup offers formats such as Ginger, Turmeric and CBD shots and a sparkling Rescue & Remedy drink. According to founder Dan Watson, it is the accessibility of soft drinks that has made them such a leader in CBD innovation.
"Drinks provide a very convenient way for both regular CBD users to consume on the go and also for new consumers to see what all the fuss is about," said Watson.
"Quality CBD is not cheap either, therefore drinks with CBD give consumers a chance to sample how they react to CBD without the cost of buying the CBD on its own."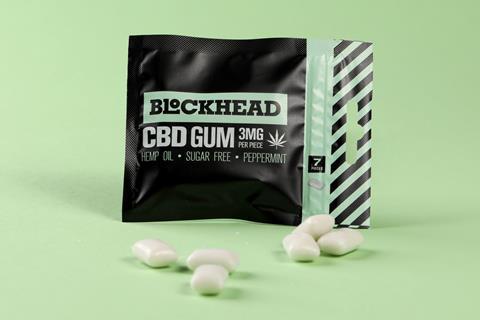 Gum and mints
Chewing gum has never had much more of a purpose than to freshen breath. Mints, likewise. But that might be about to change with the inception of functional brands like Mr Moxey's and Blockhead, which have both jumped on the CBD bandwagon.
Mr Moxey's 'artisan' peppermints contain 5mg of CBD per mint and are aimed at relaxing consumers on the go. They are a recent import from the US, where the brand sells an expanded range of flavours and a THC variant containing the phsychoactive part of the cannabis plant.
Another brand offering a quick, convenient hit of minty fresh CBD is Blockhead. Now stocked in Morrisons, WH Smith, Holland & Barrett, Ocado and Amazon, the brand sells functional products such as Energy Gum, Vitamin Gum and Calm Mints.
"Consuming CBD in gum form allows users to not only control their dosage more closely, but also to easily transport it on the go, allowing them to enjoy the effects whenever and wherever they desire," said Blockhead CEO and founder Danny Lowe.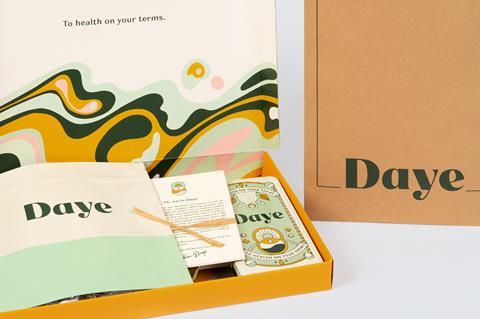 Feminine care
"If you're looking for the most effective way to absorb CBD for period pain relief, look no further than your vagina." That's according to Dr Harry Baxter, head of research at feminine hygiene startup Daye, which is set to launch the UK's first CBD-infused tampon in the coming months. The brand claims the vagina has the highest number of CBD receptors in the human body, second only to the brain, making the muscle-relaxing properties of the cannabidiol in its tampons effective against menstrual cramps.
The format is certainly novel for the UK feminine care market, and Daye's D2C model and sustainable ethos makes it bang on trend too. But it's not the first time CBD has been used for period pain relief. Companies such as California's Foria offers CBD suppositories, and the oil itself can also be effective, according to Grass & Co.
Lottie Mather, a case study for the brand, said she "experienced so many benefits" from using its consumable CBD oil to alleviate PMS.
"After taking it I feel my body relax and any tension I'm holding tends to ease off," said Mather. "It takes the edge off the pain and has a long-lasting effect. I generally feel less stressed and anxious, and my head feels clearer around the time of my period when beforehand I felt very clouded.
"I started off taking it for my PMS but now I have it regularly on porridge or in lattes as it helps my overall wellbeing."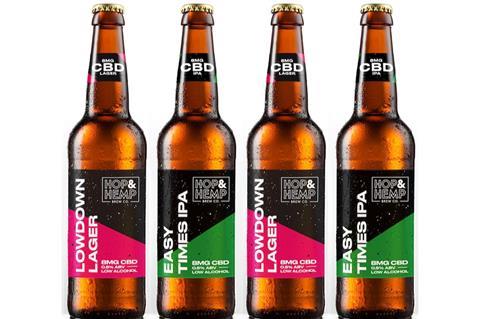 Beer
A cold beer at the end of the day just got even more relaxing. Low alcohol beer Hop & Hemp does what it says on the tin (or bottle), providing consumers with a hoppy craft brew along with 8mg of CBD. According to the brand, its two 0.5% abv variants – Easy Times IPA and Lowdown Lager – can help "take the edge off an evening".
There are boozy alternatives too. High Flyer from Green Times Brewing is an organic session IPA "jam-packed with cannabinoids, terpenes (organic molecules that give hemp its pungent aroma) and exotic flavours", according to the UK company.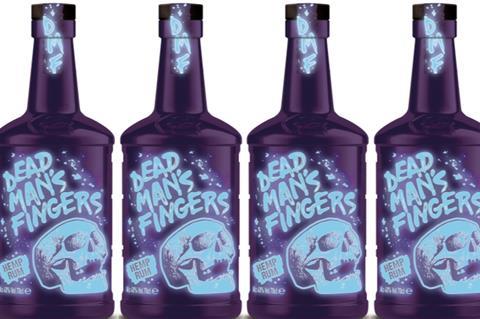 Spirits
Hemp & coke, anyone? That's what Dead Man's Fingers suggests is the perfect serve for its CBD rum, which launched in July and achieved a listing in Sainsbury's this month. The brand claimed this was the first time a CBD-infused alcoholic drink had been listed in the UK grocery channel. Also launched in July was Top Beverages' premium One brand. This features gin and spiced rum, which are both 54.5% abv and infused with 10mg of cannabidiol. The brand is aimed at the luxury market with a price point of £30 per 100ml bottle.
On the other end of the spectrum is Muhu. This CBD and hibiscus gin was created by freelance journalist Sally Wynter for less than £1,300.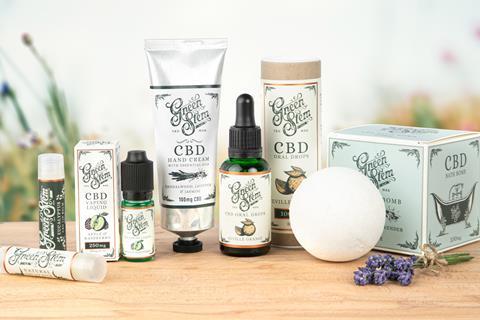 Beauty and skincare
It's not just edible products getting the CBD treatment. From moisturiser and make up to beard oil, bath bombs and sleep sprays, all facets of health, beauty and skincare have seen an influx of CBD products.
"CBD has anti-inflammatory properties and can therefore be used to help with post-workout inflammation and to speed up recovery," says Irin Maini, co-founder of Somnio CBD. "Because it's a phytonutrient, it also helps with firming of the skin and can rejuvenate to help keep the skin looking young and flawless."
Somnio offers various skincare products such as creams and beard oil, which it says improves circulation and keeps facial hair strong and healthy thanks to its levels of fatty acids.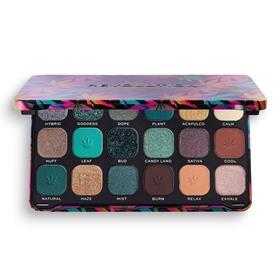 Other brands offering CBD skincare ranges include Ambience, Endoca, Amma Life, Vitality CBD, Grass & Co and Green Stem (pictured above).
Budget cosmetics brand Revolution is also turning to cannabis. As well as a 'nourishing' CBD oil designed to soothe dry skin, the brand offers a range of beauty products infused with cannabis sativa seed oil. This includes mascara, lip tints, priming water and the recently-launched Forever Flawless Chilled Palette (left) – a selection of 'earthy toned' eyeshadows with names such as Bud, Dope and Haze.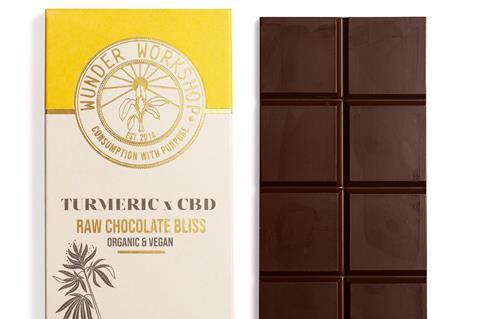 Confectionery
Gummies are one of the most common formats of edible CBD, with countless brands offering fruit-flavoured bears and chews laced with the soothing substance. Functional gummies such as those from Somnio and The M Blend (targeted at women going through the menopause) offer consumers a way to get their daily dose that is easier and more palatable than oils and capsules.
But it's not just about functionality. The premium CBD chocolate market is growing as consumers look for sweet treats that deliver taste and quality too. Good Soul launched its boxed Dark Chocolate Balls via DTC in April (rsp: £22/100g), and Wunder Workshop's on-trend Turmeric & CBD Raw Chocolate Bliss Bar (rsp: £5.99/40g) landed in Planet Organic the same month. The retailer also stocks CBD truffles from Mr Prempy's, while top London chocolatier Paul A Young is set to launch his own vegan water ganache truffle, containing 25g of CBD per serving.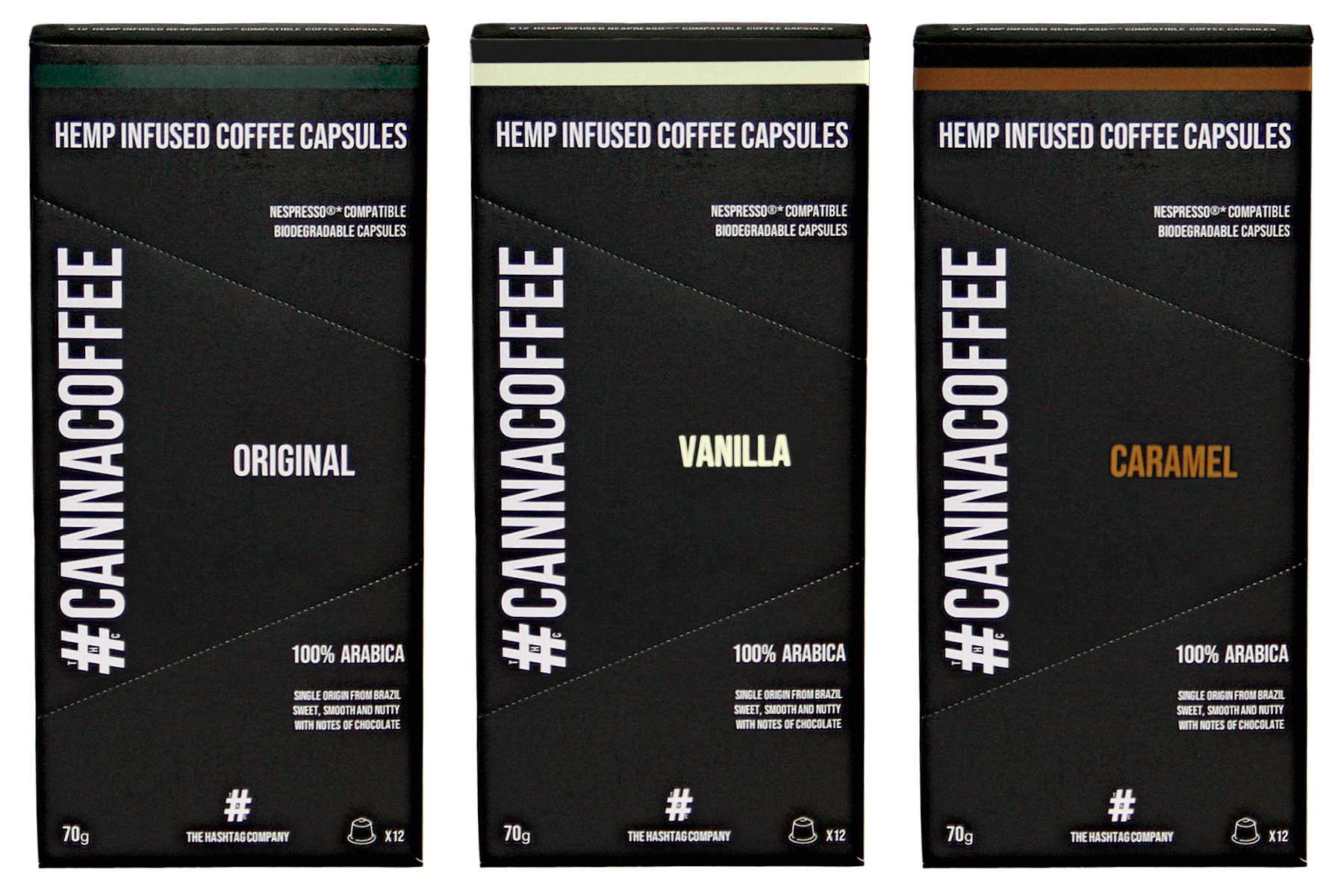 Hot beverages
Love coffee but don't like the jitters? Where before consumers may have turned to decaf, cannabis extracts could be the new way to ward off the caffeine shakes. Along with its range of plant-based milks and cold brew coffees, Minor Figures offers CBD Post-Coffee Drops, which "act as the yin to coffee's yang – helping you bring back balance, relaxation, and focus" after a brew.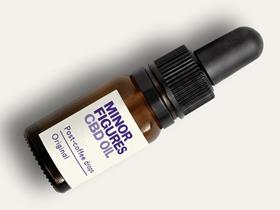 Other brands such as Cheerful Buddha and Somnio go a step further by adding cannabidiols into the coffee itself, and The Hashtag Company launched Nespresso-compatible, biodegradable capsules for its hemp-infused Cannacoffee brand in April.
The 'first' CBD tea was launched by Botanic Lab in September 2018 as a non-alcoholic drink alternative. The cold drink was followed up by hot serves from the likes of Body & Mind Botanicals, which offers loose leaf and pyramid teabags in original and peppermint flavours.
Also joining the trend is Pukka Herbs, whose recently-launched Peace tea, containing hemp leaf, chamomile and lavender, is on sale in Sainsbury's and Tesco.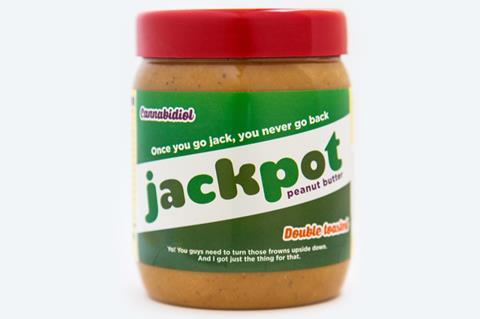 Peanut butter
Jackpot isn't your average peanut butter company. It started life as a fictional brand logo on garments from founder Rupert Leigh's skatewear clothing brand, APN. Each jar features a favourite movie quote. It is partnered with the Music Venue Trust to help support grassroots venues. It offers wacky flavours such as Wasabi, Raspberry and Roasted Chestnut. And in January this year, it claimed a UK first with the launch of a CBD variant.
"We view our CBD peanut butter as a natural extension of the Jackpot brand," said Leigh. "Since day one, our focus has been to research and develop new flavours using ingredients that are both unique in flavour, good for you and innovative. Together with its cultural references, these features make CBD a perfect match for Jackpot and our peanut butter."
Leigh believes peanut butter is an ideal match for CBD as "its nutritional profile promotes the absorption" of the substance.
"We already know that CBD is anti-inflammatory and antioxidative, suggesting that it can promote muscle recovery following exercise amongst other things," he added. "This combination makes our CBD peanut butter ideal for those wishing to integrate CBD into their diet."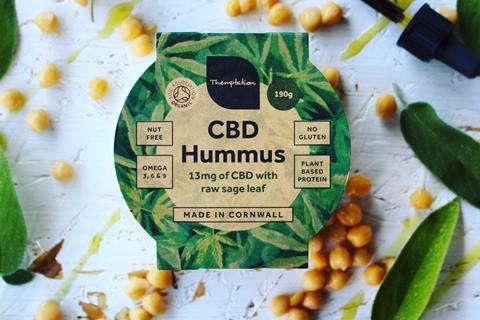 Snacking
2019 will be the year that cannabis extract "makes its way into the food and beverage industries". That's what nut bar maker Kind predicted back in January. But while its own category – snacks – hasn't yet been overrun with NPD, a few brands are catching on.
In April, Nooro launched the "UK's first" range of CBD snack bars in flavours such as Lemon & Ginger and Cacao & Coconut. Kookie Cat now has a Hemp & Cacao cookie stocked in Planet Organic. And savoury snackers can find Themptation's range of CBD Hummus in Planet Organic and As Nature Intended, including its newest variants, Sage and Beetroot & Pomegranate, which launched at the end of last year.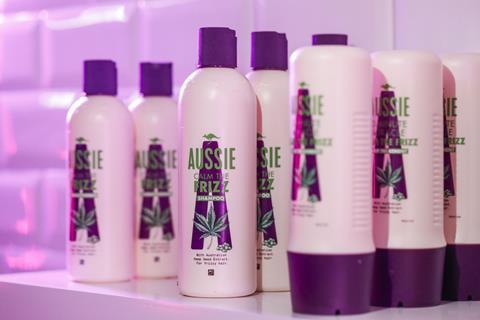 Haircare
It is widely claimed that cannabis extracts can calm your nerves, but can they calm your hair too? Aussie seems to think so, claiming the "miracle ingredient" can "combat frizz and make your hair behave". The brand proclaimed the hydrating benefits of hemp extract were "too irresistible for Aussie to ignore", and launched its Calm the Frizz collection back in August.
And it's not the only hemp haircare range out there. Holland & Barrett stocks a collection from Dr Organic, which features shampoo, conditioner, body wash and skin lotion enriched with the "nourishing properties" of hemp.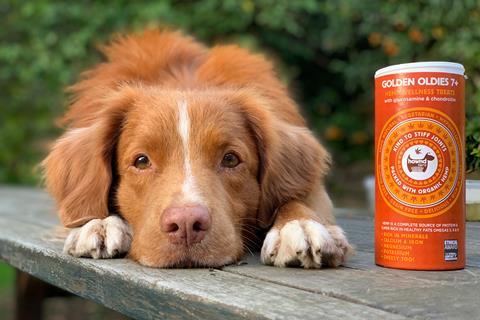 Petcare
The benefits of CBD aren't just limited to human consumers – the trend now extends to four-legged friends too. Founded in 2014, Seattle-based Austin & Kat promises "a happier, calmer and healthier pet" with its CBD oils and biscuits, which are now available in the UK. True Leaf – which sells CBD dog chews in the US and Canada – also has its True Hemp brand stocked in Pets Corner. The extensive range of treats and chews promise to aid everything from dogs' skin and coat health to urinary tract problems in cats.
Stocked online at Pets at Home and Ocado's Fetch pet store, Hownd's hemp offering includes vegetarian Wellness Treats – biscuits promising benefits such as calming your pet and freshening its breath. Jo Amit, product & brand director at Hownd said hemp was "a magical versatile plant and is a well-recognised ancient remedy that provides a fortune of natural health benefits".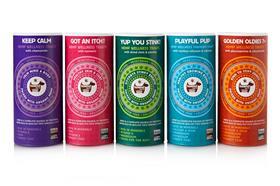 "Being high in fibre it is easily digestible for dogs, and is a complete source of protein containing all the essential amino acids that dogs require," said Amit. "It's super rich in Omega-3, 6 and 9 and for all these reasons it is a staple in my own family's 100% plant-based diet.
"In fact along with spirulina and spinach, hemp provides more protein than beef and is more environmentally and animal-friendly, not to mention healthier than meat protein."
The brand also sells a hemp-infused Skin, Nose & Paw Balm. With added SPF, the balm is used to moisturise and protect dogs' exposed skin from the sun, and is also used on dogs' pads. It can also act as a barrier against potentially harmful surfaces such as gritted, icy pavements.