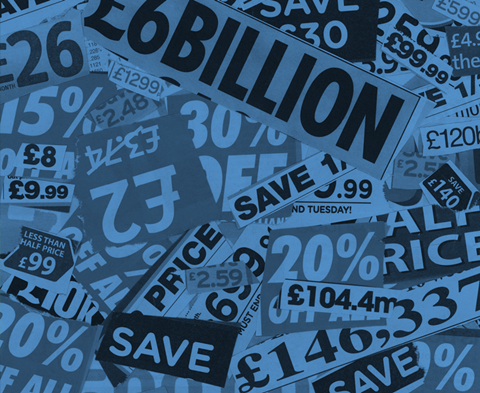 Though consumer goods brands funnel eyewatering amounts of cash into trade promotions each year, the vast majority of that cash currently gets wasted.
Nearly three quarters (72%) of in-store promotions currently don't break even, according to research by the Promotion Optimization Institute. That reflects an annual waste of more than £200bn.
This at a time when all retailers, producers and suppliers are facing record levels of inflation across the supply chain, and a consumer base grappling with a cost of living crisis.
So how can consumer goods companies (CPGs) put a stop to this huge source of waste?
In this brand new Grocer Vision report we explore exactly where the problems lie in trade promotions – and how to solve them.
"The reality is that many of the global contributors to this challenging period for consumer goods sit largely outside of the control of individual CPGs. But what does lie within their control is ensuring far greater efficiency in how their brand and product is priced, promoted and positioned in retail stores."
In this in-depth report by The Grocer Vision and Salesforce we dig down into the current gaps in the planning and execution of trade promotions that leave many campaigns ineffective at best, and damaging at worst – and offer up practical solutions for improvement. Featuring exclusive insight from IGD, Salesforce, Unilever and Nisa, it explores:
The power of a winning promotional strategy for brand awareness, sales and loyalty
The outdated techniques and siloed approach that contributes to poor planning
How an increasingly fragmented offline market has amplified the challenge
The role of technology and data in optimising promotions to find what works – and what doesn't
How to leverage data for the next frontier of trade promotions: true personalisation
Complete the form below to download the free report now
The Grocer may use your contact data to keep you informed of its products and services by email. You can withdraw your marketing consent at any time by clicking the unsubscribe link in such email or by sending an email to dataprivacy@wrbm.com. More information on our processing can be found in our Privacy Notice. By submitting this form, you acknowledge that you have read and understand our Privacy Notice. Information you share with us will be shared with our sponsoring partners, Salesforce, who may use that information subject to their own privacy statements.

Salesforce is a customer relationship management solution that brings companies and customers together. It's one integrated CRM platform that gives all your departments — including marketing, sales, commerce, and service — a single, shared view of every customer.