Ed Williams has transformed Candy Kittens from a sleazy reality TV plot into one of the UK's fastest-growing sweet brands. Now, he's tackling Goliaths
Search 'Candy Kittens' on YouTube and you'll find a 10-year-old Made in Chelsea clip in which a young Jamie Laing asks his co-star Louise Thompson to come work in his nascent sweetshop as "one of my Candy Kittens". "Purr for me," he tells Thompson. "Purr. Purr like a kitten."
Fast-forward to 2022 and Candy Kittens has ditched its Playboy image – as well as plans for an actual bricks-and-mortar sweet shop – and made a serious name for itself in the world of confectionery. Purring brand ambassadors are out, listings in Waitrose, Ocado, Sainsbury's, Harvey Nichols, and Selfridges are in.
It's resulted in sales of the 'gourmet' sweets soaring – up 35% to £8.1m in the year to September 2021, making it the second fastest-growing sugar confectionery brand in the UK [NielsenIQ].
This is in no small part down to co-founder and MD Ed Williams, under whose leadership the brand has ended its reliance on Laing's celebrity status and free promotion on Made in Chelsea. Now boasting a slick brand image and marketing to match, it's an accomplished and ambitious operation selling 'grown-up' sweets around the world.
Williams now reflects on the initial Made in Chelsea stunt as "a bit of a false start", a jumping of the gun intended to make the most of Laing's cache as a reality TV star with nothing to back it up. "We didn't have a logo, a website, a product, absolutely nothing at all – no business, really, just a name."
Yet it spurred on the duo to begin a two-year stint of product development and aggressive marketing, which included flogging "anything you could print a Candy Kittens logo on, to build the hype" says Williams.
"We are really laser-focused about offering something different"
Their efforts caught the eye of retailers. In 2014, the duo landed a retail listing with Harvey Nichols. Selfridges followed shortly after, and subsequent listings with Waitrose, Ocado, Sainsbury's and Tesco were tied up by the end of 2015.
In 2018, German confectionery company Katjes bought a minority stake in Candy Kittens, which it upped to a majority share a year later. At the time, Candy Kittens voiced a goal to grow UK retail sales to £50m and be available in every store in the country.
It's undoubtedly an ambitious target, but Williams remains confident. When the brand launched, "everyone was eating Haribo or Percy Pigs or Rowntree's without really thinking, 'why do I even like this brand?'", he says. But Candy Kittens' premium positioning and unusual flavours – including the likes of Eton Mess, Tropical Mango and Wild Strawberry – has lured in a previously untapped demographic of sophisticated sweet-toothed shoppers.
"We are really laser-focused about offering something different," Williams says. "If another big brand does it, then we're not interested."
Still, not everyone in the market is quite so worried about duplication. Aldi, for example, launched a knock-off version of its sweets in 2020 – a move Candy Kittens only learned of when a member of the team spotted the discounter's product in the warehouse of a contract packer.
Williams expressed his disappointment at the time and even considered legal action against Aldi, but now sees it as "a bit of a compliment… you don't see copycat products of things that people don't want to buy."
He has since received an apology from Aldi, which appears to have stopped selling the sweets. While other premium confectionery brands have since cropped up to compete for market share, he's looking on the bright side. "In a way, it's great because it proves there is a need for this. So then instead of a consumer choosing between Candy Kittens and a cheap bag of rubbish, they can choose between Candy Kittens and some other premium sweets and then decide who's best."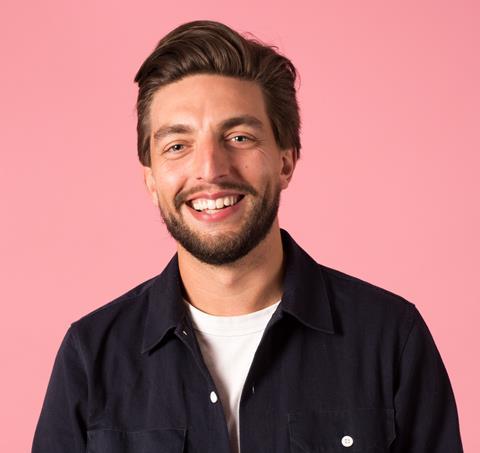 Snapshot
Name: Ed Williams
Age: 32
Place of birth: Caerphilly, Wales
Marital status: Married with one baby boy (Rupert)
Potted CV: I ran a marketing agency before launching Candy Kittens
Best career decision: Co-founding Candy Kittens
Worst career decision: Giving too much time to Jamie's crazy ideas!
Best piece of advice received: It takes longer than you think it will
Business mantra: Better is possible
Favourite Candy Kittens product: Our Sour Watermelon sweets
Hobbies: Renovating my house/a lot of time doing DIY
If I could have lunch with one person: Patagonia founder Yvon Chouinard, because he is a pioneer in brand and sustainability
Favourite film: The Gentlemen
Going vegan
A key point of difference for Candy Kittens is that its entire range is now vegan. Earlier this month, it marked Veganuary by announcing it had reformulated its last non-vegan line – Eton Mess sweets – to remove the use of beeswax. That was down to sustainability reasons, rather than health or animal welfare, Williams says.
It took a while to get right. "For us, it was about how do we find a way of doing it without any compromise on quality, so it took a long time to do. But we really feel now that we've got there."
What's more, the reformulated vegan treats are "better in taste and texture" than most gelatine sweets, Williams claims. One reason for this is that "all of our sweets have real fruit juice in them." While some competitors make the same claim, many are using whichever juice is cheapest, says Williams.
Candy Kittens, by contrast, is dedicated to using the best possible juice to suit that product – strawberry juice for strawberry-flavoured products, for example. While this "sounds silly and kind of obvious", it "makes a massive difference", claims Williams, and justifies its premium price tag (Candy Kittens sell at up to £3 for a 145g bag).
"It's all about being as loud and challenging as possible"
The premium positioning also helps the brand appeal to more health-conscious consumers. "We've never, ever, said this is a cheap product to put in your children's lunchbox every day, and you should eat loads of it," he says. "We're saying we understand sweets are indulgent, and that you shouldn't be eating them every day. So, when you do eat a bag of sweets, make sure it's going to be the best bag of sweets you can possibly have and make that a really worthwhile treat."
As a result, Williams is confident Candy Kittens will "come into play even stronger after HFSS". In fact, he thinks the regulations, due to come into force in October, will "level the playing field in quite a big way" by giving consumers "a choice of what they want to eat and what's out there, rather than choosing between who can sell the product for the cheapest price, or who can afford to promote on a gondola end".
In the meantime, Candy Kittens is looking to raise its profile by expanding its partnerships with other brands. "It's all about brand awareness and being as loud and challenging as possible," says Williams. "I think the more we can do to get the big guys looking over their shoulder and worrying about who's coming… we'll do exactly that."
Read more:
He confirms a new 'UK first' flavour is in development and that Candy Kittens is planning a second collaboration with BrewDog, after launching its limited-edition Sweet Raspberry & Guava beer – inspired by its 'Gourmies' range – with the brewer in October.
Having learned from this activity, Williams wants to share his industry knowledge with food and drink startups to help them "upset the applecart".
Late last year, he co-founded an investment company with Laing and Katjes called Tuckshop London. The company has already led a funding round for plastic-free chewing gum brand Nuud, helping it pull in a £750k cash injection. Williams is now a shareholder and advisor to the fledgling business.
The long-term goal is to "replicate that model across other brands… and use our expertise and network to help other small challenger brands take on the big guys", he explains. "That's what makes us excited: the whole sort of David and Goliath story."
And if its "purr like a kitten" days have taught them anything, it's that big brands can emerge from decidedly shaky starts.