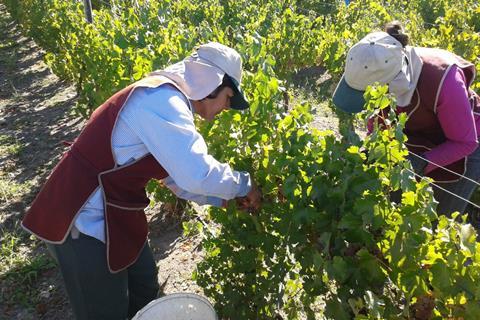 Growers have welcomed the government's announcement it will extend the Seasonal Agricultural Workers pilot to 30,000 permits for next year.
The pilot scheme, which was relaunched in 2018 in a bid to ensure growers could hire enough labour to pick and pack the UK's crops after Brexit, allows migrant workers to enter the UK to work for a six-month period.
The move triples the size of this year's iteration of the pilot, which saw 10,000 permits granted.
Alongside the announcement, Defra said it planned to work with the industry to build on this year's Pick for Britain campaign to encourage UK workers to take up agricultural roles. In September, Defra secretary George Eustice was accused of overstating the success of the scheme in 2020.
Defra also said it would lead a review into automation in horticulture in early 2021 in a bid to find ways to reduce the industry's reliance on seasonal workers.
Despite criticism of the government's previous lack of movement on the issue as well as repeated calls for it to allow at least 70,000 workers into the country every year, farming bodies greeted the announcement with optimism.
"This is welcome and positive news, not just for Britain's growers but also for shoppers who want to enjoy home-grown fresh produce," said NFU VP Tom Bradshaw.
"By expanding the Seasonal Workers pilot, the government is sending a clear message that it is important for Britain to be able to produce its own fruit and veg, which has huge potential for growth."
Bradshaw's thoughts were echoed by British Summer Fruits chairman Nick Marston, who added he hoped "the government will be willing to be flexible" should the 30,000 permits not be enough.
British Growers Association CEO Jack Ward sounded a more cautious tone, warning the supply of labour could become "a bit tight" at some points during the season.
"It depends on how the season maps out as to how many people we will need at any one point," Ward said. "We know the soft fruit season requires 27,000 people and that will coincide with quite a few brassica crops and the salad season.
"It's certainly a welcome step and we'll just have to see what next season brings."
The Grocer understands the extension to the pilot will also see the recruitment of two new labour providers to join existing contractors Concordia and Pro-Force in operating the scheme.
The news comes just hours after the Environment, Food and Rural Affairs Committee published a report calling on government to announce an extension to the scheme.
In a report on its inquiry into labour in the food supply chain, MPs on the Efra Committee warned a lack of seasonal workers could lead to food price hikes – a conclusion Defra said would not necessarily be the case.