The heat is rising for British barbecues. The nation lit the coals 127.6 million times in 2022, up 4% on pre-pandemic levels [Kantar 52 w/e 4 September 2022].
But what are Brits barbecuing, why are they doing it more often and how is the coming season likely to shape up? We've grilled 1,000 people to find out…
This research was commissioned by The Grocer and carried out by Lumina Intelligence independently from Hellmann's
1. Londoners barbecue most often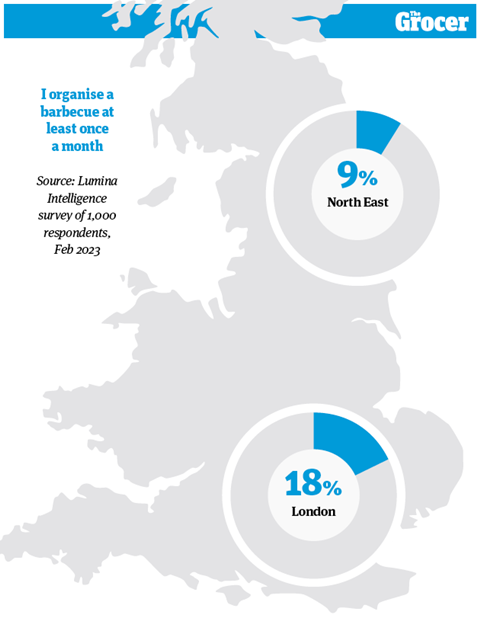 London is the capital of British barbecuing. Nearly one in five (18%) Londoners host a barbecue at least monthly, when averaged over the year.
That's twice as many as in the north east of England (9%). Across the UK, 13% barbecue monthly, while 34% do so every two to three months.
We all know the Great British weather can make or break barbecue plans (see charts two and three) and only the diehard are likely to fire one up in January, but a surprising number of barbecue occasions take place before the official start of summer.
"Barbecuing is often a spontaneous event as it is so dependent on weather, which as we know can be quite unpredictable in the UK," explains Georgina Bradford, marketing director for nutrition at Hellmann's brand owner Unilever UK & Ireland.
"However, what we have seen is that a third of barbecue occasions occur ahead of June. To make the most of the opportunity, brands should be working closely with their retail partners to ensure barbecue products are visible in-store as early as possible."
2. Two-fifths of Brits barbecue on bank holidays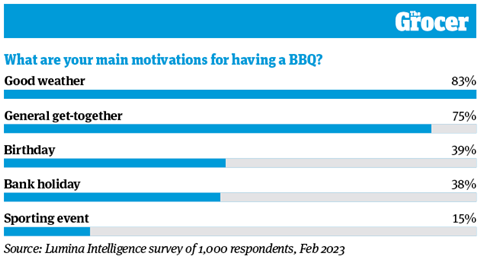 When asked what's most likely to inspire Brits to dust off their barbecue tongs, the results are conclusive. Eighty-three per cent cite good weather as their number one motivation. General get-togethers (75%), birthdays (39%) and bank holidays (38%) are next.
The latter stat should give cause for cheer about the coming season, given that we have no fewer than three bank holidays this May – a third has been called on the Monday 8 May, the day after King Charles's Coronation.
"With Easter and the King's Coronation bank holiday on the horizon, retailers can win these occasions in store by stocking a specific portfolio of products," says Bradford, adding that Kantar data showed a 13% increase in sales of mayo and 19% increase for hot and barbecue sauces during last year's Platinum Jubilee celebration weekend.
3. Rain is the top reason for calling off barbecues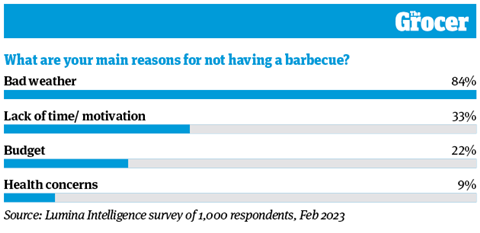 Still, only a fool would bet on Britain's weather. Bad weather is the reason most (84%) Brits cite for not wanting to barbecue. A third (33%) cite a lack of time or motivation, suggesting that cooking over hot coals or gas is too much of a faff for many. Twenty-two per cent say budgetary concerns would deter them from barbecuing.
Such matters are concerning more and more people in the current climate, of course. The average spend per person at barbecues defied inflation in 2022 and fell 3p to £4.40, while total value fell by £16m [Kantar]. Analysis suggests this was driven by a reduction in complexity at barbecues, a decline in alcohol and a rise in mid-week occasions.
4. Women are more cost-conscious barbecue shoppers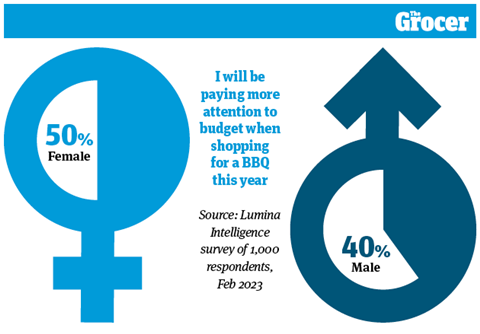 When asked about their barbecue budgets, there was a clear split between genders. Half (50%) of women said they would pay more attention to budgets, compared with 40% of men. This could suggest that men are more likely to splurge on the occasion than women.
However, Bradford suggests barbecues might benefit overall as people tighten their belts in other areas. "With 45% of consumers trying to limit the amount they spend out, we can expect them to be more likely to fire up their barbecues as a more affordable option to eating out, which is a huge opportunity for brands that play in this space," she says.
"What's more, as people won't be spending large amounts of money when going out, they might be more inclined to spend a little more on some groceries to make the at-home experience all that more enjoyable. This means retailers can increase basket spend by showcasing new options alongside tried and tested ranges."
5. Barbecues are family affairs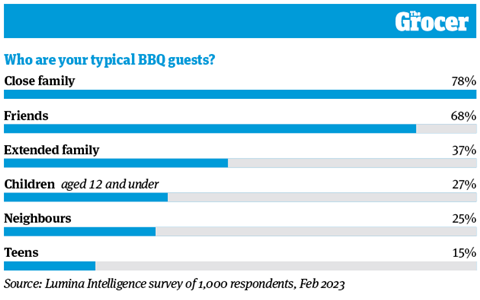 Close family members are most commonly invited to barbecues, cited by 78% of the people we asked. Friends come a close second (68%), followed by extended family (37%) and kids under 12 (27%). One in four (25%) people say they tend to invite their neighbours when they have a barbecue.
6. Burgers are Britain's top barbecue item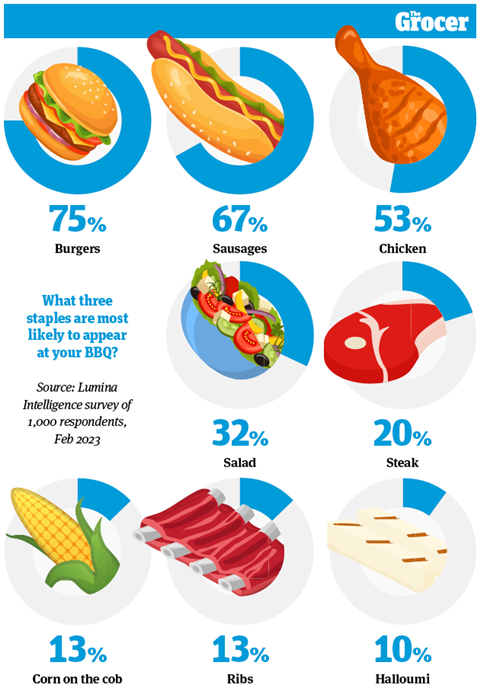 Burgers rule supreme on Britain's barbecue menus. One in four (75%) people put them in their top three food choices when planning a get-together around the coals. Next up are sausages (67%), chicken (53%) and salad (32%). Steak is also a popular choice, with one in five (30%) people putting it in their top three barbecue items.
7. Vegan options are important for half of 35 to 44-year-olds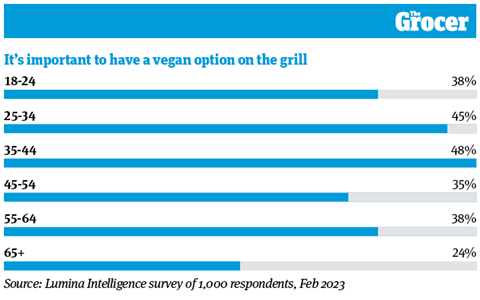 Our research also busts the myth that plant-based alternatives are the preserve of younger consumers. Vegan options were important to a range of age groups, and most crucial to those aged 35 to 44. Nearly half (48%) of people in this age group say they're important, followed by 45% of 25 to 34-year-olds. Eighteen to 24-year-olds are as likely to say vegan options are important as those aged between 55 and 64 (38%).
"There's a perception that it's the younger generation that are buying into plant-based options, but this is no longer the case," says Bradford.
8. Mayo is Britain's most popular salad condiment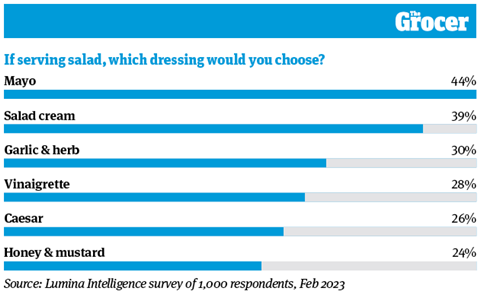 For the third (32%) of shoppers who say salad is one of their three barbecue staples (see chart six), mayonnaise is the go-to condiment. Forty-four per cent of Brits say they choose mayo when dressing their salads at barbecues, followed by salad cream at 39% and garlic & herb dressing at 30%.
It's therefore crucial that retailers get their ranging right in time for barbecue season, says Bradford. "We're working closely with our retail partners to make the most of this opportunity and inspire shoppers when in-store," she says.
"Stocking bestselling seasonal sauces, creating event spaces, shopper materials and gondola ends all helps. Creating cross-merchandising bays are a useful way to remind shoppers what they might need for their barbecue. Incremental sales can also be driven by placing Hellmann's Mayonnaise next to tomatoes, lettuce and typical burger toppings, which will only improve the shopper journey."
9. Four in five Brits serve beer at barbecues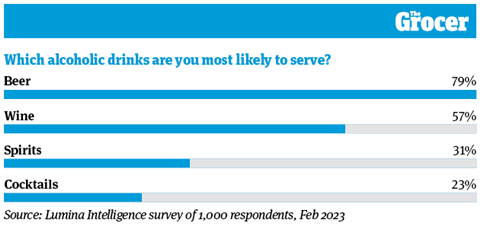 But what to wash it all down with? Consumers are clear on their choice of alcohol for barbecues, with 79% going for beer, 57% opting for wine and 31% choosing spirits. However, the importance of alcohol at barbecues appears to be waning. Research from Kantar reveals a 0.5% point year-on-year decline in alcohol's share of occasions in 2022 [Kantar 52 w/e 4 September 2022].
10. One in five feed their pets barbecue leftovers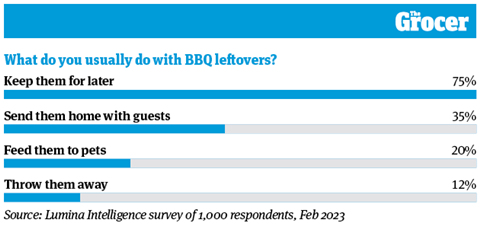 The final barbecue bonus is all those leftover sausages. Three out of four (75%) of the people we polled say they save the leftovers for later while more than a third (35%) pack their guests of home with a doggy bag. One in five (20%) treat their own dogs and cats. Shockingly, 12% throw them out.
Perhaps this group should show their leftovers some love by saving a dollop of mayo to have with them?
Message from our sponsor
Georgina Bradford, marketing director for nutrition, Unilever UK & Ireland.
We know that enjoyment remains the number one reason as to why shoppers want to fire up the grill and they look to brands to keep things exciting. Whether it's sauces and condiments or the meat alternatives category, shoppers want to discover new products that can enhance the BBQ experience for them and their guests. Brands like ours play a key role in the BBQ occasion as we are able to monitor consumer trends and use this insight to bring consumers what they need in order to keep them engaged and coming back for more.
Over the past year we've continued to innovate to lead the category and offer retailers and shoppers alike products that excite the condiments aisle and elevate BBQs across the UK. As well as offering our tried and trusted core mayo range, we are also looking to grow the BBQ opportunity with new and exciting flavoured mayos and vegan options. Retailers can encourage shoppers to pick up more than just their choice of core mayo by displaying an expanded range in condiment bays, for example.