For the first time since 2019, The Brand Nursery has been back to The Fancy Food Show on the lookout for emerging trends.
Plenty of the trends we've spotted over previous years – hot sauce, honey, popcorn, protein bars, jerky and savoury snacks – remained on show at this year's event in New York. But we also noted some new ones with potential. Here are our top 10.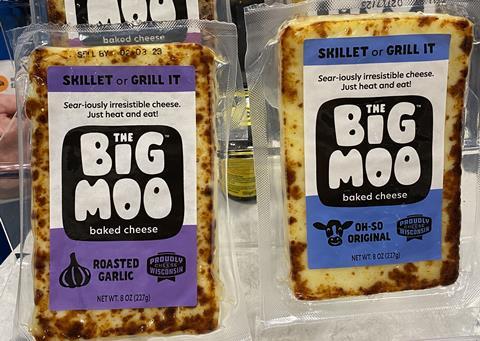 1. Say cheese
We've never seen as much cheese at the show as there was this year – an abundance of dairy (and a few non-dairy) delights from across the world. But in amongst the block cheeses were a few new innovations that seek to broaden cheese consumption occasions.
Folio's Cheese Wraps are 100% all-natural, lightly baked sheets of cheese made from parmesan, cheddar or Jarlsberg, and can be used as a lower-carb version of a standard wrap.
Meanwhile, Ellsworth Co-operative Creameries from Wisconsin has created Cheddar Curd Crunchers – a snack product made from freeze-dried cheese curds that actually delivers more of a 'squeak' than a crunch, a bit like a popcorn.
And another Wisconsin business, The Big Moo, has created a baked cheese range designed to be grilled and eaten hot, with the most distinctive branding we have come across in this sector.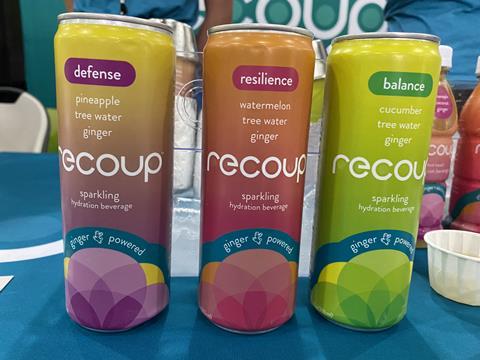 2. Refresh & revive
It appears the world is looking for soft drinks that don't just refresh, but also revive.
New York-based Recoup has a range of fresh juice drinks that contain ginger to alleviate muscle soreness post-workout, help reduce nausea, aid digestion and boost immunity.
Thinking along similar lines, Sunwink from California has created a range of sparkling tonics containing natural ingredients that help to detoxify, build immunity and aid body recovery.
And British brand Love Struck has developed frozen smoothie ingredients designed to create both delicious and nutritious drinks. Our favourite was Blueberry Thrill, which is packed with antioxidants to help heart health.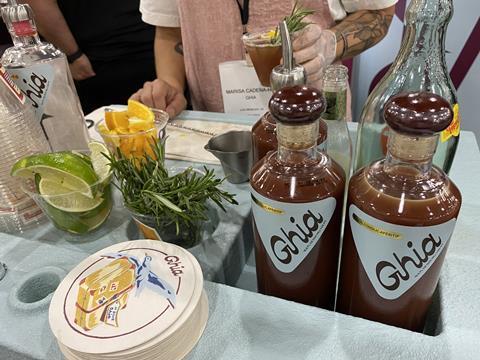 3. Drinks for grown-ups
Another approach apparent across the show was the growing trend towards sophisticated adult soft drinks – both non-alcoholic spirits and sodas with more adult flavours.
Ghia, a "spirit-free aperitif adapted for modern times", feels grown-up and has a slightly challenging dry, herbal flavour that we quickly grew to love.
Free Spirits from California has a range of non-alcoholic expressions of the world's best-loved spirits, all attractively packaged in bottles that look and feel just like their alcoholic cousins. We really enjoyed the tequila version.
And Uncle Waithley makes a small-batch ginger beer tonic with a pinch of turmeric and a good hit of scotch bonnet pepper that produces a distinctly adult kick.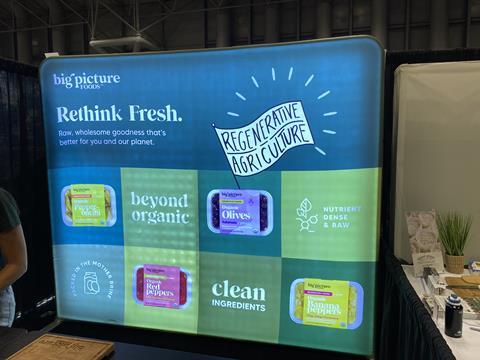 4. Whole-hearted sustainability
Sustainability is clearly moving up the corporate agenda, and we found more evidence this year of grocery businesses putting it at the heart of their company ethos.
Big Picture Foods has a range of foods that are naturally fermented, not pasteurised or processed, which contain no fillers or preservatives. They also seek to empower farmers and regenerate the ecosystems they harvest from.
JejuDoda from Korea claims it produces "clean food, honest food", growing mushrooms and greens without pesticides and using natural drying methods for preservation.
And Caboo makes a range of sustainable paper products such as kitchen rolls "for wise folks" from bamboo, and plants a tree for every pound of paper it sells.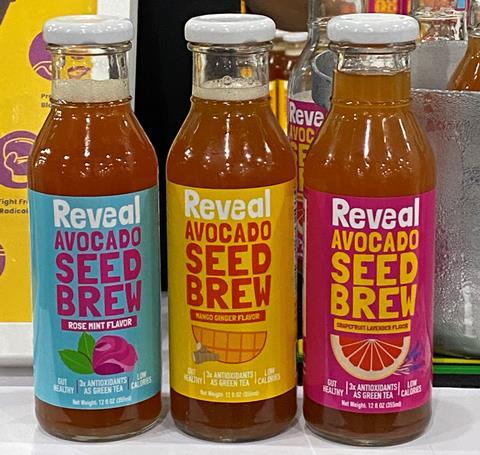 5. Upcycled
The sustainability drive saw a number of new products at the show using upcycled ingredients.
WaJu has created a series of "feel-good fizz" sodas made from an overlooked water source: fruit. Fruit is about 90% water, so there is a real societal benefit in upcycling this water instead of tossing it back into the environment. And the drink tastes good too, gently echoing its fruit source.
Hidden Gems is a beverage company that aims to create a more sustainable food system by using the parts of food we commonly throw away. It has developed Reveal, a range of Avocado Seed Brew soft drinks that use the discarded parts of avocados as a core ingredient.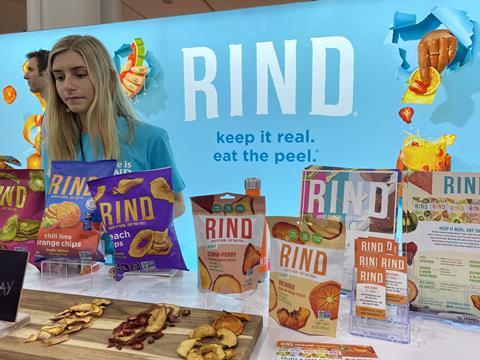 6. Keep it peel
Fruit peel emerged as an unlikely ingredient for new products. We saw a number of exhibitors turning what is often thrown away into a tasty snack.
Rind from Michigan has a range of dried fruit snacks that make a real virtue of "keeping the peel". It describes peel as "nature's original packaging", noting that more vitamins, fibre and antioxidants are evident in the rind than any other part of the fruit.
Pure Bites' Fruit-A-Peel range takes a similar approach with its 'all natural' range of tangy, sweet and sour peel-based snacks.
Then there's Japanese business Kankitso Labo, which has developed a range of candied citrus rinds that are sweetened and dried. These can be used as an ingredient, topping or garnish.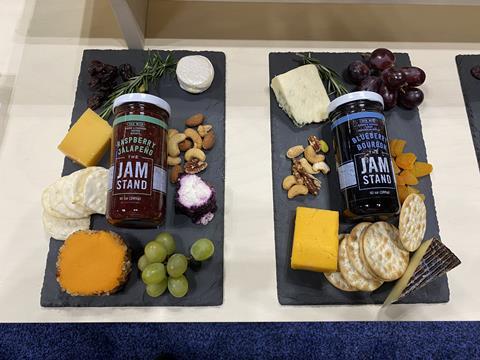 7. Spicy & fruity
We came across several products seeking to fuse spicy and fruity flavours to create a harmonious balance.
The Jam Stand is from Brooklyn, a regular hotbed for new food initiatives. Along with its mission of sustainability, the brand has created a range of jams with savoury ingredients. Most notable is its Raspberry Jalapeño product, which packs a real spicy hit.
Tannenbaum's Botanical Hot Sauce starts from the opposite perspective – a hot sauce range that is balanced with the addition of fruit notes. They still have a proper kick, but the sweet preserve flavours are also evident and differentiate them from the abundance of other hot sauces we tried at the show. They are also fantastic paired with cheese.
Lamula from Mexico had a range of marmalades that were spiced with ingredients such as jalapeño peppers, and Hillers from Massachusetts was showing its range of Banana Pepper sauces.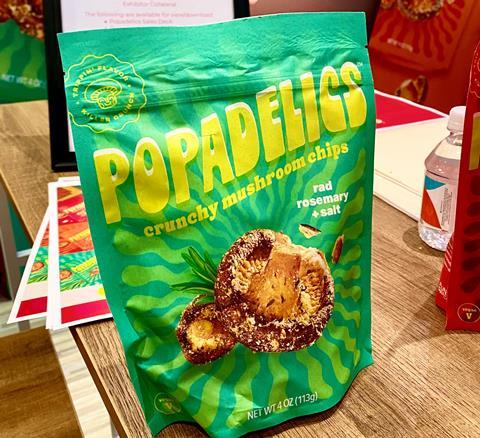 8. Mushroom magic
Every year, it seems a new vegetable pops up as the base for savoury snacks. We've seen lentils, kale and peas emerge at previous shows, and this year it's mushrooms.
There were several examples of mushroom jerky, but it was the mushroom crisps that really caught our eye. Popadelics from Fun Gal Snacks had a range of funkily packaged popped Mushroom Chips that are vegan and aim to create a snacking "experience".
Mush Garden has a range of shiitake mushroom snacks that are similarly crunchy, including a wasabi variant that has a real kick to it.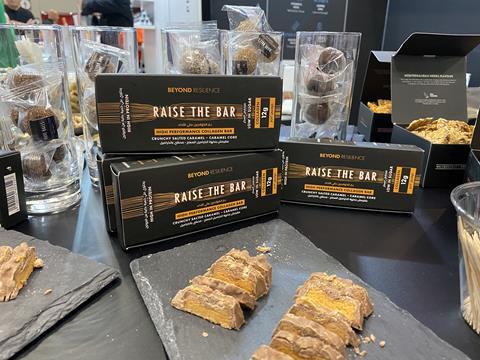 9. Look after yourself
Proactive health has been a growing trend for the past decade or more, but we noticed some newer approaches and the emergence of collagen as a key ingredient this year.
QualiNova from Brazil has developed a range of collagen shot drinks under the Collageno brand that are designed to assist muscle, skin and bone health to fight the effects of ageing.
Raise the Bar from Australia is using collagen as an active ingredient within its nutrition snack bars. Its 'Glow' bar also contains rosehip and added vitamins to help its consumer to 'glow'!
Taking a different tack, Mighty Gum from Seattle has added immunity-boosting ingredients to chewing gum, enabling the simple act of chewing to have a beneficial effect on its user.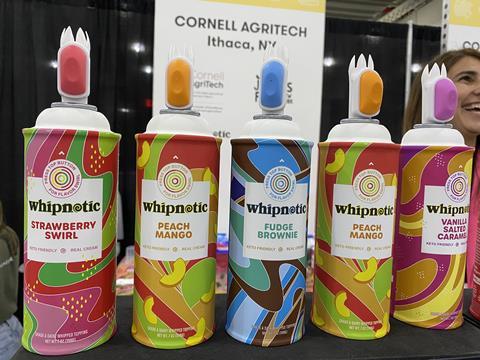 10. Instantly interesting
Our final trend this year is in recognition of the challenge that faces many of the show's exhibitors, and most brands on supermarket shelves: how do you stand out amongst a sea of competitors?
The answer for several was to make their packaging design instantly interesting.
Whipnotic from New York uses funky bright colours for its range of whipped creams, and Le Chocolat de Francais has typically bold, bright cartoon designs across its range of chocolate bars.
By way of contrast, Good Hair Day Pasta uses clever cut-out windows and a beautifully understated design approach that elevates its brand presentation above other dried pastas. In the equally crowded olive oil category, Bio Orto has a similarly understated elegance that is beautiful and eye-catching.
And some extra stand-outs…
As ever, there were also some other individual innovations we found noteworthy.
Solato has developed an ice cream maker that resembles a Nespresso machine, currently targeting foodservice outlets but with a domestic version promised soon. Its capsule technology eliminates the need for frozen supply chain logistics.
Current Foods has created the best plant-based fish alternative we've found to date – a tuna tartare product that perfectly echoes the real thing.
Finally, Milton's Cauliflower Crust pizza has used cauliflower instead of flour for its pizza base. In doing so, it has created a light, crispy pizza that tastes delicious – and it's gluten-free too.