Aldi and Lidl are facing a challenge from a Russian 'hard' discounter, described as 'one step above a food bank'. With no warehouses, few staff and products on pallets, could it take off in the UK?
Decades after Lidl and Aldi arrived in the UK, delivering a shock to the big four that still resonates today, a new discounter force is coming.
What's more, it's one that promises to make those two seem positively expensive. As revealed by The Grocer in May, Russian discounter Mere says it will be 20%-30% cheaper than any existing UK grocer. In essence, it wants to shake up the market in the way Aldi and Lidl did in the 1990s.
So, what do we know about the retailer? And what could its arrival mean for UK grocery?
For now, Mere is very much in the planning phase. Its first store is set to open in Preston in mid-July, representing a slight delay to an earlier target of the second half of June. That's to be followed by three more this year: in Castleford, West Yorkshire, Mold, Flintshire, and Caldicot, Monmouthshire.
But as revealed by The Grocer last week, its longer-term plans are far more ambitious. Mere is aiming for more than 300 UK stores in the next eight to 10 years, a rate of growth not dissimilar to that of Aldi and Lidl.
Given the track record of its Russian parent Torgservis, the goal seems well within reach. Founded in 2009 in Krasnoyarsk in Siberia by entrepreneur brothers Sergei and Andrei Schneider, within a decade it had about 1,000 stores in Russia, where it trades as Svetofor, meaning 'traffic light'. Russian market research agency Infoline-Analytika calculated its 2018 sales at close to €1bn.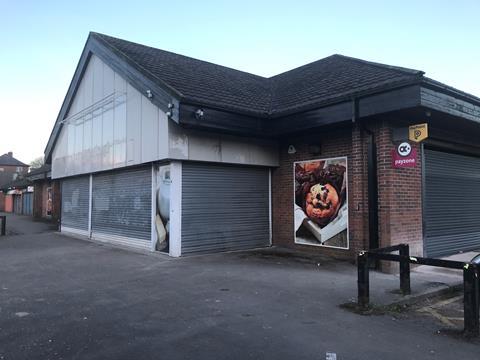 By 2020, Svetofor had become the sixth-largest Russian food retailer by market share, according to Statista. What's more, its might has forced rivals to make changes to their operations. Russia's largest retailers X5 Retail Group and Magnit began a fightback last year with the launch of their own discounter formats, Chizhik and Moya Tsena (My Price).
Under the name Mere, the business has been opening stores in Europe since 2018. Globally it now has a claimed 3,200 stores, with a footprint in Germany, Poland, Romania, Lithuania, Latvia and Ukraine. Turnover in 2020 is estimated to have been close to €2bn. It now plans to make inroads in Italy, Spain, Greece, Bulgaria and the US, as well as the UK.
The company is highly secretive – the founders have a reputation for never giving interviews or indeed responding to enquiries. However, Mere has granted The Grocer exclusive insight into the business's UK strategy, and where it sees its place in the market.
Target audience
From Mere's perspective, there are no true hard discounters in the UK, only very soft ones. Most retailers across western Europe instead target the medium and upper-medium income segment, and with good reason – it's a well populated demographic with sizeable spending power.
A few – notably Lidl and Aldi – cater for the medium and 'pre-medium' segment. Variety discounters may even reach the 'economy' segment. But no one is targeting the 'pre-economy' segment, where Mere sees itself.
Mere says medium-segment customers have some expectations of their shopping experience, such as customer service, which will have to be sacrificed to get its low prices. In fact, it goes so far as seeing hard discounting and customer service as entirely incompatible, due to the cost implications.
From the beginning, it has taken the view that there are some customers, not optimally served by any other retailers, for whom price is the primary motivating factor and service is very much secondary. By service it means anything from convenient location to a beautifully lit shop floor or a big car park (though until recently, property requirements on Mere's UK website specified 30-40 parking spaces).
It also means an absence of the core pillar of 'customer service': assistance from staff in stores upon request.
Each Mere store will have a maximum of eight staff, including four on the checkouts and one manager. No one will be milling around to answer queries. That's because the other three will be dealing with another highly unusual and defining feature of Mere's model: deliveries by suppliers directly to stores, dispensing with the need for warehouses.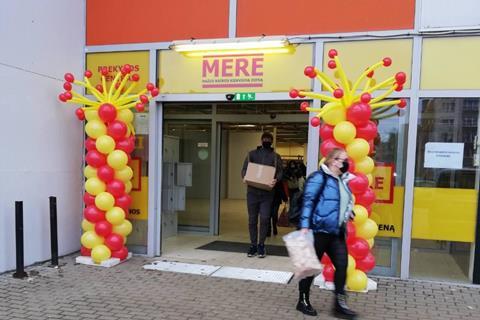 While that will enable Mere to offer the lowest possible prices, it means shoppers may also have to accept gaps in what they might consider a comprehensive grocery range. If, for example, suppliers cannot deliver litres of milk at a low enough price for Mere to sell them for at least 20% less than Lidl and Aldi, Mere will not sell litres of milk.
There may be some brands, but only where they can meet Mere's strict low-price imperative. They will not be treated to any prominent position on shelf, not least because there will be no shelves. Goods will be displayed on the pallets on which they arrive. Stores will include a walk-in chiller room and large freezer, and offer a maximum of 1,200 Ambient, chilled and frozen SKUs.
Nevertheless, the range will be sufficiently broad to satisfy essential everyday needs and the low prices won't necessarily indicate a compromise on quality. Mere makes a distinction between low prices and cheap products, viewing itself as a purveyor of the former, not the latter.
For these reasons, Mere believes it will have no direct competitor in the UK, instead occupying a gap that has been vacant despite the rise of the German discounters. Aldi may have been somewhat similar in its early years but, along with Lidl, it has long since evolved into a different kind of retailer.
So different will Mere be to any existing UK retailer that none need be concerned about its arrival, it argues. While it accepts the UK grocery market is finite, and it will take a proportion of spend, Mere believes other supermarkets won't feel a noticeable loss.
"Each Mere store will have a maximum of eight staff, including four on the checkouts and one manager."
On that front, it faces some scepticism from Paul Foley, who served as Aldi's UK & Ireland CEO from 1999 to 2009. He is familiar with Mere as a board member for some of its competitors in several countries.
Foley accepts that Mere is offering a new concept, "as different to the established and now well-known western European discounters as the very same Aldi and Lidl were to Tesco and Sainsbury's when they themselves entered the UK".
Nevertheless, it is a force to be reckoned with. "It is a highly organised and very focused retailer that has achieved tremendous sales and profits success in markets where it's developed a presence," he says. "Establishing a new type of business model is not easy, especially in the competitive market that is the UK, but at the very least their record so far, and their management confidence, suggests ignoring them would be a mistake," Foley adds.
Indeed, existing UK grocers are not ignoring the news, with one major supermarket having contacted The Grocer seeking any information that might be shared about Mere's plans.
Discounters launched during the pandemic
The question for Mere, and its soon-to-be rivals, is just how much of challenge it will find in establishing its unusual model in the UK, where many consumers expect shopping and customer service to go hand-in-hand.
In Russia, the growth of the business has been linked to falling incomes. The same could easily happen here in the wake of Covid and the economic fallout.
As logical as it may seem, Mere could be in danger of ignoring lessons from history, says GlobalData senior retail analyst Tom Brereton.
"I think Aldi and Lidl went in with almost the same mentality and have come out realising that actually the very hard discounter approach is not the most successful model in the UK," he says. "The idea of having no customer service whatsoever in a store could be quite strange to British shoppers. There are always questions that come up, things about products or whatever. It will attract a subset of Aldi and Lidl shoppers but when they go there quite a few may drop off."
Shopfloor Insights founder Bryan Roberts has similar reservations. "Aldi and Lidl's journey towards success involved them adapting their strict hard discount model and essentially transforming themselves into supermarkets, with larger ranges, improved service and bigger, nicer shops," he says. For him, it will be "interesting to see if any reiteration of Mere's model will be required to crack the UK".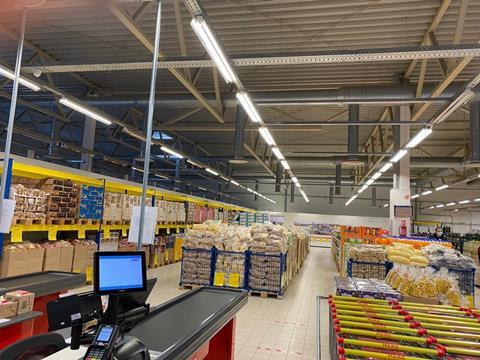 Supplier relations
Mere itself recognises that Aldi and Lidl have evolved in response to shopper expectations. Its argument is that the two have left open a gap. It also intends to tailor its UK operation to the local market, including UK suppliers and farmers, as well as customers.
Suppliers are a key point here. UK suppliers, and Mere's unusual terms for them, could present another challenge for the business, thinks Shore Capital analyst Clive Black. Mere's terms dictate suppliers will only be paid for what is sold. Indeed, it was a prospective UK supplier, suspicious of the terms, that first contacted The Grocer about the discounter.
"Brands will not be treated to prominent positions on shelves, not least because there will be no shelves"
On top of that, there's the issue of price. "Certain categories and supply chains will be horrified by a 20% cut on base," says Black. "It will be interesting to see how much product is grey, clearance or near shelf-life end. Could Mere be one step above the food bank?"
Shorter than usual shelf-life dates are indeed a feature of Mere stores elsewhere in Europe, which resemble warehouses, with one SKU filling an entire pallet. It means "wastage will be a key variable, and so shoppers may need to be prompt for fresh goods," adds Black.
On a store visit to Mere in Poland, Sebastian Rennack, senior retail analyst for Lebensmittel Zeitung, also noted the prevalence of obscure brand names and an absence of organic, free-from or Fairtrade products.
Still, Mere seems to be having little trouble finding suppliers in the UK. Its UK head of buying, Pavels Antonovs, has been busy meeting manufacturers and suppliers – and posting the pictures on LinkedIn. One shows talks with international brand wholesaler and fmcg distributor Pricecheck. "Some will understand us, some won't," Antonovs recently told The Grocer.
Transport links
For those that understand, the location of the stores will be vital. Town centres may be out – as Brereton points out, it will be difficult to have "loads of supplier trucks turning up all the time" in such a built-up environment.
That's why Mere has made good transport connections a key tenet of its conditions for potential new sites. While Brereton says "the idea of sticking near motorways, with trucks arriving all the time, could be a bit strange for shoppers," it will undoubtedly make things easier for suppliers.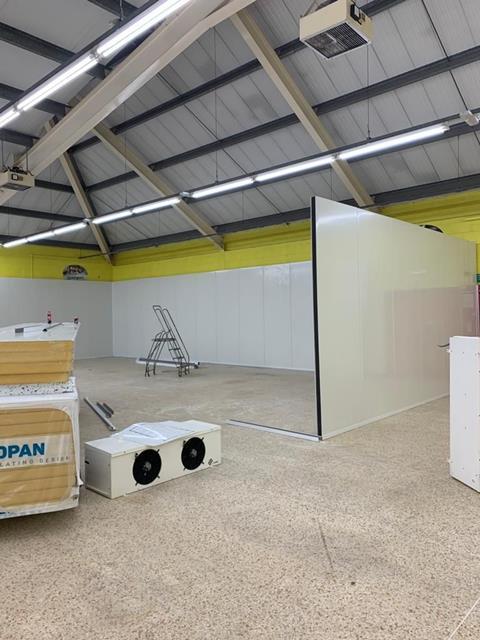 And location data specialist CACI sees no shortage of suitable sites for Mere, even if in many cases it will mean sitting shoulder-to-shoulder with an established discounter.
It's a threat those rivals will be carefully considering, says Black. "I would expect to see Aldi, B&M, Home Bargains, Lidl and Poundland executives or at least their teams engaging in extensive reconnaissance early doors," he forecasts.
Black notes Mere would not be the first to try – and fail – to take a meaningful piece of the market from those heavyweights. "There have been many deep discount arrivals from Food Giant in the 1990s through to Dales, Netto, Poundworld, and most recently Jack's, but the big daddies will remain Aldi, B&M, Home Bargains, Lidl and Poundland."
But Black has one caveat. "Whilst it would be wrong to think Mere will be a seismic arrival, its time may come, especially if the UK economy entered a deeply distressing point," he says. "Such a time does not feel now but let's see."
Certainly, the potential for Mere's success seems contingent on two variables: its ability to meet UK shopper expectations, and the economic climate that determines those parameters. And, as the UK reels from yet another extension to Covid restrictions, who knows how far expectations could fall?

Steve is deputy news editor at The Grocer.

He's responsible for covering online grocery and the discounters, and for editing The Grocer's analysis features. He's an experienced journalist who has contributed to a range of national newspapers including The Mail on Sunday.

Follow Steve on Twitter: @Steve_Farrell_