What's hot?
Britishness. There seems to be an element of post-Brexit, post-pandemic patriotism and desire to support British industry. Lion mark recognition has increased to 82%, with many seeing them as safer than other eggs. Belief in the health benefits of eggs as well as their convenience is helping to drive consumption. Only British Lion eggs are approved by the FSA to be consumed runny by vulnerable groups.
What's not?
Imports and associated food safety issues. It was disappointing to see packs of imported eggs on supermarket shelves in 2020. It's not what consumers want. Our petition calling on retailers to use British eggs for food produced in Britain and stop using imported eggs has received huge support from the public and politicians, with almost 25,000 signatures.
What's next?
All demographics are eating more eggs but growth is particularly strong among under-35s. We are also launching version eight of the British Lion Code later this year, ensuring the food safety standards remain the most stringent in the world, and we fully expect to see the Lion mark on retailer food packaging, such as quiche, in the near future, not just on egg packs.
What's going on in merchandising?
Eggs might be a staple of the weekly shop, but some have found interesting ways to make the egg fix even easier for consumers to access with innovative merchandising techniques.
Morrisons pick-your-own eggs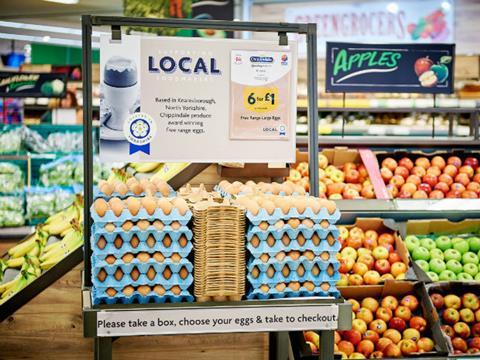 Almost three years since the introduction of its choose-your-own egg stands, Morrisons' initiative is still going strong. Positioned front and centre in the fresh produce aisle, customers can choose as many or as few free-range, local eggs as they like. The move was designed to help reduce food waste, by allowing customers to choose how many eggs they purchased rather than volumes being dictated by container size. But the stands have also introduced a farm store vibe to busy supermarkets.
Egg vending machines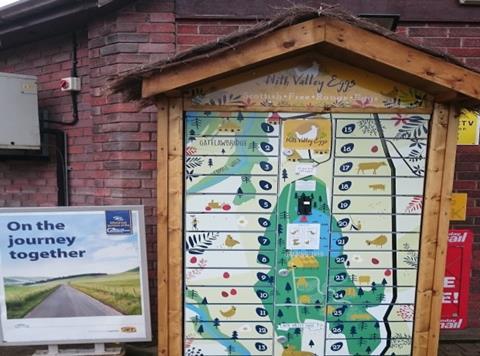 Forward-thinking farmers have introduced vending machines allowing provenance-minded consumers to pick up their eggs at the farm gate, with the added reassurance they know exactly where the eggs have come from. The days of trust-based moneybox systems may be fading in the rearview mirror, but technology is allowing farmers to remain connected to customers. Though egg vending machines have been available for a while, they came in particularly handy during the Covid-19 crisis, when egg shortages hit the mults.