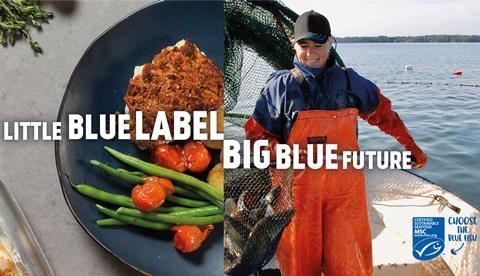 On The Hook has renewed calls for an independent review of the Marine Stewardship Council after accusing the NGO of ducking scrutiny and failing to do enough to adequately protect wildlife.
In an open letter addressed to MSC CEO Rupert Howes and chairman of its board Werner Kiene this week, the campaign group stated the MSC's standards review and wider stakeholder engagement was too limited in scope and the organisation's decision-making processes lacked transparency.
While it acknowledged the NGO had an important role to play, it said it was failing to fulfil its purpose. It also reiterated claims the bar for MSC certification was "not currently set high enough" and it did not have quick enough processes to protect the oceans from unsustainable fishing.
The campaign – which is made up of conservation groups, animal welfare charities and marine scientists – called on the MSC to carry out an externally commissioned "full independent review" of its standard and operations which would allow parties to raise concerns in an "open and transparent manner". It said it hoped the issues raised would then be systematically examined and addressed.
"It is not enough for the MSC to continue addressing issues so slowly and incrementally," said Charles Clover, executive director of Blue Marine Foundation, a sustainability campaign group and On The Hook member.
"Many campaigners have dedicated significant time and capacity to engaging with the MSC on consultations and concerning certifications, but the frequency with which these arise suggests there are fundamental underlying issues which need to be addressed first."
Responding to the letter, an MSC spokesman said it rejected claims it only allowed limited stakeholder involvement and that a review was required.
"Stakeholder engagement is in our DNA. Our present review of the Fisheries Standard – which determines where the bar for certification is set – has involved an unprecedented level of consultation," he said, pointing to MSC's recent running of 11 virtual workshops and two virtual conferences attended by fishery scientists, retailers, NGOs, industry representatives and government officials.
"We are in the midst of public consultations on key aspects of the standard review, including far-reaching proposals on endangered, threatened and protected species as well as proposed new requirements on shark finning. Inputs from stakeholders are vital to inform any changes made to the Fisheries Standard, and we would urge the members of On The Hook to engage with this multi-stakeholder process."
The MSC has come under heavy fire over the past year.
In March, it was one of the major targets of Netflix's Seaspiracy documentary, where it was accused of certifying fisheries with high levels of bycatch – claims it denied.
Meanwhile, in 2020 the NGO was criticised for failing to adequately crack down on shark finning, an issue it sought to rectify with an updated fishery certification process just over a week later.
On The Hook has been among the most vocal of its critics since the campaign group was founded in 2017.