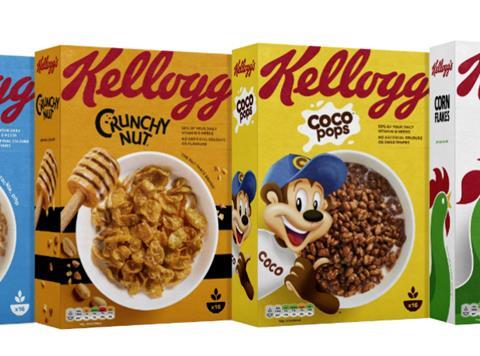 A legal challenge by Kellogg's to the government's forthcoming clampdown on promotions of products high in fat, sugar or salt has been rejected by the High Court.
The cereals giant challenged the clampdown, which is due to see HFSS products banned from prominent locations in stores from October, on three separate grounds.
It argued cereals should be exempt because they are usually consumed with milk, adding to the nutritional value of a portion. The company claimed cereals should be treated the same way as products mixed with liquid before consumption, such as custard powder and dried pasta, which are assessed based on their nutrient profile once reconstituted according to the manufacturer's instructions.
In a second argument, which could have derailed the entire HFSS clampdown if successful, Kellogg's argued it should be declared "ultra vires" – or 'beyond the powers' of the Food Safety Act of 1990. It argued a further act of parliament was required to give local authorities powers to fine stores for breaches of HFSS regulations.
Its third argument centred on the controversial nutrient profiling model used to assess whether products should be included in the clampdown. Kellogg's claimed that, as the NPM was created in 2004 as the basis for Ofcom's policing of advertising aimed at children, it had never been properly scrutinised by parliament for the purposes of the HFSS clampdown and its powers should be quashed.
All three grounds for the challenge were rejected in a ruling handed down today following a High Court judicial review.
"Breakfast cereals may have liquids added to them or be mixed with other products before they are eaten, but this is not necessarily the case," said Mr Justice Linden on Kellogg's milk argument.
"Many of them can be eaten in dry form. They do not come with instructions for preparation which say that they should be consumed with milk, although I accept that their packaging and messaging will often depict or refer to milk with the cereal and some manufacturers include information as to nutritional values in the event that they are consumed with a specified quantity of milk.
"The fact that manufacturers provide information as to nutritional values, rather than manufacturer's instructions, is not just a reflection of the different nature of breakfast cereals; it also illustrates a practical difference in terms of the availability of an effective standardised approach."
Lost sales
The Grocer revealed last month that Kellogg's had told the court it could lose up to £113m in sales if the clampdown went ahead as planned.
Commenting on today's ruling, Kellogg's UK MD Chris Silcock said: "Kellogg has always supported the government's obesity strategy and work to tackle obesity. We share the government's commitment to helping people live healthier lives as demonstrated by our work to reduce sugar and salt in our cereals and provide clear labelling.
"We brought this legal challenge because we believe the formula used to measure the nutritional value of food is wrong when it comes to breakfast cereals, and we believe it is right to stand up for what we believe in.
"We are therefore disappointed that the court upheld the government's approach to the nutritional assessment of cereals.
"It makes little sense to us that consumers will be able to buy other products, like donuts and chocolate spreads, on promotion – but not many types of breakfast cereals.
"While disappointed with this judgement, we respect the decision of the courts and do not intend to appeal. We still believe that it is important that cereals are measured in a way which reflects how most people eat them – with milk. We also remain concerned at the way the government introduced these regulations – which, in our view, was without proper parliamentary scrutiny.
"By restricting the placement of items in supermarkets, people face less choice and potentially higher prices. That's why, in the midst of a cost of living crisis, we would strongly urge the government to rethink these regulations and put the consumer first."
Children's Food Campaign co-ordinator Barbara Crowther called the judgement a "victory for public health and common sense".
"As a household brand, Kellogg's has the power to be a champion of healthier food options and children's health," said Crowther.
"Sadly, rather than focussing energy on removing more sugar from breakfast cereals, instead they've become a serial offender in trying to disrupt the government's obesity strategy, and in wasting huge amounts of time and money with unhealthy, distasteful litigation."