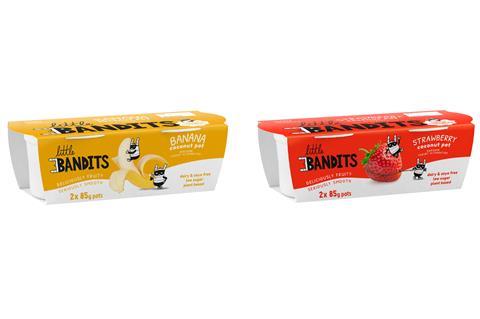 Kid-focused plant-based yoghurt alternative brand Little Bandits has secured its first major listing in Asda.
Two variants – strawberry and banana – (rsp: £1.65/2x85g) went on sale at 157 stores nationwide yesterday and will be available to other retailers from October.
The fortified products are made with coconut cream and fruit purée and are also said to contain an average of 50% less sugar than their dairy competitors.
They are aimed at the free-from market as well as those following partly or wholly plant-based diets – an under-served market, according to founder Jess Harris.
"I founded Little Bandits because, like so many children, my son Jonah has food allergies. As he was growing, I was looking for more healthy, convenient options and realised there were no kids' brands offering families food that was free-from, playful and delicious," Harris said.
"Realising there were thousands of parents facing the same challenge, I was determined that Jonah's diet shouldn't mean he missed out on fun, convenient treats. Hence I decided to make some myself and Little Bandits was born."
Harris first registered the business in November 2017 but said she found the "biggest challenge" in getting to market was finding a manufacturer that could guarantee an allergen-free environment.
She has also enlisted the help of free-from veteran Lucy Orton, who recently joined Little Bandits as a co-founder. Orton founded free-from chilled desserts maker Pudology, which ceased trading last year.
"[Orton] will really help accelerate the brand's growth over the coming years," said Harris. "It's so fantastic to share the journey with her, we work brilliantly together."