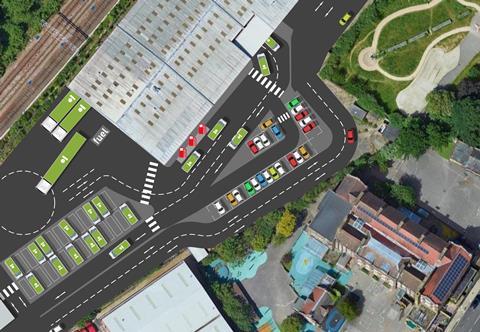 Ocado's plans to open a new distribution centre in Islington have suffered a significant setback following a successful legal challenge by campaigners.
The 'Nocado' group – made up of local residents and parents of children at the adjacent Yerbury Primary School – chalked up a "landmark victory" yesterday, after Islington Council yesterday revoked the site's lawful development certificate.
Such certificates are issued by authorities to confirm a site's proposed use would be lawful for planning purposes. Nocado said the original application for the certificate made in April last year had "serious failings and irregularities". The group submitted a 100-page pack to the council, refuting landlord Telereal Trillium's claim the site had been in constant use for storage and distribution for decades. Telereal Trillium did not provide a comment at the time of publication.
"Having followed due process, the council has made the decision on the revocation of the certificate," a council spokesman confirmed to The Grocer last night.
An Ocado spokeswoman said the company was disappointed by the decision.
"At a time when delivering groceries to the home has never mattered more, we are disappointed by the council's decision to revoke the site's certificate of lawfulness and we are considering all options with the landlord," she told The Grocer.
The company pointed out that the site neighboured a Royal Mail depot, a BT data centre, and a railway line; would create some 300 jobs in the area; and would help it respond to the demand for deliveries from vulnerable people.
The Tufnell Park site has long proved a headache for Ocado, thanks to the campaigners, who have been fighting to block the development since plans were revealed late last year.
Ocado Retail has made several changes in its plans for the site over the past year in a bid to appease the group. The Ocado and M&S joint venture has committed to operate the site with "100% electric Ocado vans".
Earlier this year, Ocado CEO Tim Steiner said the company had changed plans to include a new entrance "to keep vehicles away from those neighbours" and was exploring the use of a "living wall on the site to improve the air quality".
"Ocado is committed to being the best possible occupant of the site at Tufnell Park," the Ocado spokeswoman said. "Our plans ensure it will be one of the greenest and quietest grocery facilities in the UK but we will continue to listen and respond to any concerns."
Ocado is seeking to establish many more urban depots across the capital. In September, Steiner revealed the company was on an "accelerated search" for additional sites for its rapid delivery service Zoom to boost its ability to provide "nearer to the customer missions". "There's clearly demand for a dozen or two dozen Zooms just in London alone," Steiner said at the time.
Nocado campaigners said their local effort was quickly gaining the support of other communities fearing urban depots in their towns.
"With the surge in online shopping and deliveries, there needs to be much more scrutiny around where these distribution centres are built," said Natasha Cox, a Nocado campaigner and parent at the school. "The current planning categorisation of 'storage and distribution' is not fit for purpose given new expectations for delivery services and the intensification of these 24/7 sites."