Real life was miserable enough this year. It meant Brits wanted ads that made them smile, had humour, or even a positive ethical message
Brits are over misery. The pandemic has been so tough for so many, in so many different ways, the last thing they need is adverts reminding them what a torrid time they're having.
"People are tired emotionally," says Kerry Collinge, director of marketing and partnerships at System1, a global marketing research and advertising effectiveness company. "Stuff that's at the lighter end of life is sinking better with people."
The data bears this out. System1 puts 95% of all ads that air in Britain in front of a panel of 150 consumers within 24 hours of airing to measure their emotional impact and brand recognition. The agency then gives every ad an overall rating (the results of which have shaped our Top Campaigns list, alongside YouGov brand tracker data, below).
Fun executions – like Jaffa Cakes' attempt to answer the cake-or-biscuit question, and Heck's workplace dance video – have come out better.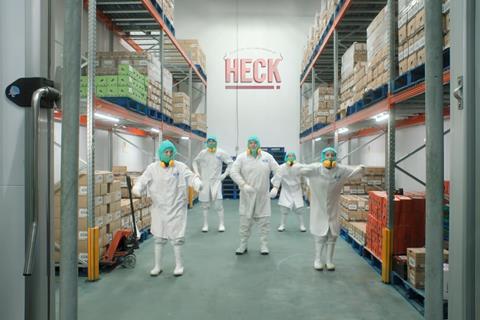 Sad ads, by contrast, have elicited a less positive response. "People are like 'no – just let advertising entertain me'," Collinge says.
It's a marked departure to the approach taken in 2020. "The pandemic was full of dreary and earnest pandemic campaigns with monotone voiceovers and generic stock videos, all in an attempt to claim to consumers they 'got' what they were going through," says Molly Rowan-Hamilton, strategy director at BrandOpus. "It felt samey and predictable and definitely corporate and faceless," she adds.
Some managed it better than others, of course. Take Coca-Cola's Open Like Never Before campaign from summer 2020, which sought to take the positives from the crisis. Creative director Emiliano Trierveiler from 72andsunny, the agency behind the ad, said the aim was to "find a kind of optimism that resonated with the sensitive moment".
But even for those more upbeat takes on the pandemic, the moment has now passed. "Brands that really early got on board with 'we're here to help' shot up [in the scoring], but pretty quickly we saw that wear off," says Collinge. "By the end of last year, any ad that featured coronavirus messaging tested much lower than those who completely avoided it."
Brands that performed particularly well in testing include Walkers, which created a joyous storyline of a workman falling off a roof and using the time stuck in a rooflight to watch TV on his phone. Yorkshire Tea (one of the highest-performing brands according to YouGov data) struck gold with its depiction of a man blundering through a presentation at its head office. (It's about the company's collaboration with Alpro, called My Cuppa – but the Yorkshireman, of course, says 'My Brew' by mistake.) Lynx charmed viewers by showing a freshly deodorised man walking down a psychedelically positive street – without a mask in sight.
"Earnest was replaced by entertainment," says Charlotte Wilcox, head of strategy at creative agency Impero. "With all of the false starts of the last two years taking their toll, creativity and laughter have really reigned supreme. From the Heinz x Weetabix collaboration to yodelling pizza fans with Domino's."
Rowan-Hamilton says that "today, consumers are hyper-aware of being 'sold to' and to counter that, we're seeing brands with a self-awareness in their advertising which shows personality and humour".
Read more:
Where funny wasn't appropriate, brands have tapped other feelgood themes, like family. "An emphasis on family, in whatever form that takes, has been a theme for a while," says Ellie Murphy, chair of the Chartered Institute of Marketing Scotland, "but brands were dialling this up further in 2021, most noticeably in the food retail sector".
"The companies that leaned into this sentiment, and focused on sparking joy and festivity in their message, have largely thrived," says Eloise Shuttleworth, senior director of customer success at marketing platform Iterable.
The joy aspect has particularly come through in the nation's response to supermarket Christmas ads this year. A Kantar survey of 3,600 consumers used facial recognition AI to gauge emotional responses. Aldi's chipper Kevin the Carrot ads came out as the most effective – mainly because they were seen as more 'enjoyable' than rivals' efforts.
"Aldi uses humour effectively, something especially important in a year when we all need an extra laugh," says Kantar head of creative excellence Lynne Deason.
At the same time, there was still room for more serious messaging. Brands that have worked to communicate the good they are doing – in their communities or for the planet – have generated a positive response.
"It's just more difficult to please people. They're pumped drunk by advertising this year"
On the whole, campaigns have "pivoted further to focus much more strongly on brand purpose messages", says Lucia Juliano, research sector head at Toluna. "Brands have taken their media and advertising budgets and committed huge sums to talking about what good they are doing, in what way and how."
It's a smart move. According to a March consumer survey by Deloitte, nearly a third of Brits now choose brands based on their ethical practices or values – and a similar number have stopped using a brand due to ethical concerns.
"This new emphasis on purpose presented a clear opportunity for food and drink businesses to reach consumers on a new, emotional level," Shuttleworth says.
Even in these serious topics, though, it's still crucial to keep things light. Carlsberg's campaign on its WWF partnership landed thanks to a big-eyed, winsome seal. And Aldi nailed its Christmas ad thanks to highlighting its charity support via 'Marcus Radishford'.
All of which has made for an entertaining year in ads. Letty Edwards, founder of brand consultancy The Mind Collective, says "it's been great to see smart work come to life and make us smile".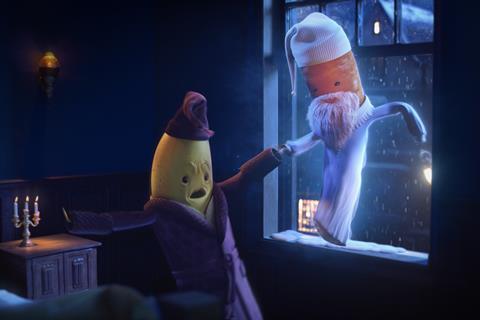 Crowded landscape
And marketing teams have needed to be smart in 2021. Behind the scenes, they've had to sweat it to be seen and remembered.
Total UK advertising spend is estimated to have grown by 24.8% this year, according to the Advertising Association and WARC data. "This would be the largest annual rise on record and would take total investment to £29.3bn," AA/WARC says.
Food-related brands were particularly active on the marketing front. They spent a total £949m in 2021, according to AA/WARC data shared with The Grocer – the highest amount since 2016.
In short, there are a lot more ads vying for attention. And consumers are seeing more. Latest figures from Ofcom, for 2020, show Brits are spending a third of their waking hours watching TV and online video content.
"We've become best friends with our televisions," says Collinge. "So it's just more difficult to please people. They're pumped drunk by advertising this year."
But it's still been possible to land a top-class campaign, as our top 50 list proves. As Mel Arrow, head of strategy at advertising agency BMB, says: "Advertising on the whole has gotten far less earnest. This year, there's far more colour, life and experimentation across the board." Long may it last.