Passionfruit has played a big role in the story of jams and preserves brand Single Variety Co. It inspired the launch of the business and recently brought it great success in the Farm Shop & Deli Show Product Awards.
The brand is the creation of Nicola Simons, who previously worked at some of the UK's largest food and drink retailers.
Her career began on the graduate scheme at Sainsbury's, where she progressed to the role of product developer in the chain's bakery operation. She took her experience in bakery to Selfridges, where she was a bakery and dairy buyer, before becoming a product developer at Waitrose. Later, she was head of food at a salad supplier.
Simons had long dreamt of setting up her own food business. The idea of a jam brand was born about eight years ago while on a holiday to Sri Lanka with her husband, Ross Elliott.
"The English chap that ran the hotel made his own jam, including a phenomenal passionfruit one, and that's where the idea came from," Elliott explains.
The opportunity to launch Single Variety Co came when Simons was made redundant by the salad company. She started in 2016 by selling jam at farmers' markets.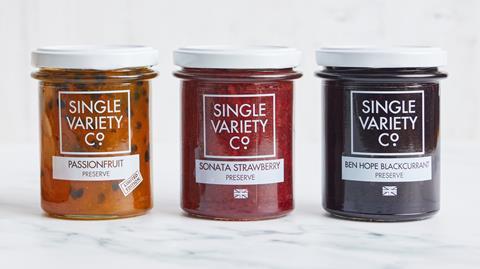 The heart of the business is use of a single variety of fruit in each product. It produces the likes of Maravilla raspberry, Sonata strawberry and King George blackberry preserves. They sit alongside single-variety chilli jams, including Fireflame and Jalapeño, in a range of 10 core products plus limited-edition seasonal specials.
"One of the things we've been careful not to do is create too many products," says Elliott. "With Nicola's experience in the food industry, she is adamant that if you have too many products, you dilute your range and lose a bit of quality."
The desire for simplicity extended to the look of the products, which are packaged in clear jars with minimal branding.
"A clean, contemporary look was always the aim," Elliott adds. "We wanted to really showcase the fruit or chilli that was in it and the colours they have. One of the ways we do that is by using way more fruit and a lot less sugar than our competitors, and we cook it for less time to retain the colour."
The fruit used is sourced from British suppliers where possible, with lemon drop chilli coming from Wales and rhubarb from Yorkshire.
When she started out, Simons rented various kitchen spaces in and around her flat in south west London. When demand for the jams surged, she outsourced production and distribution, an arrangement that worked well until demand again outgrew supply.
Crunch time came on a Black Friday, when Single Variety Co sold out of jam by lunchtime.
"Nicola called the guy at the producer and asked if there they could make some more, and they said 'no chance'," says Elliott. "At that point, I said we should open a jam kitchen and bring everything back in-house."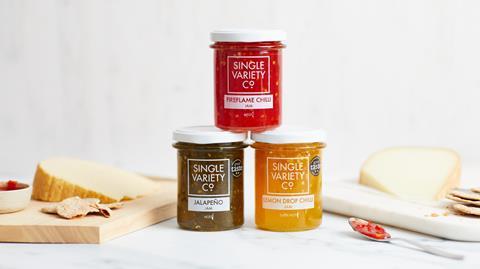 As a result, the couple left London and found business premises and a home in Bristol, where Elliott, a former tennis coach and personal trainer, later joined Single Variety Co full time.
A big factor in the growth of the brand was the decision to create a direct-to-consumer platform in October 2019. Just months later, the first lockdown was declared.
"The pandemic meant everybody was at home, and they were buying nice food products online," Elliott says. "Our jam sales went through the roof."
DTC now accounts for around half of Single Variety's sales, with 30% through wholesale and 20% via distributors. The brand can be found in about 400 independent stores, including farm shops and bakeries, as well as high-end retailers such as Selfridges and on the Waitrose deli counter.
In spite of its presence in Waitrose, the brand has never pursued large-scale supermarket listings. "We don't want to start doing big volumes that could jeopardise our high product quality," Elliott explains. "There's enough scope in the fine food side of things to create a sustainable business."
Single Variety currently employs a three-person kitchen team comprising a factory manager and two cooks. Operations such as HR and accounts are outsourced, so the brand "can concentrate on the bits we like and enjoying, like selling and growing the business" says Elliott. "It's a family business and that means we share everything, including highs and lows."
Among the highs has been Single Variety's passionfruit preserve winning a gold award in the inaugural Farm Shop & Deli Product Awards last month, while its jalapeño jam took the silver.
"We feel we are doing things right, and the award was a great reminder that people are enjoying what we are doing," Elliott adds. "We try to create products where everything is as brilliant as we can get it, and we take great pride in that."