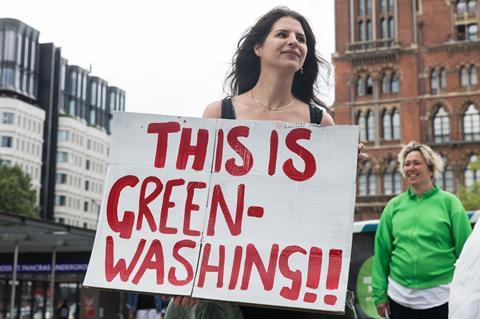 Supermarkets have been accused by campaigners of greenwashing and prioritising meat and dairy sales "ahead of public health and the climate".
A new report by environmental group Feedback claims greenwashing is "rife" among the UK's leading grocers, which campaigners say portray themselves as eco-friendly while failing to address the environmental impact of their high-emission products.
The group says supermarkets including Tesco, Aldi and Sainsbury's tend to focus on and promote "minor green initiatives" – like small-scale plastic packaging reductions. Meanwhile, no supermarket has yet put in place significant targets to reduce their meat and dairy sales, which are the "largest contributor" of their carbon emissions, Feedback's report claims.
"It's astonishing that greenwashing is rife across the industry with all the UK's largest supermarkets employing 'distraction' type green initiatives, which make little impact on their overall footprint yet serve to deflect attention from the real issues," said Jessica Sinclair Taylor, Feedback's head of policy.
"It's clear from our findings that retailers are still focused on boosting meat sales despite setting net zero targets and pledging to help us eat healthier and more sustainably – and this must now change."
Feedback's findings are based on a scorecard that assessed retailers' climate claims online and in-store, against its overall targets to slash emissions.
Campaigners argue green marketing campaigns such as Sainsbury's 'We're helping our customers choose healthy and sustainable diets' are misleading because the company has not taken concrete action to slash meat and dairy sales, in line with net zero recommendations by the government.
"[Sainsbury's] continue to overpromote the consumption of meat and dairy products by investing in branding and marketing, such as their new 'value range', Stamford Street Co," Feedback's report read.
Sainsbury's said its Stamford Street range had 25 fruit and vegetable items, including juices, and that 70% of the range was a "healthy or better for you" option.
Feedback has also filed a greenwashing complaint with the Advertising Standards Authority over Aldi's website claim that "Aldi UK and Ireland have been 'carbon neutral' since 2019" – arguing the company failed to mention the carbon neutral status only applies to its stores and head office emissions, which it says only account for 5% of total emissions.
Additionally, campaigners are pursuing a complaint against Tesco over its 'Greener Greens' electric delivery vans, claiming the grocer is the promotion of its growing electric fleet as a "selective disclosure" tactic while "avoiding talking about more harmful issues".
"Even when up to full capacity in 2030, electric vans will only represent an emission saving equivalent to 0.1% of Tesco's yearly emissions. Meanwhile, Feedback has calculated that Tesco's meat and dairy sales represent around a third of their emissions, or around 24.8 million tonnes CO2e a year," the report read.
Tesco said decarbonising its home delivery fleet was only one way in which it was tackling carbon emissions.
The retailer has a commitment to reach net zero in its own operations by 2035, and across its entire value chain by 2050.
It is also working to increase uptake of plant-based meat alternatives, as well as more veg-led options for customers.
The government's independent Climate Change Committee has recently said the UK needed to cut meat and dairy consumption by 20% by 2030 to meet its net zero commitments, in line with the Paris Agreement.
The British Retail Consortium's sustainability policy adviser, Sophie De Salis, said retailers were committed to supporting their customers live "sustainable, lower-carbon lifestyles" by expanding plant-based ranges or improving the recyclability of products and packaging.
"Over 80 BRC members are signed up to the BRC Climate Action Roadmap, which is working towards Net Zero retail, including supply chains, by 2040," she added. "The Roadmap gives retailers the tools to communicate the health and environmental benefits of more sustainable diets to their customers and help guide their choices."
However, agri-food activists claim the government and industry are not doing enough to reach those targets.
Feedback is asking for more transparency from retailers on how much of their climate footprint is linked to meat and dairy sales, a clear pathway to net zero emissions which includes targets to sell less of their highest-emitting products, as well as action to drop promotions on meat and dairy products as they did with the HFSS promotion bans.
The group has also recently won the right in the Court of Appeal to bring a legal challenge against the government's current food strategy, claiming it "fails to act on the damaging environmental impact of excessive meat and dairy production and consumption".