Best move over the last year?
"I think actioning the relaunch of our Lyons coffee bag range. It's the major thing that we did throughout the last 12 months. We've had coffee bags in the market for about the last 20 years now and what's happened recently is that loads of other companies have entered the coffee bag market.
"The coffee bag sector as a whole is in huge growth at the moment, it's worth about £7.1 million annually and the growth is about 50% year on year.
"This is really the first time that we've looked at it objectively and subsequently we needed to make our coffee bags more standout, celebrate the heritage, celebrate the fact that our coffee bags have been around for 20 years and the Lyons brand has been around since 1907.
"With our new relaunch we made sure that it's fully compostable and all packaging is recyclable. I firmly believe that the Lyons coffee bags and the Lyons' range as a whole has been really good for the last twelve months."
What would you have done differently?
"In hindsight it would have been lovely to shout about the brand sooner. However, we realise it was important to get the brand exactly where we want it before we can really go to market.
"I believe strongly now we have the right ranges, we have the correct price point which is going to add value to the retailers and to the range itself. And we've obviously got the great brand story as well. Yes, it would've been nice to shout about it sooner but we're very pleased with the point we've got to now."
What's the plan for 2020?
"Initially it's to relaunch the Lyons brand fully. We've got marketing and advertising spend for both customer facing advertising and also business to business.
"We see huge potential for our coffee bag range. The category as a whole is growing significantly and coffee bags are a major part now of the roast and ground category.
"We want to attract new users to the real coffee sector. We're relaunching all our social media, our Facebook and Instagram etc. as well as advertising directly to the consumer who perhaps might not have heard of Lyons coffee bags before.
"The other exciting things that's happening this year is the launch of the home compostable coffee capsule. This is a Nespresso-compatible coffee capsule which you can use at home normally. The really important thing about this home compostable capsule is it's fully airtight so the coffee inside remains 100% fresh. Once you use the product it will be a great cup of coffee and once you've finished with the capsule chuck it on your garden and it might help your flowers grow."

The Lyons range
Lyons products are made with carefully selected coffee beans to provide a coffee blend that is the best tasting, most convenient coffee on the market. The beans are roasted and then ground down, before they are locked into individually wrapped coffee bags. All coffee bags are now compostable and all packaging is recyclable. Although their packaging may have had a refresh their passion for delivering good quality coffee is unchanged.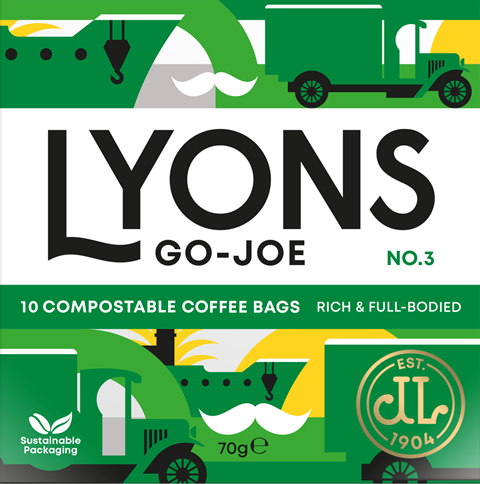 Go-Joe
A rich and full bodied coffee. The perfect all-rounder and a nod to our founder Sir Joseph Lyons.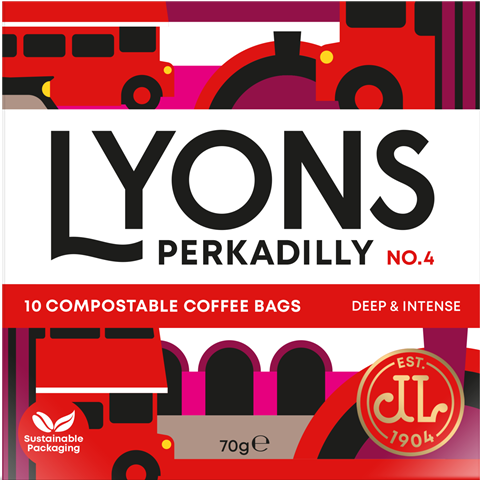 Perkadilly
A a deep and intense roast. A perky tribute to London's Piccadilly, the place where it all began for Lyons Coffee.
Rockadero
A a dark and lively blend that is guaranteed to rock your tastebuds.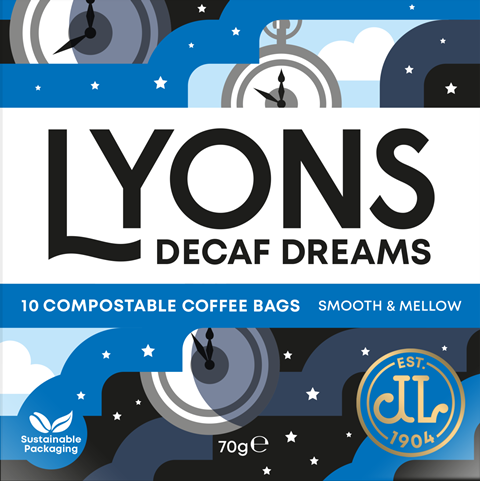 Decaf Dreams
A smooth and mellow coffee without the kick, a celebration of our founder's timeless good taste.
For more information please contact Lyons Coffee on 01908 275520 or via email at Info@lyonscoffeeuk.com.