We've hosted The Gold Awards as a virtual event this week. Here we look at all the winners in a year like no other, in a celebration of the value of the industry's achievements new and old, and the extraordinary role it has played in response to the pandemic
Watch The Grocer Gold Awards Grand Finale 2020
The Gold Awards were originally scheduled to take place in June, but we pushed them back in the hope we could all get together, to celebrate in time-honoured fashion, the industry's achievements. With the latest restrictions, we had to accept that our celebrations could not go ahead – even with new social distancing measures we had planned. So this year's ceremony on Friday, with the help of some Hollywood-style CGI, was a virtual one.
Many (but not all) of the winners of this year's Grocer Gold Awards reflect achievements that pre-date the outbreak of the coronavirus. And we could therefore have cancelled the awards. One or two will certainly feel dated. Quite poignantly so. But we felt it was important to recognise and celebrate those achievements.
At the same time, we wanted the Grocer Gold Awards to serve as a broader celebration of the value that the food and drink industry brings to the UK economy. And in particular the extraordinary contribution it has made in response to the pandemic.
"We've come together in so many ways that would previously have been unimaginable"
It's not that long ago, in 2017, that the government's industrial strategy failed to even mention the UK food and drink industry, despite its size (over 3.5 million employees), or its enduring importance on the manufacturing side, accounting as it does for one fifth of UK manufacturing capability.
No one in government is surely in any doubt now about the food and drinks industry's importance now. In a video presentation included in the Grocer Gold Awards ceremony, Defra secretary of state George Eustice was effusive in his praise for the industry.
As the crisis unfolded he didn't just learn to appreciate the value through the food resilience meetings he hosted, as industry leaders collaborated as never before to resolve the chronic issues the nation faced amid the lockdown.
At the heart of the response was the actions of hundreds of thousands of ordinary people who work in the industry: shop floor workers, factory floor workers, delivery drivers. They are the real heroes. And while the Queen's Birthday Honours list identified some of the hidden heroes, ordinary shopworkers who went above and beyond to deliver and support the vulnerable and the needy, there are many, many more.
As Asda CEO Roger Burnley says: "Grocery industry workers have been heroes in this pandemic, keeping the country fed amidst the most challenging conditions I've ever seen. In retail, our colleagues have brilliantly taken in their stride the complexities of different lockdown restrictions in different parts of the UK, while continuing to serve our customers and provide support for the hardest hit in our communities. Congratulations to all of this year's nominees and winners; take pride in what you have achieved and know that the importance of our industry to society has never been more keenly felt."
The response on the supply side has been equally impressive and important. Yet while supermarket workers and delivery drivers received extensive recognition in the lockdown, it's fair to say that the role of factory floor workers has been less widely acknowledged.
"Grocery industry workers have been heroes in this pandemic, keeping the country fed amidst the most challenging conditions I've ever seen."
That's why The Grocer launched the Factory Manager of the Year Award – a new award devised specifically to recognise the extraordinary efforts on the production and supply side. As Adam Leyland, editor of The Grocer said: "There's not been enough attention and praise for the hard work, bravery and selfless sense of duty of factory workers in coming in to work during the lockdown, and in managing the huge upswing in demand.
"For factory managers in particular, there was also the additional responsibility of ensuring their own teams felt safe through the introduction of extra social distancing measures and extra shifts, and that production was maintained despite staff absences and indeed coronavirus outbreaks in their factories."
The new competition attracted scores of entries, and was welcomed by George Weston, CEO of Associated British Foods: "The Covid-19 pandemic brought into sharp focus the fact that our collective food security is dependent on advanced food manufacturing and distribution systems, operated by a dedicated and highly skilled workforce. The farmers, millers, bakers, lorry drivers, factory managers, engineers and operators who, together with our colleagues in the grocery retailer sector, have sustained food supplies throughout, are among the unsung heroes of our national response to this dreadful virus. I am delighted that the commitment and ingenuity of our factory management teams has been so publicly acknowledged and celebrated by The Grocer through these awards."
Above all, the last year has demonstrated the industry's fundamental decency. As Seb Munden, Unilever UK & Ireland's executive vice president says: "We've come together in so many ways that would previously have been unimaginable. I continue to be inspired by the resurgence of community spirit from our industry. Long may it last."
Britain's favourite supermarket 2020: Tesco
The Grocer of the Year: Tesco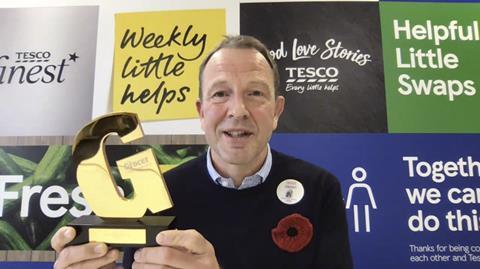 Tesco celebrated its 100th anniversary in 2019 with some eye-catching manoeuvres. But a century after founder Jack Cohen used his £30 demob money to forge the business, the year will also be remembered for the completion of a four-year turnaround under CEO Dave Lewis.
Its relentless focus on customers and back to basics approach – one Cohen would have admired – has seen the UK's biggest retailer win back the loyalty and even the affection of customers, with a focus on value for money and loyalty, and crucially there was also a return for shareholders, with Tesco meeting its target to reach a 3.5%-4% margin six months ahead of schedule.
Things looked very different when former Unilever boss Dave Lewis was parachuted in as CEO in 2014, as the supermarket faced its biggest-ever crisis.
Mired in controversy due to an overstatement of profits, with supplier relations at an all-time low and floundering under competition from the discounters, its brand was seriously damaged, as was customer loyalty.
But last year saw Lewis declare Tesco's turnaround complete, and having outlined the path for the next five-year plan, he announced he was stepping down.
In the meantime, Lewis has successfully led Tesco through the biggest challenge the UK retail industry has faced since the Second World War. That it was able to perform as well as it has, more than doubling its online capacity, launching and then scaling up its Aldi Price Match initiative, and winning the Grocer 33 for service and availability for the second year running, is testament to Tesco's renewed strength as an operator.
On range, Tesco's entire own label selection has been overhauled, including a reboot of its Value offer. The 417 'Exclusively at Tesco' products are priced consistently cheaper than or matching the next most competitive retailer in the markets, it claims. And in March, (ie ahead of the pandemic), it was sufficiently confident to take the fight to Aldi directly, and the Price Match was extended to 500 branded and own label products in the summer.
Tesco hasn't just addressed the value side of the equation, however. On quality, a key plank has been the development of its plant-based range, with the launch of Plant Chef last November ensuring it is the market leader in plant-based food on the high street.
The next part of the equation was improving customer loyalty. This has seen a radical makeover of the Tesco Clubcard, which has once again become a key weapon against the discounters and other supermarkets.
Taking a leaf out of Amazon's book, Tesco launched its own subscription service in November 2019. For £7.99 a month, Clubcard Plus offers subscribers 10% off two big food shops of up to £200 each, 10% off a range of non-food brands, double data on Tesco Mobile, and credit card perks.
Tesco has also increasingly used Clubcard to drive promotional activity. Last May, it launched the first trial of Clubcard Prices, the first time a major supermarket had offered its loyalty cardholders cheaper prices at the checkouts. This summer the scheme was rolled out across hundreds of brands as well as own-label products.
The success of these initiatives is reflected in Tesco's impressive financial results. Long before lockdown it recorded its best ever operational performance over Christmas last year. And in the first half of 2019/20, Tesco delivered profit growth of 25.4% to £1.4bn, outperforming the market by 0.4%.
Not all of its goals have been commercial, though. Tesco has also been a driving force in tackling environmental challenges. A pioneer in the battle against food waste, the supermarket has used its scale and influence with suppliers in the war on plastic.
In 2018, Tesco told suppliers it would ban all packaging unsuitable for recycling as from next year, as aims to create a 'closed loop' system. It has subsequently carried out a review of every piece of packaging across Tesco, underpinned by a new 'four Rs' strategy: remove it where we can; reduce it where we can't; reuse more; recycle what's left.
Using those principles, Tesco aimed to remove a billion pieces of plastic from its products by the end of 2020.
Those aims were ultimately derailed by the pandemic, as shoppers sought out security through extra protection from plastic, with 750,000 pieces the likely figure now.
But Tesco won't give up the fight. Even with a new boss in Ken Murphy. Tesco is fighting on all fronts. And fighting fitter than for many, many years
Store Manager of the Year: Joanne Bennett-McNally, Morrisons Widnes
Symbol/franchise retailer of the year: Nisa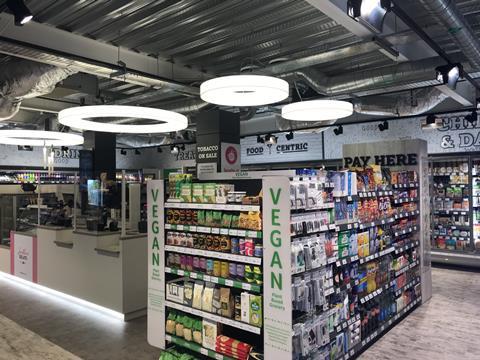 Even before the lockdown, Nisa was on a roll. The judges were blown away by the improvement as the Co-op-owned symbol operation has recruited stores in their droves while continuing to evolve its offer and improve availability, with next-day delivery a new feature.
The Co-op deal, completed in May 2018, has been a real game-changer. Judges were full of praise for the "impressive integration", and said Nisa had "fully landed the real benefits" of the deal, as sales rose 16% in the 12 months to March 2020, while gross operating profits increased a whopping 62%.
Central to its success has been the increase in sales of Co-op-branded goods across the estate. The range now accounts for 16% of all group sales, and is stocked by 90% of its retailers.
The range has also proven a vital selling point when it comes to attracting new retailers. It recruited almost 550 stores last year. And it's set to exceed that figure in 2020, having passed that milestone last month, with Nisa's recruitment team adapting to a virtual recruitment and induction process. New customers include leading convenience operators Tout's, Highland Retail and Ascona Group and sales director Steve Leach said the increased momentum was "a real testament to the strength of the proposition and how well the teams have adapted".
Judges were also impressed by changes to the look and feel of Nisa stores. Last year, 400 retailers converted to the symbol group's latest Nisa Evolution format, which includes a modular service counter, bespoke display units and self-service tills. Overall, these stores have seen an average sales uplift of 12%.
Nisa showcased more new thinking on format at its annual two-day retail exhibition in April last year. Over 2,500 attendees visited the event. And again, it's continued to evolve its retail formats in 2020, developing a new Evolution format at a virtual Expo in October. It also announced a new Express Store format, which targets retailers with up to 1,000 sq ft of space.
It's also adapted to help Nisa members in the pandemic, developing an e-learning training facility in conjunction with the Co-op.
Specialist wholesaler of the year: Time Wholesale Services
It's been two years now since Time Wholesale Services opened its new cash & carry depot. It's been an unqualified success – and with sales boosted further by the pandemic, it's looking for a second one in the London area.
Time opened the 82,000 sq ft depot in Rainham, Essex, after moving from a 30,000 sq ft site in nearby Barking in 2018.
The new site delivered an immediate boost to sales, with turnover up by 24.9% last year to £84.1m. Crucially, profits rose 9.6% to £0.5m, more than covering relocation costs. Ahead of the move, joint-MDs Soni and Nev Bihal set out plans to increase turnover to £100m within three years. They are now expecting to break this barrier in 2020, a year ahead of schedule, thanks in part to pandemic-related sales spikes.
But it's also down to a relentless focus on detail and strong execution ahead of the pandemic. The limited range at Rainham, for example, which was primarily alcohol and impulse-led, has been replaced with a full range of grocery, alcohol, impulse, chilled, frozen and tobacco involving an increase in SKUs from 8,000 to 12,000.
As a result, Time has not only retained all of its existing customers from the Barking site, it increased customer numbers last year from 1,800 to 2,500, aided by a new four-strong sales force hired to drive the recruitment of new customers in the highly competitive market of East London and Essex.
Crucially, Time is more than just a cash & carry these days. The Unitas member offers a delivery and click & collect service, trading on an EDLP strategy, but also promoting heavily from this base, and the personal touch is key to its service in the depot. All members of staff are prepped to know and greet all customers by name. This is married with a relentless scrutiny of all available data, be that seeking out competitor pricing or daily checking of SalesOut data.
A new e-commerce platform also gives live up to date information on sales and margin by SKU or by customer, while an open exchange of data and insight is shared with suppliers to enable further category growth and enhance customer experience.
One thing is for sure: Time won't stand still.
Regional wholesaler of the year: Castell Howell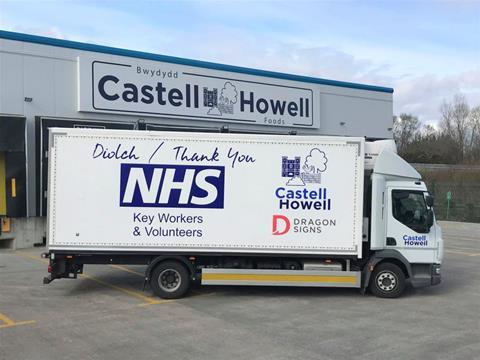 It was all going so well. This family-run foodservice wholesaler, a committed champion of Welsh produce, was delivering impressive and consistent growth pre-Covid. Turnover for the year ending 31 October 2019 stood at £138m, up from £126m the previous year and £115m in 2017.
In short, it's been "a really well-run business for a number of years: smart, progressive, passionate and caring", said the judges.
And then the pandemic struck. Like all foodservice companies, it's proved a huge challenge, with the majority of its customers shuttered. An estimated 150 redundancies have been made across its 800-strong team.
But Castell Howell has continued to support its community, most recently demonstrated by a partnership with local councils to deliver food boxes during the pandemic. And it helped manufacture gloves and aprons for health and care workers for the NHS and local councils.
This community spirit has been at the heart of its success over many years. Not only through its passionate and progressive support for Welsh produce but in terms of its committed sustainability efforts, and regular donations to FareShare and the Salvation Army.
Castell Howell's warmth as a business has also shone through in its community engagement on social media.
Crucially, Castell Howell has also ploughed investment into growing its sales in hospitals and schools. As a result, sales into the public sector rose by 30% in 2019.
That arm of the business has proved particularly important during the national and local lockdowns, as Castell Howell's 6,000-strong core customer base of hospitality venues including restaurants, bars, pubs and cafés shut their doors.
It's also adapted, pivoting towards take-home sales. Online technology investment has been invaluable too. Launched in 2017, the app accounted for 36% of all sales in 2019, a trend that has continued in the pandemic.
The final tranche of investment went into a new cross-stock depot for 12 vehicles, which has grown its geographical customer base.
Let's hope this focus on availability proves another wise investment in 2020 and beyond.
National wholesaler of the year: Brakes
Even before the coronavirus wreaked havoc on foodservice wholesalers, Brakes was undergoing some serious changes
Even before the coronavirus wreaked havoc on foodservice wholesalers, Brakes was undergoing some serious changes.
In 2018, new CEO Hugo Mahoney kick-started a realignment, backed by a £300m cash injection (by 2025) from Sysco, to create a new 'customer first' focus.
That involved the launch of a new website, more investment in innovation, the expansion of its fresh offer, and the decentralisation of orders to give local depots autonomy, ensuring the full 11,000-SKU range is stocked locally, while allowing for regional product variations improving customer service.
Brakes also upgraded its fleet to more environmentally friendly alternatives, while also making good on its earlier pledge to remove black plastic.
The shake-up resulted in a quite dramatic improvement in KPIs, including its highest ever net promoter score, 99.75%, near-perfect first-time availability, complaints down 20%, and employee satisfaction up.
Customer retention has also improved, as have new business wins, and contract extensions, with corporate sales up almost 3% and independent sales increasing by 10%. Online orders were up 10% too. And the momentum was building further as the pandemic struck.
It's had a devastating effect on Brakes, with 500 job losses announced. But those changes have made the wholesaler better placed to withstand the pandemic. Brakes has been able to swiftly diversify into domestic and retail supply as commercial customers shut. Brakes also partnered with rival Bidfood to deliver the government's food box scheme, under which they distributed almost five million food parcels to the vulnerable. And it's supplied an extra 550 care homes during the pandemic.
Mahoney continues to re-shape and restructure in response to the crisis, streamlining customer service teams while focusing on care homes, hospitals and schools, despite a significant downturn in commercial sales.
Plus, Brakes has maintained its commitment to its charity partners, teaming up once again with Meals & More with the aim of donating meals to more than 10,000 vulnerable children.
Business Initiative of the Year: Co-op
The Grocer 33 Awards
Price: Asda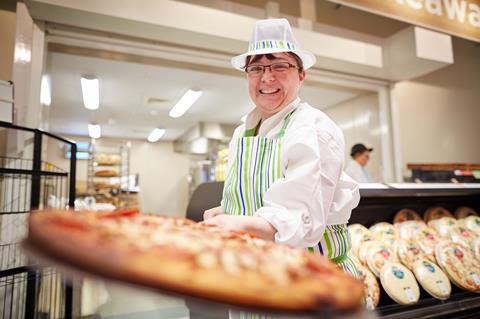 Asda picked up The Grocer 33 price award for the 23rd consecutive year, remaining the only winner of the gong to date.
It came in as the cheapest supermarket in 33 of the 49 weekly mystery shops this year. Sainsbury's came in a distant runner-up with seven wins, Morrisons claimed four, while Tesco only made it into the winner's enclosure on one occasion.
The pandemic resulted in fewer guest slots for the discounters in the past Grocer 33 year. However, Lidl won on each of its three outings, while Aldi triumphed in its solitary appearance.
In what was a turbulent year for Asda, its pricing lead over its main supermarket rivals remained a constant. After months of speculation regarding the future of the retailer, parent company Walmart agreed to sell a majority stake to the billionaire Issa brothers, owners of EG Group, and PE firm TDR Capital, for £6.8bn last month.
The deal remains subject to approval from the Competition & Markets Authority, but its prospective new owners have already set out that they are committed to "building on Asda's low-price heritage".
They will therefore be encouraged to note that Asda already has a strong lead in the race to pick up the Grocer 33 price award next June. So far, Asda has claimed 12 wins from the first 20 weeks of the year. It is already well clear of its nearest rival, Morrisons, currently on four victories.
But Asda can't sit back. Since summer, all the major mults have rolled out price-cutting initiatives. For Asda, the challenge will be fighting off these advances – and getting closer to Aldi and Lidl in the process.
Service: Tesco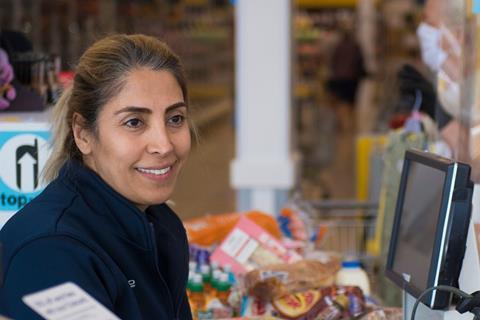 Tesco won the Grocer 33 service award for the second year in a row, but it was under very different circumstances than the first victory, as it faced into surely the most challenging conditions ever for supermarket staff.
Like Liverpool and the Premier League title, Tesco had the award sewn up before coronavirus hit. It picked up 16 victories by the time of the first lockdown – well clear of its then-nearest rival, Sainsbury's, with eight.
But it continued to pick up wins: in the 10 mystery shops between lockdown and the end of the Grocer 33 year, in mid-June, Tesco picked up a further four wins, a figure matched only by Waitrose, which helped it to pip Sainsbury's for second place.
During lockdown, the service scoring system was adjusted to reward stores that made customers feel safe. This will continue to be critical in the second lockdown – and could determine next year's winner.
Availability: Tesco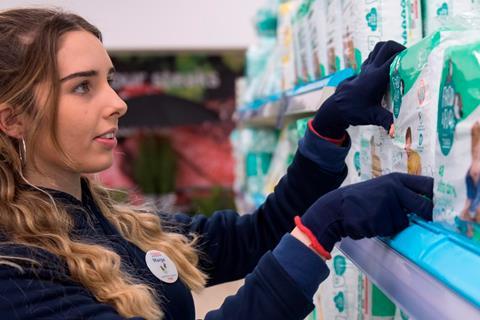 In what was the most challenging year for decades in terms of keeping shelves full, it was Tesco that retained its crown as the retailer with the best availability.
Of course, all supermarkets deserve praise for the efforts to keep the nation fed in the early days of the coronavirus crisis, but there is no doubt that stockpiling and range rationalising in March significantly impacted performance across the board.
Across the year, Tesco's availability percentage fell from 95.8% to 93.5%. With Waitrose recording the same, Tesco took the win based on the number of full baskets, which were rare this year. Tesco had five full baskets compared with Waitrose's two.
Asda's availability score was the least impacted compared with last year, down just four basis points to 92.3%. This edged it into third place ahead of Sainsbury's on 92%. Morrisons came in last place with a score of 89.8%.
Factory Manager of the Year: Jo Taylor, Arla
Sustainability initiative of the year: Procter & Gamble's Holy Grail 2.0
This game-changing initiative, led by Procter & Gamble, has been steadily developing behind the scenes for four years now. The aim? To revolutionise how we recycle in the UK.
Single-use plastic has been environmental enemy number one in the minds of UK shoppers for years. And rightly so. But in the rush to create recyclable alternatives, too often a major stumbling block gets missed out of the conversation: that, even where plastics can be recycled, confusion and inadequate sorting facilities mean they just aren't.
It's this challenge that P&G has been diligently working on since 2016, via the HolyGrail project it leads under the auspices of the Ellen MacArthur Foundation. Last year, it made a breakthrough on the journey towards a circular economy. The fmcg giant, working with 30 other companies, unveiled its state-of-the-art digital watermarks that can be printed or embossed on packs.
Though invisible to the naked eye, they can bump up the efficiency of sorting rates at recycling facilities to an impressive 95%. In essence, they can ensure plastics are recycled and reused, rather than simply ending up in landfill.
Now it's proved the tech can work, P&G has set to work on the second phase: rolling out the technology and implementing it not only across its own portfolio of brands, but signing up 85 other major brand owners, manufacturers and retailers.
The plan is for Lenor, Unstoppables and Fairy to become the first brands to get the digital barcode, with the first intelligent packs to hit shelves in Germany, with the rest of Europe to follow.
Major US and European retailers are also signing up, having spotted that these invisible marks can not only boost recycling rates, but can also help keep track of inventory, prevent counterfeits and assist with quality checks.
P&G has adopted a truly collaborative and open-source approach to the development of this technology, which judges praised as a fantastic example of "cross-industry collaboration", from brand owners and retailers to converters, EPR schemes, waste management systems, recyclers and many more.
Supply chain initiative of the year: Armstrong
Armstrong may be a long-time partner of Aldi's – they have worked together for two decades – but there is nothing stale about its approach to the supply chain.
That much was evidenced last year, when the logistics business sought to introduce greater transparency across the chain to ensure stock levels were managed and waste reduced.
The stock management process had been "cumbersome", Armstrong says. Aldi had to ask what level of stock a particular supplier had and when the product was due in, while at the same time attempting to evaluate weekly demand.
Its answer to the problem was to create an online portal – a web-based system that provides total visibility across the supply chain and comprehensive reporting.
First, it was trialled with six suppliers. The aim was simple: to see whether technology could enable Aldi's buying teams to more easily improve stock availability levels and therefore reduce delivery failures caused by insufficient stock holding.
The answer was a resounding yes: the portal proved so successful that it was rapidly rolled out to the network of 285 active suppliers with whom Armstrong deals on a daily basis.
The benefits are multiple. The tool provides real-time availability levels, a calculation of average weekly demand to determine a baseline stock threshold, visibility of pending inbound deliveries and reporting tools to find the root causes of poor stock holding and performance issues.
If a product is running low, Aldi can now see when the next delivery is due. If there is a delay and they are likely to run out of stock, the supplier is immediately prompted to establish whether the product can be brought in sooner and, if so, Armstrong will arrange collection and delivery. This has led to a dramatic reduction of insufficient stock issues.
Plus, Armstrong can manage stockholding to ensure that Aldi doesn't understock or overstock, keeping costs to a minimum and eliminating unnecessary waste – crucial in the discounter's effort to keep prices low.
Armstrong sees this as just the first chapter in the success story of the portal, which is set to expand to other commercial activities. Watch this space.
Brand of the year: Pukka
Talk about an overhaul. Since 2017, Pukka has transformed itself from a foodservice footnote into a cutting-edge fmcg brand.
The new positioning as 'The People's Pie' has been built around contemporary ranging and branding. And last year it threw itself headfirst into creating more modern, relevant NPD – boosting its chilled and frozen ranges with launches like its veggie cheese, leek & potato pie. It also rolled out a first vegan pie, using Quorn.
Even its classic recipes have received a revamp to make them more premium and better tasting. It partnered with brewer Marston's, for instance, to create a new steak & ale recipe, which allowed it to explore cross-category link-ups in stores.
It's backed that up with "strong TV, which is difficult to do for a company of its size," said judges.
"It's an impressive story of a brand trying to re-establish its relevance, reminding potential purchasers of the quality and heritage while updating the branding to focus on a bold simple colour," said another.
On top of that, Pukka has become an unexpected leader in packaging sustainability. In January 2020, it overhauled packs, ditching plastic windows from its pie boxes with a new look in a move it claims will save 11.4 tonnes of plastic annually. And all the energy used in its bakery now comes from renewable sources, having recently installed solar panels.
All this has been underpinned by significant internal efforts to make Pukka a better place to work. The company hosted a six-weekly forum for its employees to gain a greater understanding of the people who keep its business going – with some tangible results. The brand has doled out academic sponsorships, for instance, and free turkeys for Christmas last year. And latterly it's (quietly) supported the NHS with donations.
The result? A massive boost in sales and penetration. In the past year alone, retail sales have risen 19.1%, at a time when overall savoury pie volumes fell [Nielsen 52 w/e 5 September 2020].
In short, it was "a Pukka relaunch to take it away from its slower-growing roots and make pies more relevant elsewhere". And what perfect timing, too.
Drinks brand of the year: Thatchers
Thatchers has been brewing its British apple ciders in a sleepy Somerset idyll for more than 100 years, but there is nothing sleepy about its approach.
Our judges couldn't have been more impressed with this "pioneering, forward-thinking family business", which has set a dizzying pace in launching NPD and rolling out extensive marketing campaigns in the past year.
That relentlessness has paid off. Anchored by a "great premium brand", Thatchers has managed to buck wider category decline, achieving double-digit growth in value and volume.
"Growing sales so strongly in the face of category decline through the summer peak [in 2019] was very impressive," said one judge, who praised its "solid family and sustainability credentials, driven by a commitment to high quality."
Plus, of course, a commitment to "fantastic NPD" that "sensibly keeps pace with changing customer tastes" to appeal to a new, younger cider drinker, said another judge.
In 2019, Thatchers unveiled Rosé, a sparkling apple cider with a pink hue that caught the attention of the Instagram generation. It has grown exponentially in the past year, already the third-biggest contributor to volume sales across the brand's portfolio.
Then in January 2020 came Thatchers Zero, an alcohol-free variant crafted over two years to get the taste just right.
Both were backed by wider efforts to modernise the perception of cider. That included a 12-week national tour with its Vat 12 Cider Truck, dispensing samples at sports events, festivals and food fairs, plus a new light-hearted TV ad highlighting its commitment to cider that is "absolutely perfect".
These high-profile marketing efforts were the primary contributor to its enviable sales growth across UK retailers.
At the same time, Thatchers has ensured growth hasn't come at the expense of its family feel or commitment to sustainability, with an impressive array of initiatives to cut out plastics, reduce carbon and lightweight its cans
All of which adds up to a "smart blend of the traditional, digital and experiential" that's built "a great British brand".
Entrepreneur of the Year: Denis Lynn, Finnebrogue Artisan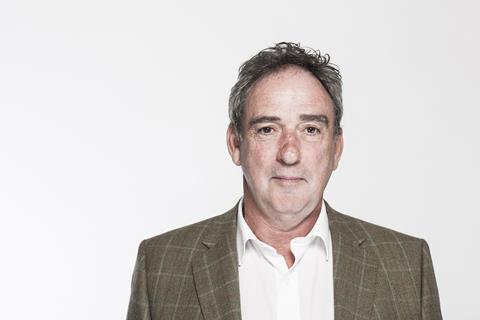 It's no exaggeration to say Denis Lynn literally saved our bacon with the advent of his Naked range in 2018.
The category was left reeling when a landmark study by the World Health Organization directly linked processed meats to cancer, sending UK bacon and sausage sales into decline.
Lynn travelled the world to try and figure out how to make bacon without the carcinogenic nitrates used in the traditional rasher.
After teaming up with Spanish chemist Prosur to develop a new way of flavouring bacon, his company Finnebrogue came up with a natural alternative using fruit and spice extracts.
The results have been a roaring success, as the business brought thousands of consumers who had abandoned the category on health grounds back to bacon.
The Naked range of nitrate-free bacon added more than £9m in value to the declining category in 2019 alone.
The supermarkets wanted in too. M&S entered the nitrate-free market shortly after the Naked launch with a range produced by Finnebrogue, which has supplied the upmarket retailer with sausages for years.
Other supermarkets have also pledged to lower the percentage of nitrates in their own-label ranges this year.
In his determination, the County Down businessman has transformed Finnebrogue from a small Northern Irish business with revenues of just £3m 10 years ago into a major player in the meat category.
Sales at the company this year are projected to be £115m and are expected to rocket to more than £200m in the next three years.
Of course, building up business is a way of life for Lynn, who has entrepreneurialism in his blood. His food career started selling locally made pizzas and pies to shops and restaurants from the back of a van.
His breakthrough came in 1988 with a new method for mass-producing chips. It wasn't long before he became the biggest chip supplier to the Irish market.
The proceeds from the sale of the food distribution business in 1991 gave Lynn the resources to buy the Finnebrogue Estate in the hills of Downpatrick, becoming the largest deer farmer in the UK and Ireland in the process.
By 2006, Finnebrogue Artisan had expanded into upmarket pork sausages, winning own-label contracts for retail customers such as Marks & Spencer and Asda. Innovation soon followed in the form of gluten-free sausages. But 'naked' bacon has been a catalyst and the tipping point for even greater success.
The same guiding motivation that led Lynn to the search for healthier bacon – to find out what is wrong, put it right and make it the best it can be – has now brought his focus to his next project: the environment.
As the percentage of consumers actively reducing their meat intake for healthier and more sustainable products continues to grow, Finnebrogue has turned its attentions to transforming the plant-based category.
The business, which has been making vegetarian and vegan products for years, was instrumental in helping M&S, Asda and Co-op launch their Plant Based, Plant Kitchen and Gro ranges.
Finnebrogue invested £3m in a new vegetarian and vegan facility at its County Down HQ in 2019 to scale up its plant-based capacity – creating 90 jobs.
That was just the start of Lynn's ambitions in this space. Work started on a new facility in July, which is expected to be finished by the year's end. The £25m investment in Europe's "most advanced" plant-based food factory will create another 300 jobs and take the company's head count to 1,200 by the end of 2021.
This investment is showing in Finnebrogue's ever-growing range. Its Naked sub-brand expanded into meat-free this year with the launch of 'made without the moo' burgers, meatballs and mince, alongside 'made without the oink' sausages.
Always forward-looking, Lynn is moving the market toward using soya from sustainable sources to produce meat-imitation products.
Our awards judges praised Lynn for being "awake to trends" and constantly coming up with "never-ending" range improvements.
"It is difficult to change a successful formula," the judges added. "We are impressed at how an established meat business has adapted to current trends for vegan alternatives and gone one step further than plant-based rivals with sustainable soya."
So it looks like Lynn won't stop at simply saving our bacon. Now, he has moved on to bigger ambitions, saving the world with food that is good for the consumer and good for the planet too.
Startup of the year: This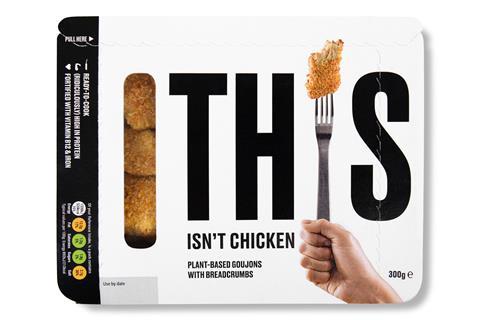 Two years of research & development went into plant-based startup This, which aims to perfectly mimic meat in terms of taste, texture, appearance and smell. Founders Andy Shovel and Pete Sharman should know – after all, they had previously headed up a beef burger chain, Chosen Bun.
That background influenced their "non-preachy" approach to the market. Its chicken and bacon substitutes were developed with meat-eaters in mind, in the knowledge that bacon is often one of the hardest things to give up. And in taste tests, more than 92% of passers-by thought its tikka-coated chicken substitute was actually meat, even when pitted against a supermarket chicken tikka product.
This also took care to make sure its plant-based products were actually more sustainable than meat. This produces 1.2kg of CO2 emissions per kg of food – comparing favourably with beef, which produces 50kg of CO2.
Cementing that formula with a UK launch in June 2019, the brand has since pursued a rapid rollout. It's involved a dual focus on foodservice and retail. In the foodservice arena, This has partnered with Patty & Bun, Honest Burgers, Barburrito, Pho, and launched a much-publicised vegan bacon roll with Coco di Mama. In retail, it gained listings in Ocado, Waitrose, Holland & Barrett last year and added 744 Tesco stores in June.
Supported by an "assured and humorous tone of voice", and a "brilliant Ed Sheeran PR stunt", its approach has worked. Even before the lockdown, compound growth was running at 35% month on month, with estimates at the time of annual revenue around the £4.6m mark – equating to more than 1% share of the UK's meat alternative market. This rapid success helped it secure £6m in private seed investment, part of which has been used to build a dedicated R&D centre and team in London.
Judges were impressed by the "very well researched and developed" product, and the high rate of growth in a short space of time. "The name and concept works really well," said one. Plus, it's worth noting that the brand achieved all of the above with a core team of just nine people. That makes This a winner.
SME brand of the year: The Ice Co
It isn't easy to take frozen water and turn it into a £37.6m brand. But that's exactly what The Ice Co has managed to do with what our judges called a "brilliant" and "incredibly smart" strategy that took note of wider trends and, well, just added ice.
Like numerous other grocery categories, ice is undergoing a wave of premiumisation, led by an army of discerning G&T drinkers. These enthusiasts understand just how ice – the way it looks, how fast it melts and the water from which it's made – makes a subtle but important difference to their tipple.
In the ice business for 140 years, the team of unabashed 'ice geeks' at The Ice Co quickly spotted this, and added two new lines to its icy portfolio: Premium Ice and Super Cubes.
High-quality and slower melting, the 1kg packs of Premium Ice not only catered to this more discerning ice consumer, they also addressed a major space issue for c-store operators on the frontline of the inevitable ice rush during British summers.
However, it was the Super Cubes that really impressed our judges. These ultra-luxe ice cubes are targeted at the most astute of spirits drinkers, says the brand. Three times larger than the average British ice cube, they melt slowly, cool quickly and "look amazing" served with a G&T in a Copa de Balon glass.
They're ideal for impressing guests at a dinner party (or making the long evenings of lockdown pass a little quicker). One Ocado reviewer described them as a "game-changer".
Thanks to a "highly creative" marketing strategy that saw the brand partner with top gin mixologists to craft cocktails, distributing 10,000 copies of its book 'The Little Book of Gin' and adding inserts to 13,000 'Think Gin' subscription boxes, sales of Super Cubes have grown 14.1% in the last year and helped attract an additional 50,000 shoppers to the ice category. Even more impressively, that's against a wider market decline.
"How clever to take a commodity like ice and market it alongside one of the biggest trends in fmcg – gin," said one judge.
"An unfashionable niche, really well executed," added another.
Turns out frozen water is more exciting than meets the eye.
Exporter of the year: St Pierre Groupe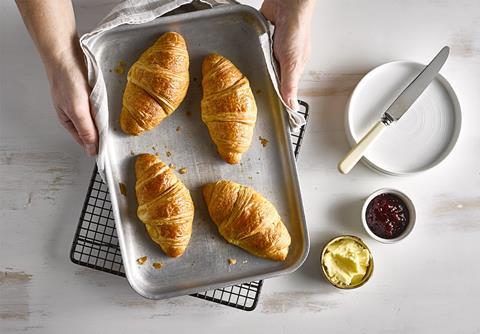 A red Dodge Challenger and bespoke Eiffel Tower merchandising stands were all part of St Pierre's strategy to launch "not only a new brand" in the US, but "a totally new product category".
The Manchester-based French bakery, founded by Jeremy Gilboy and Paul Baker, set its sights on the States after recognising a gap in the market for its premium, brioche-based loaves, croissants and crêpes, and figured that the Parisian positioning would resonate with American shoppers.
The results speak for themselves. The US now accounts for 60% of the brand's volume and has helped double the size of the business in just three years
The Eiffel Tower stands can take some of the responsibility, increasing sales by 40%-50% wherever they appeared in stores. And that appeal isn't just confined to the US. The Parisian marketing has been so successful it has now rolled out in Ireland and will soon appear in the UK and the Middle East.
So too can the shelf life: as well as being exported in frozen form, clever packaging ensures a further 28 days once on shelf – a real benefit when you consider that other fresh-baked 'morning goods' can go off in hours.
It's backed that up with savvy appointments. David Milner, Lily's Kitchen CEO joined St Pierre as non-executive chairman last year to help with its branding (he persuaded them to change the name from Carr's), and share his experience in exports (having enjoyed particular success with overseas sales as Tyrrells CEO).
Milner joined the board alongside Yann Neveu, the new international director, and a dedicated export team to manage every aspect of St Pierre's foreign sales. There is also now a resident sales and marketing team in the US in place to implement a strategy tailored to the local market.
Products are listed in Kroger, the US's second-largest multiple, following a partnership with distributor Lipari Foods, while an 'on the go' range has recently hit the convenience sector.
It's all part of a portfolio that encompasses 77 products listed in over 35,000 stores around the world. And St Pierre has no plans of slowing down, aiming to hit £150m in sales by 2022. It just goes to show dreaming big can pay off.
Employer of the year: Cook
"We believe people are amazing and that energised individuals with a purpose can accomplish remarkable things," says Cook.
It's an attitude that helped Cook win our employer of the year award once again. With an understanding that "words are cheap, deeds are deep", the £65m-sales frozen food retailer-cum-supplier has backed up its beliefs with action – focusing its efforts over the past year on initiatives that have its 1,200 employees at their heart.
Most striking was the restructuring of its Raw Talent Programme. Launched in 2014, it offers opportunities to people facing major obstacles to employment, such as time spent in prison, homelessness or mental health difficulties. More than 80 individuals have so far benefited from the scheme.
Last year, in a bid to "have an even bigger impact", Cook redesigned Raw Talent's selection and training processes. The result was a two-week, work-ready programme mixing on-the-job training and classroom sessions on soft skills, with new starters supported by a Raw Talent 'buddy' two days a week.
The Sittingbourne business, which has appeared on the Sunday Times 'Top 100 Companies to Work For' list eight years in a row, has also introduced new initiatives such as a Diversity & Inclusion Group and Reset Conversations. The latter is a disciplinary procedure designed to offer a real opportunity for learning, growth and continued employment. It has meant a change from "the traditional confrontational, parent-child, legalistic process to something built on our belief in nourishing relationships", Cook says.
All of which makes for an "impressive" programme, said our judges – showing Cook "really cares about its employees".
A B Corp company since 2012, Cook has also doubled down on existing commitments. These range from the Dream Academy life coaching programme to access to the Cook Cabin holiday home. The judges were also taken by Cook's pay pledge, with the highest salaries no more than 15 times that of the lowest. It's all part of the retailer's aim to give employees "dignity and purpose". And in this Covid year it's really paying off.
Online supermarket of the year: Asda
The rapid rise of online grocery has been one of the year's big game-changers. Its market share has levelled out at 12.5% over the past two months, up from 7.4% pre-pandemic [Kantar].
Asda, along with all the major mults, has significantly upped its online capabilities in response.
In doing so it has built on its sterling efforts in 2019, when Asda saw online sales growth of 10%, the fastest of the big four. That success was aided by major operational changes that yielded a pick rate improvement of 26% and a pick walk reduction of 17%, some half a mile. Ultimately, it made the hugely dilutive channel profitable, Asda claims, "fulfilling its role as a sustainable growth platform for our business" based on operational excellence and efficiency, new revenue streams, media sales and automation.
Much of Asda's success has come from the fully agile approach to its developments. All online projects are first validated at the idea stage with customer and colleague focus groups and user experience workshops.
It also opened up beta testing to customers, allowing them to opt in to test and provide feedback ahead of wider rollout. "We continually listen to customers and utilise data and analytics to understand what is most important to them," Asda says.
That approach helped deliver innovation at pace and at volume. The supermarket ended 2019 with 240 projects and workstreams focused on the next three years.
Among those was the launch of Asda recipes, where customers can select meals and add all the ingredients to their online basket, tailored for the number of mouths to feed, budget and occasion.
The supermarket also launched same-day and express delivery, as well as a partnership with Just Eat to delivery groceries and freshly cooked pizzas. (The delivery partnership strategy has carried into 2020 with Uber Eats.) There was a site redesign, too, and the e-commerce team's launch of ad serving capabilities saw media sales enjoy a 10% increase in income.
It's all paid off. As the pandemic has seen unprecedented demand for online grocery, Asda has been able to deliver.
Specialist online retailer of the year: Mindful Chef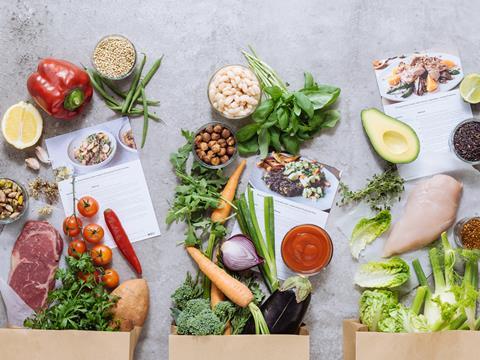 Starting out as a small, relatively niche recipe box service, it's been one hell of a journey for Mindful Chef. This year, boosted by the coronavirus, it expects sales to top £50m, more than 100% ahead of its 2020 targets – which were already ambitious – and this week it was acquired by Nestlé.
The idea of Mindful Chef was first conceived in 2014. Its aim: to give consumers access to fresh meat, fish and produce sourced from independent UK farms. The weekly recipe boxes, filled with recipe cards and pre-portioned ingredients, also strongly focus on health.
Backing from sports celebs Andy Murray, Victoria Pendleton and Will Greenwood in 2016 provided funding and early publicity. But 2019 was a tipping point as Mindful Chef received a £6m funding boost from PE house Piper – used to increase its number of delivery days from just one to seven days a week, and expand its customer base, to capitalise on growth in the recipe box market.
Recipes were another focus of the overhaul. There are now 20 options available, half of which are plant-based. Mindful Chef also introduced 15-minute meals for time-poor customers; pre-chopped smoothie packs; a dedicated family range featuring child-friendly recipes; and the only recipe box brand to cater for single-person households. It also introduced a range of prepared frozen meals into Ocado this summer.
Crucially, the word 'mindful' is not just in the name – it's part of the brand's ethos. As well as being mindful of its suppliers and ingredients, it's mindful of its environmental impact too: last year, Mindful Chef removed some 3.8 tonnes of plastic from its supply chain, and set a target to make 100% of its packaging fully recyclable or compostable. It also accepts packaging returns from customers, taking over 25,000 in 2019 with plans to double that figure by the end of this year.
That ethos also comes through in wider initiatives. Last September, Mindful Chef ran its first nationwide beach clean, which saw volunteers across 125 UK beaches collect more than 12,500 litres of plastic waste. And for each meal sold, Mindful Chef donates one school meal to a child living in poverty. Now that's a mindful win.
The Grocer Cup: Tim Steiner, Ocado Group CEO
Waste not want not award: Tesco
A third win for Tesco in this category might raise a few eyebrows. But the reality is, year on year Tesco has shown it really does have 'no time for waste'.
In fact, as Dave Lewis stepped down from the top job this year, one of his many legacies will be a personal and enduring commitment to tackling food waste, both at Tesco and beyond.
Having chaired the UN's Champions 12.3 – a group of global leaders working to halve food waste by 2030 – since its inception in 2016, Lewis has been a powerful, and passionate advocate. Tesco's progress in the past year alone demonstrates the success of what our judges called a "systematic" top-down approach.
One area that impressed was Tesco's doubling down on its "commitment to true transparency". It first published food waste figures in 2013. In 2019, it extended its commitment to its Thailand and Malaysia businesses. It also announced that 27 of its largest suppliers, which began sharing data from 2018, had achieved significant reductions in waste. It's now extending this approach to some of its biggest own label and fresh produce suppliers, many of which will publish food waste data for the first time in 2020.
This policy came into its own in the pandemic: a landmark report by Wrap this September showed companies that were transparent in the way they report and measure food waste had been most effective in preventing it.
Another area of note is its Community Food Connection Scheme to redistribute surplus food through charities. Tesco now has almost 7,000 charity partners and has donated more than 87 million meals. Best of all, it's constantly refining and reframing initiatives. Spotting that charities often struggle to turn surplus into balanced meals, in 2019 it partnered with Jamie Oliver to launch Community Cookery School, training 1,000 cooks to get the most out of donations.
Yes, Tesco has not quite hit its goal to ensure no food safe for human consumption goes to waste in its supply chain – though as of May 2019 it had delivered a 63% increase in redistribution – but no one can match the sheer scale and breadth of its initiatives.
E-commerce initiative of the year: Co-op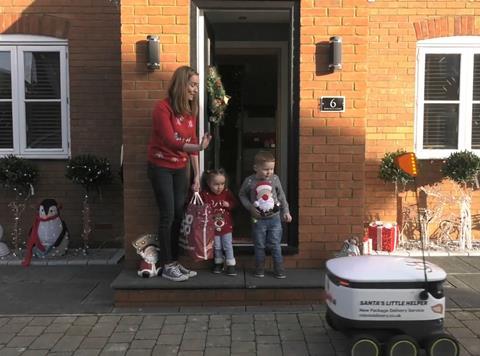 At the start of 2019, Co-op had zero online grocery presence. A major e-commerce drive kicked off in March. It's not looked back.
Having geared up rapidly, Co-op is now on track to offer delivery from more than 650 stores across the UK by the end of 2020.
Its geographical spread and local locations have proven an advantage in the online space, as it has turned stores into "hyper-local micro-distribution centres".
Crucially, Co-op hasn't been afraid to try out new delivery methods. When its online shop first launched, deliveries were made using zero emission electric cargo bikes in as little as two hours. Starting from a London store, the service quickly rolled out in the capital and beyond.
Co-op also became the first UK retailer to use autonomous Starship robots when they launched in the Milton Keynes area in March 2019 – proving a headline-grabbing success story.
"An unforeseen outcome was that the robots provided a lifeline for people who were house-bound," says Co-op.
The chain has also pioneered the use of couriers. In 2018 it became the first major grocer to strike a partnership with Deliveroo – something rivals have been quick to imitate as they seek ways to scale up online operations. The partnership stepped up a notch last November with the announcement of plans to extend the service to some 400 stores, and a "shared technology roadmap" to improve processes, though it's also ventured beyond Deliveroo, forging partnerships with Buymie and Gophr.
That's not to say all of its delivery methods are revolutionary. For van deliveries, Co-op has used fulfilment partners like Stuart and its own drivers. In essence, Co-op's aim is "to identify new channels to attract customers and explore innovative partnerships that widen access to Co-op products".
It's made good on that aim. Co-op is now considered an innovator and leader in this space. A 316% uplift in weekly online orders from the first to the second half of 2019 spoke volumes. And crucially it's paved the way for its astonishing sales growth since the outbreak of the pandemic, "exploiting the laggard's advantages", as one judge put it.
Consumer initiative of the year: Aldi Kit for Schools
Having sponsored Team GB since 2015, Aldi is well aware of just how much Olympic role models can inspire children.
So last year, it used that influence to deliver a message of healthy eating and active living to primary schools, and the campaign exceeded all targets.
Aldi's Kit for Schools initiative gave primary schools the chance to win £20,000 to spend on creating a 'healthy legacy' with new sports equipment.
Launched with the help of triathlete brothers Alistair and Jonny Brownlee, the campaign challenged schools to collect 300 stickers to complete an Aldi Kit for Schools poster. Parents could earn the stickers by purchasing £30 worth of shopping at Aldi.
Schools that completed the poster within the deadline could enter into a draw to become one of 20 to win a £20,000 prize.
The Brownlee brothers were a crucial element here. Their involvement drew the attention of multiple media outlets including Sky News, who interviewed the pair to an audience of two million viewers. As a result, 24,000 schools registered, and 15,000 entered the draw.
As schools registered, they were encouraged to also sign up to Aldi's Get Set to Eat Fresh programme, which provides educational material for children on the importance of healthy and active lifestyles.
Consequently, the number of schools registered for GSTEF rose 58% to 19,000. That boosted the reach of the programme to 1.7 million children, smashing Aldi's initial target of 1.2 million.
Each Kit for Schools poster also contained 150 ideas for use in assembly or the classroom to help inspire pupils to eat well, discover new foods and get active.
Judges praised the scheme for "genuinely making healthy eating fun for kids", and promoting a message that "Aldi took pains to understand how to communicate best".
By encouraging parents to collect stickers at Aldi, the campaign also delivered on commercial objectives. Kantar's 12-week data to 3 November showed Aldi baskets equal to or over £30 increased by 1.45% compared with the previous 12 weeks. In the same timeframe, Aldi achieved penetration growth of 6.5%. Now that'ssporting prowess.
Technology initiative of the year: Sainsbury's SmartShop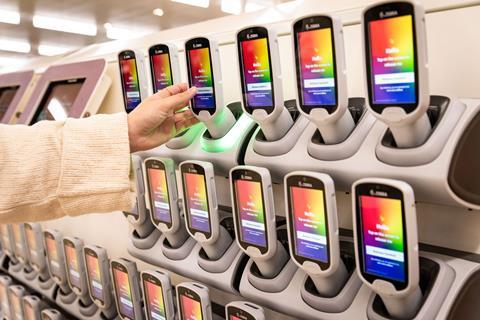 SmartShop initially got off to a slow start. The Sainsbury's scan, pay and go solution launched in 2016 to a carefully staged rollout. But last year, it really took off.
SmartShop was extended to all Sainsbury's supermarkets throughout 2019, and will arrive in most of its 770 convenience branches by the end of this year. It's all part of the supermarket's aim to "supercharge the customer experience".
The proposition is simple enough: customers can scan their items using either store-handsets or, crucially, the smartphone app, and pay swiftly at a designated checkout.
That simplicity seems to have resonated with customers. Last year, an average 15% of sales went through SmartShop in stores where handsets were available. More recently, that has rocketed to 37%. In some stores, the figure now exceeds 50%.
That rapid adoption is partly due to the pandemic. Sainsbury's has heavily promoted the technology through social media, in-store signage and radio ads to help "limit interaction between customers and colleagues" and create a safer environment.
But the decision to push the technology further came well before Covid-19. Indeed, it was Sainsbury's first till-free store at Holborn Circus Local store that proved the trigger.
Although the supermarket eventually decided to return to manned tills, the trial proved "a huge learning opportunity" the supermarket says. And it identified SmartShop as a way of delivering many of those convenience benefits to shoppers without such a dramatic overhaul.
It wasn't always easy. The rapid rollout of SmartShop last year required a strongly collaborative approach. Teams had to ensure that stores had wi-fi installation and upgrades, supporting self-checkouts and marketing campaigns. A full training programme was also undertaken with staff to ready them for the new technology.
All in all, there was "incredible cross-functional working" across the business, with a "huge number of teams" playing their role, Sainsbury's says.
And, as consumers increasingly seek a swifter, contactless shopping experience, that hard work is paying off.
The judges
A huge thank you to all our judges who gave up their valuable time, in the midst of the pandemic, to honour and recognise the industry's achievements.
All were selected based on their areas of expertise, while also paying careful attention to conflicts of interest.
Rod Addy, Food Manufacture
James Bailey, Waitrose
Mike Barry, Mike Barry Eco
Jonathon Bayne, Waitrose
Tim Chalk, SimplyFresh
Tessa Clarke, Olio
Geoff Eaton, New England Seafood International
Jonathan Glencross, IBM
Martin Glenn, Ex-Birds Eye, Football Association
Andy Halliwell, Publicis Sapient
Paul Harvey, Newton
Will Hayllar, OC&C Strategy
Mike Hedges, Proper Foods
Lorraine Hendle, William Reed
David Hix, Nestlé
Amanda Jones, Post Office
Miya Knights, Eagle Eye
Adam Leyland, The Grocer
Jill Livesey, Lumina
Tim Mason, Eagle Eye
Fraser McKevitt, Kantar Worldpanel
Victoria Page, VP Comms
Jon Poole, Institute of Food Science & Technology
Bryan Roberts, Ex-Kantar and TPS Global
David Sables, Sentinel
Jessica Sinclair-Taylor, Feedback
Katherine Thomas, Brighter Capabilities
Denis Treacy, Culture Compass
Mike Watkins, Nielsen
Emma Weinbren, The Grocer
Jo Whitfield, Co-op
Daniel Woolfson, The Grocer