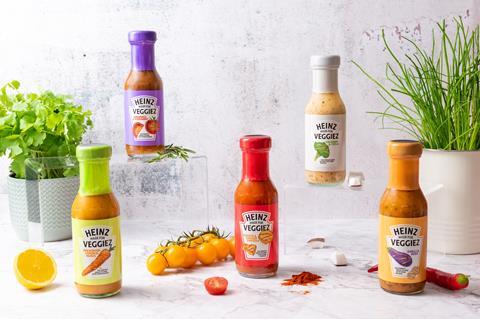 Heinz has quietly launched a range of sauces specifically intended to accompany plant-based meals.
Called Made for Veggiez, the sauces were designed "predominantly for dipping", but could also be used for marinating, in cooking and in stir-fries, said Heinz.
The range comprises five flavours inspired by world cuisines: Tomato & Smoked Paprika, Chilli & Miso, Preserved Lemon & Agave, Coconut & Chilli and Balsamic & Rosemary (rsp: £2.50/250ml).
They are vegan and gluten-free, with no artificial ingredients.
They hit Morrisons this month, after rolling into Ocado with no fanfare in December.
The launch will be supported with a multichannel campaign, called 'You'll Beg for Veggies', which would aim to inspire "consumers who usually steer away from vegetables to rediscover their fresh taste", it said.
The fmcg giant's New Ventures division – which was responsible for the launch of Beanz Burgerz and Kumana avocado hot sauces last year – is behind the innovation.
New Ventures head of platform Alexandra Bayet said: "We are constantly looking for ways that we can update our product portfolio to keep up with the needs of our loyal consumers."
"Our ambition with Heinz Made for Veggiez is to create a new category within sauces, condiments and dressings that can drive a category growth by attracting new consumers to sauces who currently don't have an option for their food preferences."
With vegetarian meal occasions on the rise, there had "never been a better time to introduce Heinz Made for Veggiez to the market", Bayet claimed.
It comes as Heinz has made concerted efforts to expand its plant-based offering over recent months.
In addition to Beanz Burgerz and Kumana, it launched a new brand called Plant Proteinz last year, which debuted with a trio of vegan canned soups in November.
As reported by The Grocer in July, Heinz also looks set to launch a plant-based barbecue range.
It applied to register the name 'VBQ' as a trademark with the IPO under class 29, covering vegetarian and vegan sausages and burgers, and class 30 featuring seasonings, condiments and cooking sauces.
In January 2021, it launched a slew of new vegan products dubbed 'Plant Pantry'.